The first Kyla La Grange album, Ashes, came and went largely unnoticed. For a major label such as Sony, to which La Grange was signed, this would usually spell out a death sentence to any residual recording contract commitments. But not in this case.
Armed with an arsenal of electronic pop dazzlers of the highest calibre, La Grange has assembled a new record, Cut Your Teeth, which - as is evidenced from its title-bestowing first single - should make Sony very happy to have persevered with the 27-year-old. Produced in the main by Jakwob [DJ and producer James Jacob], the moody, predominantly mid-tempo ten-track set (or fourteen, if you splash out on the Deluxe), marries pop hooks with muted industrial beats.
"I was still writing new songs while we were doing the first album," La Grange says when quizzed about the genesis of her new project, "but they were all in the same vein, sort of folk-rock orientated songs. And then I finished off touring and had a bit of a break and I just basically had the time to start playing around with music again. I felt completely different in terms of what I wanted to do, though. I was feeling happier and I didn't want to write unhappy, angsty songs anymore."
I ask her when this was. "Around winter last year, I guess," she tells me. "Winter rolling into spring 2013. I started working on the new songs and they all really came in about a couple of months. I just sat at a computer and a keyboard and the songs came pretty quickly, which was really nice. But I didn't think of them as an album. I mean, I didn't even think I would get to make a second album, you know? I was just playing around, which I think is why they turned out the way that they did, so quickly, because I just got on with things without any pressure - I didn't tell anyone I was writing, I just got on with it."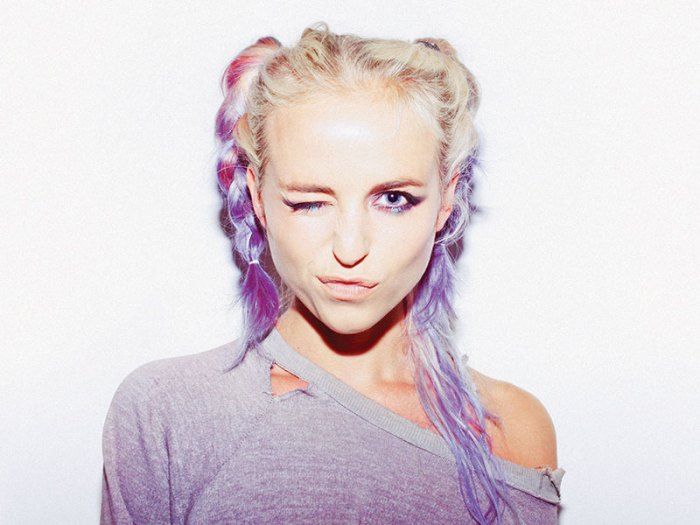 There was a lot of buzz around La Grange in 2011/2012, with the release of Ashes and its numerous singles. Was she disappointed that, despite that, the record didn't make any waves commercially? "I don't know, really. At the time of writing and releasing the album I was very unhappy anyway, just in terms of life, generally," she says. After a moment's pause she continues: "I wasn't a very happy person, so I don't think I had any expectations because I was a pessimist about the whole thing. If you had spoken to anyone who knew me, at the time, they'd tell you how I was - 'oh well, I'm sure it won't do very well' kind-of attitude. Which is a terrible attitude to have! But it was ingrained in my brain at the time, this sort of negative feeling towards what I could achieve. So I didn't have any high expectations. I think it was more like, that's how life is, just get on with it. There was never any feeling of 'oh shit, man, I really wanted that to work and now my life is over!' It was never that kind of thing."
Spending a day in the studio with Jakwob, however, was enough to reignite her excitement for creating new music. "I wrote 'Cut Your Teeth' first and had it on my computer as a demo for a while. Then I went to see James - Jakwob - I can't actually remember how we were introduced but he wanted me to record some vocals on one of his own songs. I really enjoyed working with him - he was great being in the studio with. I told him that I had a demo on my computer which I quite liked and asked whether he'd be interested in producing it for me and he said yes, let's give it a go. And that's how 'Cut Your Teeth' came about - it was unplanned. I didn't even think about making another album or trying a new sound."
Presumably, then, there was no pressure on her from the label to deliver a new product within a certain time-scale. "Well, I think I actually believed I was going to get dropped by them, so I didn't regard it as a body of work, as such, anyway," she reveals. "It's nice that it came about that way and it seems natural to release that song as the first single because it was the first one we ever did together."
The video for 'Cut Your Teeth', which premiered recently, is a lesson in refined eerie chic. Colourful, edgy and subtly dark, it fits the song's unease like a glove. "I worked on the video with the same team I've worked with before," she says. "It's Debbie [Scanlan] and Liz [Adams], who have a company called De La Muerte and I was actually at university with Debbie. She does all my promo shots for the albums and she's an amazing photographer. For this video we came up with the treatment and I'm really happy with how it turned out. It's really nice working together like this because we've known each other for ages."
I am interested in exploring her fears that her label was going to drop her. That sort of uncertainty must be difficult to go through. La Grange ponders this and suggests otherwise: "In a way, it was the best thing for me because of being signed to a major and thinking that I might not get to do another album with them - it kind of freed me up. I thought, oh well - that was fun while it lasted, now I'll just get back to writing songs in my room. I've never been the sort of person who can write a song for a purpose. I am terrible at writing to a brief or to backing tracks. I've tried it and I'm shit at it. I can only ever write for me and for what I am feeling at the time. That's the only way I know how to write."
When La Grange found an old Yamaha keyboard she'd had in her childhood, she decided to try using it in her writing process. "I used to play on with my friends as a child," she says. "And then... I started using it again and spending a lot more time on GarageBand creating beats and I was writing in a different way. It struck me as a different creative process for me - I had new sounds and new ways of writing and because it was new and fun I spent a lot of time doing it."
The somewhat Fever Ray-sounding song, 'The Knife', was a product of her reunion with her old Yamaha instrument. "I started out with this sound which I fell in love with on the keyboard. I played this sample of a steel drum and really wanted to use it. James heard it and said he knew someone who played an actual steel drum so why don't we use her. The demo was pretty fully formed but then James came out with a brilliant beat for it, which was what I was struggling with. I was unsure as to how the beat should feel and he did an amazing job devising a sound that simultaneously comes across as happy and sad. It's quite a jaunty and dark song and I like that."
Apart from Jakwob, La Grange has also worked with Simian Mobile Disco's Jas Shaw as well as Daughter's Igor Haefeli. I ask her how her collaborations with them come about. She explains: "With Jas... I had two songs left to record for the album and I was going to do them with Jakwob but then he was really busy working on his own album, so I was asking around and listening to other artists, trying to find someone whose own work was quite sympathetic to what I was trying to do. I heard a couple of things that Jas had produced and contacted him to ask him to do those last two songs. He was brilliant. He works in a totally different way to Jakwob and still we managed to make the songs fit with the rest of the works, even though they were produced quite differently. With Igor, that was a real eye-opener for me. I had this demo for a song called 'Make Me Pay', which I had already tried to record before and didn't quite manage to make it work. Igor took the song and completely changed it, it in a great way. He took it in a totally different direction than I would have taken it. That one will be on the deluxe version of the album."
La Grange and Jakwob's favourite track on Cut Your Teeth is the third song, 'Cannibals', which she nearly didn't record. "Originally we were recording a different song to be the last song on the album," she says, "and it was not working. We were just not feeling it and we were getting really down about this. So James just said: ok, get your computer out, play me all the unfinished demos you've got and we'll find something else. So I played him 'Cannibals' and, at this point, I only had a verse and a chorus on it. James said - yeah, let's do that one. I'm so grateful to him for that because I love that song so much now. It was a really spontaneous the way it came about but it ended up feeling very natural and it makes for a nice link between the first album and this one."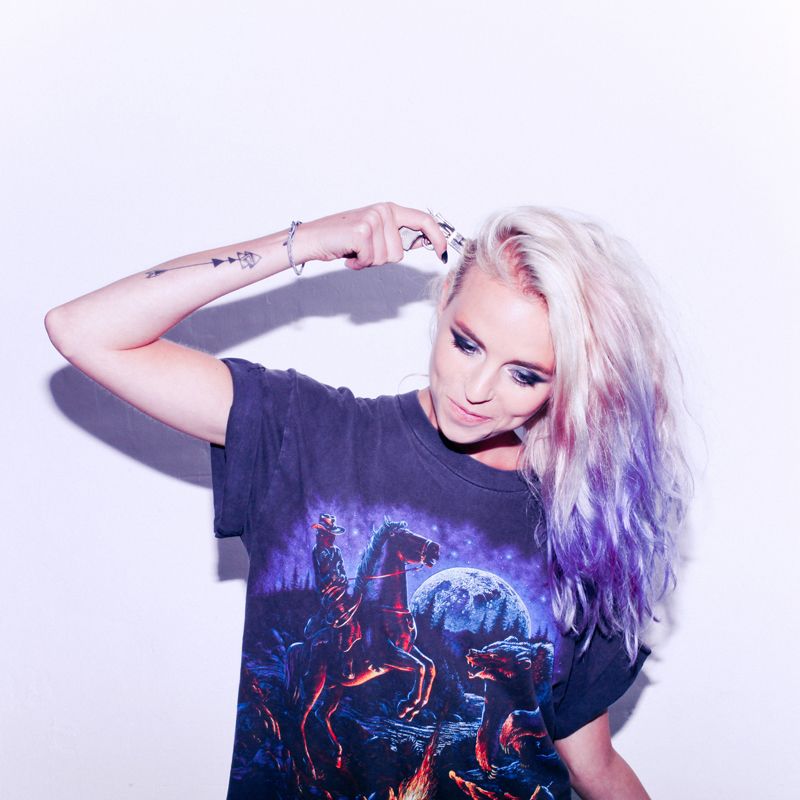 I suggest that the next track on the album, 'I Don't Hate You', also sounds like a natural connector between the Ashes era and Cut Your Teeth. In particular, there is something about it which is reminiscent of her early b-side, 'Lambs'. She is surprised by this. "Oh really? That's really interesting. It's one of the most electro-poppy songs on the album, it doesn't really have any live instruments on it. But even though it was the most programmed one, I guess I can see what you mean, especially in the vocal melodies. It's always interesting hearing other people's reactions because I have my own pre-formed ideas as to what things sound like."
The strongest song on the album and The 405's favourite contender for next single is the pretty immediate, 'Get It'. La Grange is a fan too: "I had it on my laptop for a while and I knew that the pre-chorus and chorus were good and very hooky and it had an instant pop melody to it. Ultimately, we ended up giving it a bit of a nostalgic pop feel so that it wasn't too shiny or sing-along. It was one of those songs we recorded and thought it should be a single at some point. Hopefully it will."
So she's not chosen which song will precede the album release, yet? "Well, we're still trying to figure out which song to go with," she says. "It's really hard to pick which one, especially on an album like this, where there are so many different sounds. I wish someone could just pick it out of a hat and make the decision easier."
Whichever song ends up being the album's immediate precursor, it's clear that with Cut Your Teeth Kyla la Grange is spoilt for choice. We predict that this will be her year.
The single, Cut Your Teeth, is out on 9 March with the album out in May on Sony.