Why does obvious talent get left on the shelf of cultdom, while less talented offerings become superstars? Money, marketing prowess and personality and luck all play their part, but what part does each play? It's a well known, if quite giggly story, that unknown (at the time) novelty singer Joe Dolce prevented Ultravox's Vienna from claiming the number one spot in 1980/81 by having the effrontery to sell more records. Vienna was Ultravox's biggest selling single release, and was the title track of what a lot of people presume to be their first album. It was actually their fourth. It was however the first to be produced featuring new front man Midge Ure. The band had previously enjoyed cult success while fronted by John Foxx, with many of their tunes being greeted with variations on the "oh yeah, I remember that, who was it" theme! The same was true with The Human League's Dare album. This record's experimental and hugely influential predecessors Travelogue and Reproduction only came to the attention of many following the reorganisation of the band in 1980. Was it the turnaround of personnel in Ultravox and The Human League that served as the catalyst for their improved fortunes, or was there something more tangible responsible? Was Midge Ure a marketing genius? Did Joanne Catherall and Susanne Sully prove to be priceless eye candy? Certainly the music was up to scratch; skilfully written, produced and delivered, and right for the time, but it isn't always the case that quality automatically brings home the bacon. Indeed, it often seems to be the opposite that holds true. When Stock, Aitken and Waterman made their assault on the charts several years after Dolcegate, a lot of the pioneering electro bands had mellowed out (mostly into New Romanticism) by producing for-the-masses offerings. Spandau Ballet had forgone their earlier engaging 'Journeys to Glory' cutting edge style and had hit true gold with, well, True and Gold! Most other bands had performed similar sell-out acts. What these three music producing 'messiahs' did was to identify a gap in the market and attempt to plug it. This was achieved with their own brand of bland, unchallenging pop music, accompanied by some savvy marketing, producing existing acts and eventually matching new 'talent' to music that they wrote and produced. This self-termed 'British Motown' promotional production machine allowed Kylie Minogue's seamless sidestep from soap starlet to pop princess. Amazingly the SAW mud didn't cloy too much to prevent her subsequent rise to superstardom. The same can't be said for 'the next big thing' Rick Astley, who sunk without trace when the SAW formula wore out and the wheels of freshness fell off. None of this happened though before several people had made a lot of money, and a lot of no longer played records were added to a lot of collections.
Possibly not since the creation of the Monkees (as a money making answer to the Beetles) in the sixties had this level of fabrication occurred. This fresh precedent paved the way for a glut of boy/girl bands to hit the charts, most of whose members didn't know one end of a musical instrument from the other. What they did have though was some sort of appeal and backroom support in the shape of knowledge, experience and deep pockets. This combination ensured that most of the music produced by these design-a-kit outfits hit the right audience by targeting the teen girl market. It's a matter of opinion as to the level of benefit to music that these fabricated acts have added; some of them undoubtedly have produced some well crafted, listenable results; some have been little short of painful! The stakes have been raised even further over the past few years, as Saturday night TV has added its weight to the music charts assembly line. Now the manufacture gurus have an even more nailed-on method of wrestling money out of the pockets of the masses; they ask their intended victims to vote for their preferred mould fitter! The majority of the younger, single buying market have for decades been encouraged to listen to the main radio channels that have pumped out music that is deemed to be acceptable by some suited management committee. With the emergence of the 'you vote, we gloat' TV shows, that audience must have been increased hugely, but still the same message is implied; 'this is the best and only option you have - make the most of it'. If you're reading this, then you've probably got something about you to come and find it and not just to rely on one of the big radio channels to spoon-feed you. You may agree with this article, or you may disagree – that's your prerogative. You get to choose, but a lot of people don't think that they have that option and simply choose the style that they like best from the available commercial play lists. "Anything that's not played on the biggies is for weirdoes, right?' There's a great deal of this attitude about – less than there was ten or certainly twenty years ago, but prejudice is still there – and it's such a shame. There are so many fantastic artists out there that offer the listener a much richer experience than some of those currently populating the charts. The upsurge of festivals has helped to balance the inequality somewhat, but more lately it's become the trend to dust off old acts and point them in the direction of a new, unsuspecting crowd, touting them as 'retro cool'. It may be fair to assume that this label sits well with some, but absolutely not with all. Others too are cashing in on the back of hit TV shows, such as Glee, which has perhaps prompted one band at least to bring out a 'best of' album. Are buyers likely to be disappointed when they listen to the original Foreigner's non-Gleelike version of 'Don't Stop Believing', or will it give the band a new surge of life…and capital? There seems to be a resurgence of interest in 80s music at the moment – The Killers, Goldfrap, Lady Gaga, Little Boots, La Rue and others making the most of their time in the sun with their combination of up-to-date retro. At the moment, influence comes predominantly from electro pioneers, such as Depeche Mode, Duran Duran and their peers, but over the last ten years or so there has been a different, less well known source; American punk. The American punk scene operated from several bases in the 80s; the most prolific being in Washington and California, but bands like Minnesota-based Hüsker Dü really laid down some solid foundations on which their successors could build. Hüsker Dü were a three-man outfit, and like many bands of this type they produced balanced, well constructed tracks that built to deliver a massive sound. Powerful baselines and intensive drums were completed by front man Bob Mould's lively combination of rhythm/lead guitar, vocals and sweat! Anyone who's listened to the Foo Fighters can't fail to hear the Dü sound coming through. Green Day, Linkin Park Limp Bizkit and Billy Talent are examples of other bands that have in recent years drawn on the influence of this genre. Prime movers include the record labels Dischord, SST and Alternative Tentacles, and the bands The Dead Kennedy's, Minor Threat, Rites of Spring, Black Flag, Naked Raygun, Youth Brigade, Bad Brains and so many more.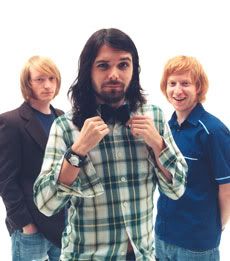 There was a clutch of British bands that emerged around five years ago that threatened to 'make it big'; Vex Red, Biffy Clyro and Reuben perhaps the best known of them. Promoted and handled differently, their fortunes differed accordingly. Of these four, it was Reuben who seemed to struggle for recognition the most. OK, they produced three good quality albums and were well received at countless gigs up and down the country, but still they had to squeeze it all in whilst holding down 'proper' jobs. Why was this? Did they want to try to make it on their own? Were they not considered to be financially viable from the point of view of a record label/promoter? Did someone in the band rub people up the wrong way? Whatever the reason, the band has now split, due possibly to stresses caused by the continual disappointment of not quite getting where they (and others) feel they deserved to be. Reuben were easily as good as, if not better (matter of opinion) than, say Biffy Clyro, who churn out rather uninspiring (again, matter of opinion) albums on a regular basis. It would appear that they've found a winning formula, stick to it, don't rock the boat, and either alter the mix to cope with time or are lucky enough to have the Prince factor! As successful as Biffy Clyro are though, they don't seem to enjoy any real coverage on the major record label play lists. It's up to the listener to find them, or be made aware of them in some way. This has been made much easier lately, with all that the Internet has to offer; streaming media players, peer to peer share sites, online download stores, etc, but there may also be an argument that says it's more difficult to find what you're looking for too! Why? Well it's easier than ever to produce and to make music available now, which offers more choice to the consumer. This crowding of the Internet on dedicated music and band sites, MySpace, Facebook, Twitter, YouTube and other social networking sites cheapens the value of such marketing, and may seem to make the role of the established record label and distributor more important than ever.
'Lily Allen did it, why can't I?' The fact that Lily Allen did do it makes it both easier and harder for others to follow suit; easier, as it's now a recognisable marketing format, a pattern has been established, and more tools are appearing to furnish the demand; harder, because it's so easy to follow the format that lots of people are doing it, making it more difficult to find each individual. Tools like MySpace, iTunes, Last FM, Spotify, podcasting and other sites allow users to distribute and download content via intuitive interfaces, so even the most untechy amongst us can become producers and distributors. The only thing that these impresarios need after their content is uploaded is the ears to hear it. Online players like Winamp allow users to find music, to listen for free via the Internet, and also suggests similar artists and their influences. It doesn't take long to find a whole new raft of hitherto unknowns to add to your favourites' list. It seems such a shame that so much quality is out there, easily accessible, but not being given the exposure that it deserves. If everyone had the capital that propelled James Blunt and Paulo Nutini et al into the primetime viewers consciousness it'd be a different story perhaps, but as that's not an option for just about every wannabe, other alternatives need to be sought. Californian combo, Silversun Pickups were recently 'picked up' as support by Placebo during their recent UK tours, but prior to that they were making good music for little return. Arcade Fire gained more appreciative recognition following an appearance on (possibly most notably) Jooles Holland. If fellow Canadians The New Pornographers don't follow suit, then the world will miss out. Extraordinary musicians and songwriters, they currently enjoy some not-insignificant notoriety in their native land, but elsewhere they come a long way down the pecking order after better-promoted acts. Whether or not you like the examples (or agree with the opinions) given within this article, you can find some fantastic music by proactively searching for it, and get the added bonus of 'discovering' it! How smug would that make you feel? So the next time you want to listen to some music, jump onto Winamp or iLike.com and do a bit of exploration. In Winamp, go to 'Now Playing' and use the search function to find someone you like. Then choose a similar artist or influence from the right hand side. Who knows, it may just change your music listening world!
Written by Ralph