I open my interview with Peaches by referencing the number of memoirs by prominent women in the punk scene that have been released recently. Since Patti Smith's Just Kids came out in 2011, it appears to me that momentum for the practice of the feminist, political and radical act of women whose life's work helped shape subculture openly taking credit for that has been gathering.
After all, February of this year saw both The Slits' Viv Albertine release Clothes Clothes Clothes. Music, Music, Music. Boys, Boys, Boys and Sonic Youth's Kim Gordon release Girl in a Band. This month, The Bookseller announced that Virago has acquired rights for Sleater Kinney's Carrie Brownstein's Hunger Makes Me a Modern Girl with plans to publish in autumn, and, of course, Peaches is in the UK to mark the release of her book, What Else is in the Teaches of Peaches.
Is the timing of the release of a volume of images of her taken over the last six years deliberate? Does she see this project as part of a moment in popular culture whereby the relationship between women and the approbation offered by archiving is being reconfigured?
"No," she says simply and politely.
When Peaches first began performing, she liked to take to the stage wearing, "a tight pink little bathing suit" from which "some pubic hair would stick out." She started to notice that people in the crowd were taking close up pictures of her crotch while she was singing. Her way of processing this new phenomenon? To open and curate a 'Crotch Gallery' - to which people could send pictures they had taken of their own nether regions. It was as an offshoot of this project that the cover of The Teaches of Peaches was decided upon - the notorious pink tank top and lycra pants shot is one of Peaches herself, taken by a bystander in the crowd of an early Toronto gig.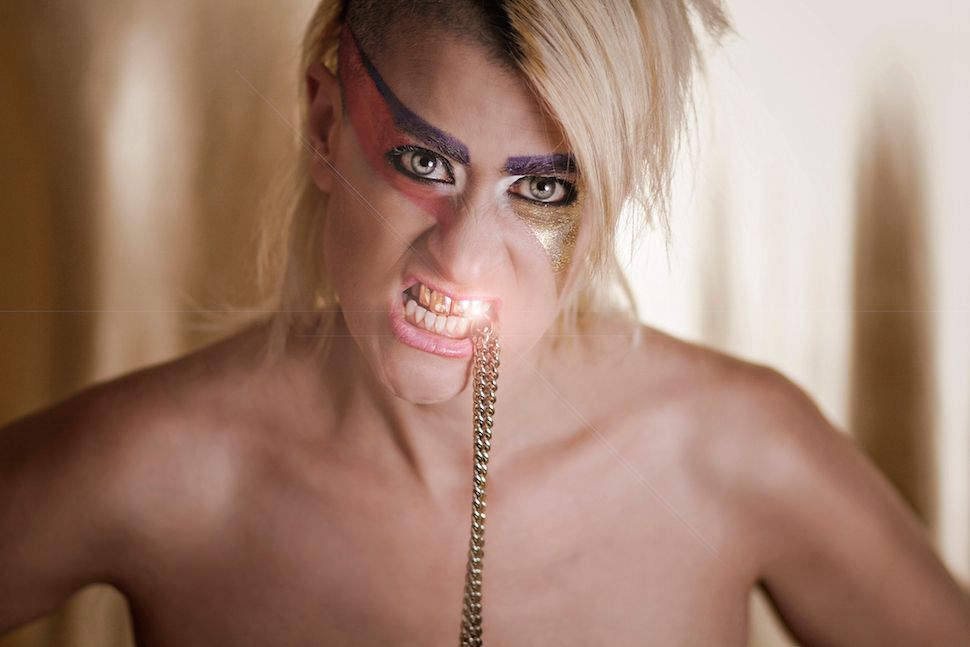 The purpose of the Crotch Gallery project, she tells me, was to "step back, to come to terms with attention and experience." Before moralising or attempting to control a situation she finds herself in, she wants to be sure that she has fully been present in her own experience of it.
This pattern of behaviour is one that our conversation is to show has repeated throughout her career. It is also perhaps the reason that her music is so very exquisite; Peaches is able to give herself to the moment of performance fully, trusting herself to shape it into a narrative later.
From her first tour in 1995, Peaches began recording home video clips of herself, with the stated purpose of absorbing that, "this is really my life." Asked if the 2,000 hours of footage amassed over the last 20 years were taken with the documentary projects she was later to be offered in mind (none have yet come to fruition, a fact she regrets), she again tells me no.
Upon moving to Berlin in the early 2000s, she hired out the shower room of an abandoned swimming pool with a dual purpose in mind. Firstly, to record in the sauna section, as the wood made for excellent reverb, and secondly, to store all of her used stage costumes in. At the moment of commissioning each boob-covered, bright pink creation, the germanic shower room was surely not in her minds eye.
For What Else is in the Teaches of Peaches, photographer Holger Talinski took pictures for over six years. They included him showing up when her parents were visiting her in her apartment and when she was "laying around, making beats in bed," alongside following her last world tour. The result of allowing that process to unfold naturally in full before allowing the process of making a book from the images to begin is an intimate picture of a multifaceted life.
In all cases, the act of archiving seems to Peaches to be ahistorical. The best picture is the one not that places her in a context of her musical contemporaries, it is the one that seems to her a perfect form of an emotion she knew herself to be experiencing at the time. Her archive is a punk archive, one strung together of immersions and transgressions, not coherences.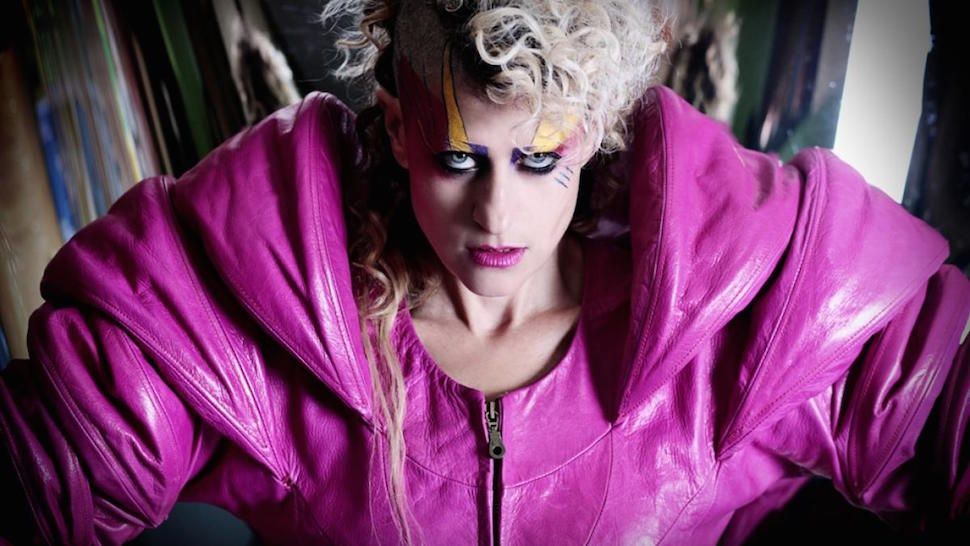 On the theme of new album Rub, out in September, our conversation turns to album craft and the temptation for modern musicians to forget about it altogether. With the death of the CD and the rise of streaming services such as Tidal or Spotify, it's undeniable that fewer people are listening to albums from start to finish in song order. Does this void musicians of the responsibility of crafting song progression so as to make listening in this way a rewarding experience for those who do? Peaches does not think so, a fact evidenced in Rub.
At this point, I must admit to simply not knowing the musical terms to chart the experience of listening to Rub in full. My best approximations might be to call it ethereal, jittery yet unrushed, narratively progressive, immersive or surreal. It's also decidedly peaceful, beats seem to skid around without ever falling out of place.
I doubt Peaches would think less of me for trying to stretch my existing language to archive the experience of her work in a way that makes sense to me. When I asked her how she had recently managed to pull off the incredible feat of performing the lead role in Monteverdi's 17th century Opera L'Orfeo having received only six months of tuition, she tells me that she saved time by not learning the traditional musical terms that operatic singing is discussed in. Together with her tutor she invented a shorthand for sounds she knew by ear but not name. Drawn out bits were called 'drags' for example, and difficult notes 'bitch.' Once when she became lost during rehearsal her tutor called up to her, "drag, bitch, drag." To this, she was able to respond by hitting the perfect note.
The lingering impression I am left with from both reading What Else is in the Teaches of Peaches and listening to Rub is that Peaches is a woman fully in control of her own narrative. This is true, aside, even from the meta-narrative of an increasing number of female musicians doing the same. If Just Kids had never come out, if Riot Grrrl had never happened, one somehow feels that Peaches would have made her work just the same. Her art is the true story of herself and herself alone.
Peaches' new album, Rub, is out on September 25th.