60 acts, 22 concerts, 23 authors, and counting. Not many cultural or social projects can claim to be this ambitious. Sam Briggs travels to Nairobi for an in-depth investigation.
Whatever the truth behind the breathlessly hyperbolic figures spewed by warring journalists after the Hyde Park Live 8 concert, on July 2nd 2005, it feels unlikely that as many people tuned in to Africa Calling, the simultaneous Cornwall alternative aired purely over the BBC's digital networks. Whilst global audience estimations for the London event skyrocketed to in excess of 5.5 billion, controversy rightly bubbled around the sheer narrow-mindedness of the drastically un-African nature (only two African born artists) of the concert's line-up, despite its proclaimed mission to pressure the coinciding G8 summit into acting to reduce poverty in the continent. Although this suggestion that 85% of a contemporary 6.45 billion world population tuned in to watch, necessarily containing vast swathes of less-developed portions of the globe, feels pretty far-fetched, no matter how many doves Bono managed to let off, it might hint at the hegemony, or perhaps just learned arrogance, of a Western self-perception. To quote the witty epithet of one man more active in redefining national difference, Damon Albarn, it all felt a bit "damn Anglo-Saxon".
Time called on the history lesson. Though even eschewing the rhetoric of a progressive perspective, this surely represents an inadvertent physicalisation of a pre-existing issue. Whilst global eyes have nowhere else to rest than on the bright ubiquity of Geldof & Co., African musicians are largely left to languish in the under-recognised niche of a hastily organised substitute. Despite the collateral positive benefit garnered from the campaign, the fiery backlash felt anything but doused in the event's aftermath.
Instances such as this might form one backdrop narrative for the mission of the Ten Cities project. It may not be the first, or indeed the most flamboyant, attempt to generate, explore, or celebrate moments of intersection between African and European cultures, but it's without doubt one of the most ambitious. Over the course of two years, the project will unpick the rapidly flourishing phenomenon of clubbing as social practice, its implications for the appropriation of public sphere, and inspire a local explosion of creativity through physical exchange between artists from five European, and five African countries. With a scope covering ten countries, two continents, three disciplines, 20 main acts, ten photographers, 23 authors, its attempt to establish contact zones, collaboration and cultural exchange is one that can be digested aurally, visually and intellectually. In the name of investigative journalism, it's one the 405 were lucky enough to experience physically, also.
Although, upon speaking to Johannes Hossfeld, Director of the Nairobi arm of the Goethe-Institut, in a jet-lagged haze and following an instant immersion into local surroundings via a taster of the infamous Nairobi traffic, a slew of near-human sized marabou storks, and a man attempting to sell us recorders from a bizarrely well-stocked bag on the city's main entrance dual carriageway, its inspirational origins appear far more humble. Having moved to the city six years ago, to head up the institute's operations, Hossfeld explains how "I had nothing to do in the evening, except to go clubbing. I found myself thinking: 'What's going on here?'"
Perhaps I'm frequenting the wrong kind of social circles, but this level of musing normally occurs on the way out of the club, rather than on the way in. Nevertheless, Hossfeld has assembled a stellar cast of similar minded thinkers, ranging from South African journalists, to Ukrainian club owners, to Naples-based professors, to Egyptian culture writers, to form one branch of the Ten Cities project. Provoked by the discussions of the week long seminar my visit was privy to, these authors will between them generate two essays about the dynamic influence of club culture in their native society, one writing a narrative of its history, and the other reflecting on the relevance of the club as a public space. As Joyce Nyairo, one of the Nairobi authors, and one academic figurehead of the study of Kenyan popular music, summarises, "one is text, and the other is context". When collected, they will form the research portion of the project, the most nationally specific portion.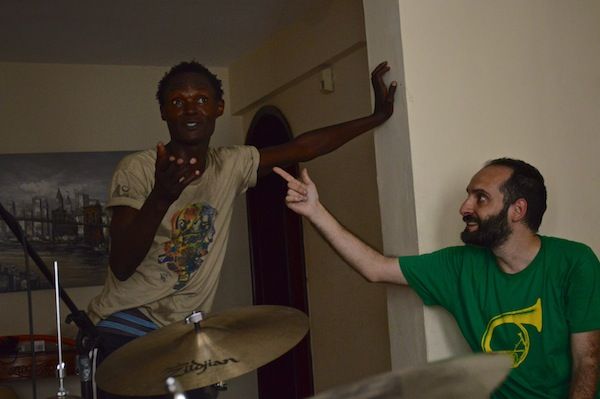 Through ten years of research, Nyairo has sought to break down the hierarchical binaries between, to quote just some that arise in the snippets of discussion we catch, high and low culture, public and private, secular and religions, sacred and profane, that might limit discussion by "seeing popular music as renegade activity going on in the city, and as a contamination of traditional culture". She qualifies the ability of popular music to shape opinion and define the public sphere every day, with ease, and to a broad audience as making it worthy of debate. "The role of academia is to demonstrate that this is happening," she continues, "affirm some of the artists' ideas, and to give them legitimacy within the mainstream". Despite our discussion touching topics as disparate as Habermas and Shakira, we end at a familiar point; that the club might function as a communicative space and contact zone as illuminating about a city and its culture as anything else to work out: "What's going on?"
The one answer the project is not striving for is homogeneity. As Hossfeld explains, Ten Cities is "not looking for commonality, rather more precise, local stories on what spaces mean in certain locations. […] Finding a metanarrative isn't the plan. It's about celebrating the local in the context of the international". Whatever power play exists in a German cultural centre funding, say, an artist from Johannesburg to go and record in Kiev, the topic of discussion is not about reinforcing existing cultural or pushing national ideas, or finding a neat solution that fits every respective glove.
In the seminars we sit in on, any rule book seems to rest on quickly dissolving turf. Considering Hossfeld's vision of doing away with the flabby "rational, language based discourse" of urban theoretical discussion, to "challenge the old notion of public sphere in a new way not based on words," there's a considerable wealth of vocabulary to get through. Before long, the question of Luandan Angela Mingus: "what do we actually mean by dance music?" moves to the pronounced presence of the Lagos contingent, and Mudi Yaha. "In Lagos, funerals are where you to go to get drunk or high", he describes, before the group move on to the link between church and the club, and gospel as a fashionable projection of youth identity. This comes just before Yaha's discussion of the relationship between fractals, chaos theory, and Fuju music. The ins and outs of Jagerbomb promotion this ain't. Hossfeld's curated group are thrillingly crafting a reshaped academic frame, through their individual, engaging perspectives, and fluid approach to discourse. It seems you're contradicting yourself It's flying in the face of a worry mooted by one participant, that "I find writing music entirely boring". It's not only the "Why?" that's up for grabs – it's the "What", "Where", "When" and "How" of club culture that's under scrutiny. Everyone brings their own cultural idiosyncrasies to the metaphorical table – the Nigerians with their traditional dress, the Ukrainian duo with their top quality vodka, and us British journalists with glowing sunburns and our eternal quest for Wi-Fi.
These revelatory impulses are by no means constrained to the limits of the auditorium, however. In Nyairo's words, if the discussion remains purely in the academic sphere, you're just "preaching to the choir. […] Artists have to have a voice". Having traversed the town to the smart Kileleshwa suburb, to visit the Nairobi recording project, the first worry is that their neighbours in this smart, middle class district are hearing that voice a little loudly, as the gentle din of in-development tracks, jams, samples and instruments emanates round the block. The Tardis-like inner expanses are a bubbling cauldron of activity, a multi-cultural hub of creativity, where local artists, their European counterparts, and seemingly anyone with a drum, is welcome to partake in their open door policy, and make some music. There is a Nairobi precedent for such a creative idyll; the previous Goethe BLNRB project, launched by the Institute in 2010, presented the physical manifestation of its acronym portmanteau, where artists from Berlin and Nairobi collaborated in a similar vein. The mention of this is clearly familiar to many faces gathered again, and the project's final title – "Welcome to the Madhouse" - appears a tribute as much to the environment in which the release was born as to the local club of the same name. (I can now personally vouch for the suitability of the latter's title). This time around, however, the atmosphere is industrious, and the hive buzzes with productivity and excitement. One half of Octa Push, the fraternal duo who have come from Lisbon for the project, jokes that the biggest surprise thus far had been that "[he] maybe expected to be out the house more. It's like when you see Big Brother and you see people say when they come out, 'I was here for a week but it felt like three!'" Someone else cites the house's running joke – the dwelling has this time been dubbed the Nerdhouse. If there's one language that this project can safely prove universal, it's that of music tech-heads. It encourages a comforting economy where cooking lessons can be bartered in exchange for Ableton live tutorials. Moritz Caspar, one relentlessly cheerful member of the Goethe's deployment, excitedly tells of his quest to collate and credit every artist who has contributed to the four meets to date. His list already exceeds 60, and he foresees there being well over 100 by the project's culmination in 2014. We hear anecdotes where Camp Mulla, the youthful (average age 19), hip, urban group who recently became the first East African group to top the MTV Base charts, are found tapping lyrics into Ipads, where traditional benga musicians scribble traditionally on paper. True to the house's feel, Miss Karun of the former group is found deep in focus on Fruity Loops.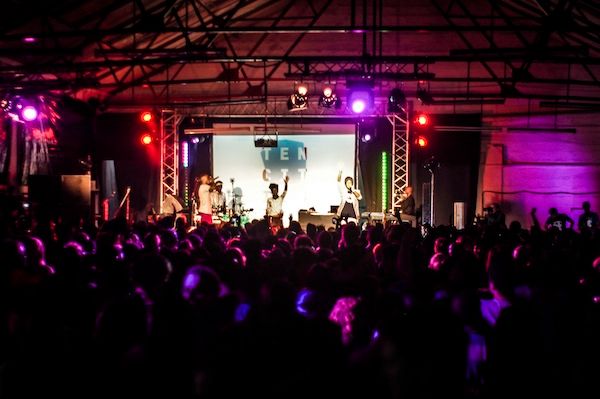 It's not really a climate that fosters hierarchy. The role of curator, however, falls to Just a Band, the local purveyors of a DIY aesthetic, and one of the sole representatives of Nairobi's underground scene, to quietly oversee proceedings. Their leader, Bill "Blinky" Sellanga, refers to the invaluable support they have received from the Goethe Institute, "without them, I feel we wouldn't have had the motivation to go on. They understood what were trying to do much more than anyone else. […] In the beginning, much more than people in Kenya". Later in the week, over plates of injera and local beer Tusker, we watch the Arsenal vs Manchester United game, until a powercut forces us to follow proceedings on one major recent development in the way Kenyans communicate – smartphones and Twitter. After some very familiar inter-team banter, and discovering Bill follows Piers Morgan ("He can be a bit of an arsehole sometimes"), he tells us how Kenyan radio wouldn't play the band's first single. When it was played on South African radio, they referred to the collective as Nigerian, perhaps because "they thought it's a sound that wouldn't come from Kenya". It's a cultural divide mooted from our first meeting with Johannes, that Nairobi's imbibing of other cultures into its own creates an "international city", and its "strict invisible maps" of clubbing encourages nightlife to be about sociality, rather than music, and consequently resulting in a crowd pleasing, mainstream musical landscape.
"Apparently we have this thing where we made ourselves bland," says Dan Muli, Bill's Just a Band compatriot. "If you go to West Africa, people have these huge personalities, […] and people come to Kenya and say, 'Why are you so quiet and meek! Where's the spice?" Just a Band are not a polemic retaliation against opinions such as this, however, as "that would just be a new kind of dictatorship. But we are from Kenya," Muli continues," and we've never lived anywhere else. The whole point of it is that it's an honest representation of us. […] There shouldn't be barriers, and that's what our music's trying to be about – that we think it's possible to take all these things, and work through questions about identity and nationality, and that it can still feel musically true, and honest, and interesting." Just a Band challenge their norms not just musically, with their mix of the organic and the electronic, but by acting as a real multimedia collective – creating their own videos, and even mythologising their history with a fictional back story.
This underground absence is a division that rears its head many times during our visit, and one that Oren Gerlitz, from Berliners Jahcoozi, cites as potentially a peculiarly third world phenomenon. "It's okay to understand that in Africa, there is the division between underground and the mainstream. This project is to do with the normal social structures of Europe – people in Europe can choose to be underground, and choose not to make music when they want – but in Africa people don't have that privilege. It's very unfair to expect electronic music in Africa, where it's underground or whatever, to [conform to] a European model". Gerlitz has worked in Nairobi on similar projects before, and speaks hopefully about the "slow meld" of people realising the other side of a stereotyped African sound, and that groups like Just a Band are "proof that, little by little, if you play people new things, they'll change". He refers to the increasing affordability of a decent set up, and that as we all become "globalised in a way", accessibility to music means fans and producers can co-exist more fruitfully.
It's a point of difference Muli recognises. He refers to how every new artist in Kenya "ends up following an American business model, and in the end, that stuff seems not to work really". He refers to a contemporary debate amongst Kenyan scholars about why Kenyan writers tend more to moralising, grandiose diatribes, rather than just lightweight thrillers. "In third world countries, it's hard to escape the fact the fact that as we're here talking about lofty things, for other people just getting their daily bread is such a big thing. […] That might be a much more real answer than anything I put forward before. We haven't got to the point where we can say our art is about a really random pursuit of an idea above all else. It has to mean something. […] It's not just a waste, it's almost an insult to do something that doesn't mean anything." Equally, he speaks perceptively on the opposing opinion of the public crowd, who want music for escapism, and so are likely to reject morose, sorrowful wallowing. In this context, hip-hop's popularity might be about "rapping about stuff before you have it, and not about truth. […] It's creating a mythology for yourself where you can feel like you have more worth". His focus on celebrating the individual, rather than conforming to international models, rings true of the Goethe manifesto, that "it's just thinking about things in their own different way. Maybe that's the interesting thing about this joint."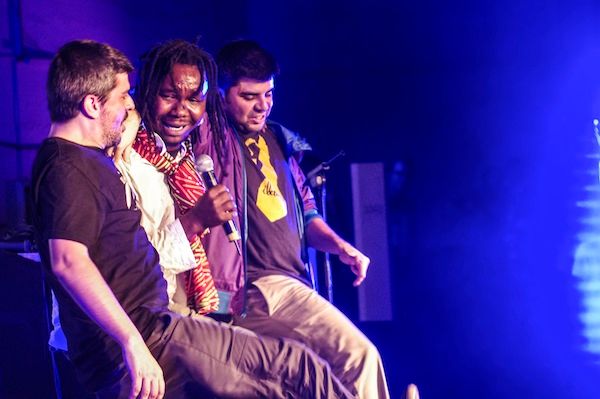 I ask him if it is possible for new musicians in Kenya to conceive their career without considering business models. "That's what everyone comes and asks me. Yes – you've been places, and done things, but is it paying? [Here,] you're not encouraged to follow your own weird dreams as much as you are to support a family of your own, and be able to do all these responsible things. [So,] you can do anything, as long as you're able to feed that family. There's all of these people who do the fishiest thing – but people are okay with it because they can afford to live in a certain area. You think – 'I mean that guy's a drug dealer!' – but then people say – 'Well, you know, he feeds his family.' The ability to support everyone is paramount." He jokes at how only when the band made it onto CNN, and the daily local papers with a viral video campaign, that "our mums stopped asking questions."
Though the combination of their counter-culture aesthetic, and the Ten Cities' writing of a musical history, might just be able to wear off onto future generations. Nyairo sees music in Nairobi as "effervescent, where the people just vanish". Without an underground history of reference, how can natural processes of influence and imitation operate? She challenges the lack of underground moments in Kenya, that musicians "always present themselves in this town as the first to do something, but they're actually just historically illiterate. It's the tragedy of a society that has no archive".
Batida, the project of half-Angolan, half-Portuguese Pedro Coquenão, is one such passionate historical delver. Having recently released on Soundway Records, the Brighton label rapidly gaining a reputation for their global music focus, he brings his tutelage in a Portuguese context to match his voracious interest in the entwined histories of African musical genres. In an attempt to challenge the homogeneous set up of Mac and MPC, he fashioned his own instrument from self sourced hardware, a petrol can found on a neighbouring trash heap, and a bit of time. He speaks about how African masks can only perpetuate the exoticism of a synthetic Africanism – so he made his own. His dedication to promoting local culture drives his to collaborate with local artists to whatever extent logistics will allow, and in this particular setting he is working with percussionist Isaac, and local dancer and poet Adam Levy. As they work on the tracks that will be performed at the Saturday show, it is fascinating to hear the depth with which he details the inspiration behind each song, such as the backstory to Kuka – the national beer of Angola:
"In Angola, beer is cheaper than water. So if you are poor and thirsty, you drink beer. Everything is expensive except beer and tobacco, and those are the things that bring people together. But whilst you are drinking it, there is an old government getting richer and richer. So that's why it's only a fake happy song".
We see the venue for the final concert 24 hours before its opening, a still very much bustling car garage. But after a day's hard work, even the hydraulic car jack becomes a moveable DJ booth. The audience, consisting equally, if not perhaps totally representatively of locals and expats, flocks to this public face of the project. From Camp Mulla's hip-pop, to the driving pulse of bass brothers Octa Push, to Batida's engrossing fusion of Afro-pop and European electronica, this public face of the project's work is an unmitigated success. And on the basis of Just a Band's funky, feel-good uplift, their underground reputation might be unable to sustain itself in the shadows for long. It's a celebration of the osmotic approach to collaboration that the house, and the tracks we heard there, suggested, a cross-fertilisation of sound, and above all, a rollicking good time.
It's only in the early hours of the morning, in conversation at the aforementioned Madhouse, that someone posits an opposition. "Fuck the white man. That's who the Goethe are." It's perhaps an inevitable stubbornness against a project with global roots. But it's an unfair reduction of the project's sheer exceptionality, so committed to the breadth of its scope and genuine attempt at generating cultural exchange. Ukrainian Vitalij Bardezkij ("Call me Bard, like Shakespeare") says in a seminar that "we are living in times of copycats. To be provincial makes you create something unique". Ten Cities might answer Joyce Nyairo's question – "How do we make the arts scene more robust?" By recognising specificity without stimulating separation, its collaborative atmosphere celebrates various uniqueness on one, equal plane, working from grass roots to encourage cultural exchange, and investigating the social significance of club culture as a mirror. Adam Levy, the Kenyan dancer, ends Batida's performance with a passionate monologue about "always having to kiss somebody's ass" to get a leg up. With more projects and platforms such as this, there might be a better way.
For more information on the project, head to the Ten Cities website. The project is currently continuing onto its fifth meet, before moving to Europe. It will culminate with a festival in Berlin in 2014.
The 405 would like to thank the Goethe Institute, without whose generosity this feature would not have been possible.