With this new series of features, the 405 is bringing you closer to all your favorite musicians. We've decided to ask a couple of them to send us a self-portrait with their favorite album of all time. Why do these albums mean so much to them? How did they discover these artists and how has that influenced their own songwriting? For our first set, we've interviewed Adam Gnade, Sharks took the rest, and Solvor Vermeer.
Beccy Owen (lead singer of Sharks Took The Rest) Blue by Joni Mitchell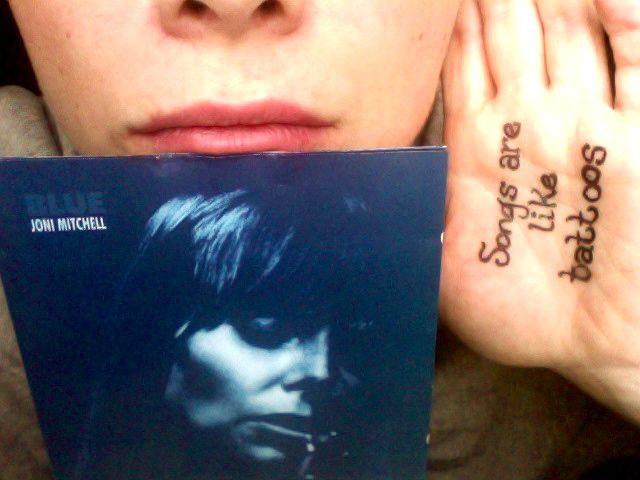 I was captivated when I first heard this record, which was when I was about 18. It's so beautiful and sad, and a lot of the beauty comes from the sadness. It raised the stakes in so many ways for me. As a listener it resonated in me, despite how intensely personal the songs are; and as a writer it shifted my perception of what confessional songwriting could encompass. Every song is a complete nugget with it's own emotional and musical complexity, but a lot of it comes off sounding really instinctive and raw, and as a record I think it's as close to perfection as you can get. That you can meld heart with form, poetry with craft together so seamlessly is an idea that inspires me massively, placates me as a music fan and I believe informs the music we make as a band.
Solvor Vermeer ..And She Closed Her Eyes by Stina Nordenstam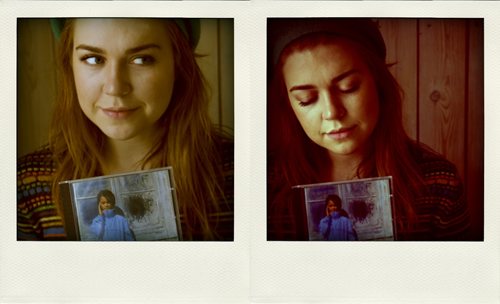 This CD was given to me by a dear friend the winter of 2004 and was the start of something new. Track 3 and 6 are my favorites and whenever I hear them I'm dragged back to that time of my life. I remember how my old room smelled, what the parking lot under my window sounded like in the morning and the feeling of the sun shining through my window since I didn't have any curtains. For me, his record was the beginning of a whole new way of going about music. If my house was on fire and I could only rescue 10 CD's this would be one of them.
Adam Gnade In The Aeroplane Over the Sea by Neutral Milk Hotel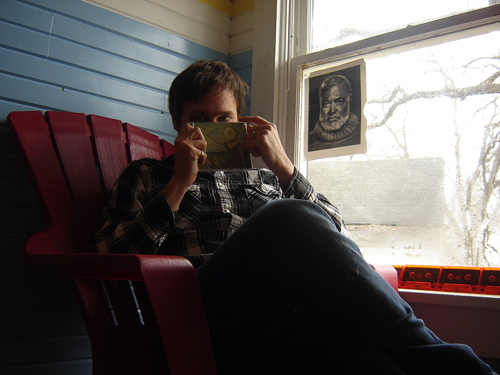 After the tape of the marching band music, Tom Carper plays a folk album written about Anne Frank. "So over the course of the record," he says, leaning into the backseat and talking with his hands, "Anne Frank dies and then she's reincarnated. There's a two-headed boy who lives in a glass jar and he's building a radio for a girl he loves. The music's this big psychedelic brass band with everything all whirling and trumpets blaring and organs and accordions rising up from the fuzz. In the lyrics there are, like, all sorts of things—allusions to incest, tarot card imagery, a circus wheel, a dysfunctional family of anthropomorphic carrots." Sounds like a mess," Aaron says, staring out the window at Irvine passing by—the palm trees and cars, the blue sky and telephone lines. He slouches down in his seat and sips his bottle of Coors. "I don't think I get it. Maybe the speakers just suck." "No, but it's more than... I dunno... more than the sum of a bunch of old-timey carnival imagery. The singer—he's saying something. It isn't some love me, love me, saaaay that you love me bullshit." Tom Carper's voice drones in and out, disappearing beneath the music, coming in through the quiet spots, arching above the road noise. It's like the tape of the marching band music—there, but not there. They pass by a car lot on the side of the road with rows of colorful plastic triangle flags flapping in the breeze and the singer sings, What a beautiful face I have found in this place that is circling all 'round the sun. And when we meet on a cloud I'll be laughing out loud; I'll be laughing with everyone I see... can't believe... how strange it is to be anything at all! "Like that," Tom Carper says, looking back at them, and straining against his seatbelt. "That sort of stuff. Just listen to the lyrics. Pay attention to everything."