For the second part of our regular feature about bands and their favorite records, I picked three artists with very different genres of music and from completely different nationalities. The first is a slovenian band whose energy I was impressed by at their live show; it is our first band to have chosen a collective album (rather than different albums for each band member) of which the influence on their music is very clear. The other two make easily like-able indie pop at its best, the US-based one moving in the direction of folk and the second, from Austria, using very light touches of sunny and catchy twee pop.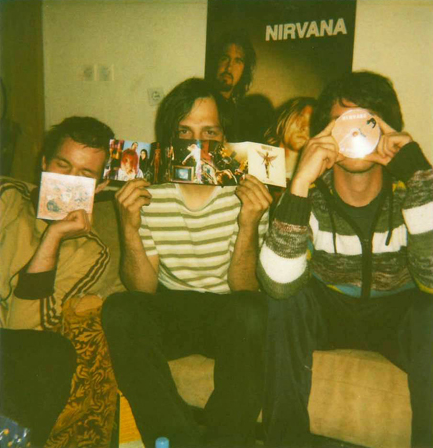 We are a band. And of course, band members don't like the same music all the time. Actually, there aren't a lot of albums which are equally liked by all three. But, when picking the "numero uno" for the three of us, there is no doubt which piece of plastic shakes us the most. When
In Utero
came out, we were 11, 10 and 6 years old. It's funny to realize how efficient the record still is. During our last tour, we were listening to the whole record at our friend Bertrand's place in St. Etienne, France. It was about 2 in the morning and we were singing along the whole time, realizing how incredible the songs were. Almost like 16 years ago, shaking our heads and feeling the powerful Nirvana's approach by the three hairy lads. The ideal mix of pop structure songs and more atonal and dirtier sound than
Nevermind
make us feel
In Utero
was Nirvana at its best.
In Utero
was also the first record that really felt honest at the time when it came out: laughing at glam-y macho rock shit,
In Utero
was what rock'n'roll should be: noisy and direct.
Commerce The Blue Album by Weezer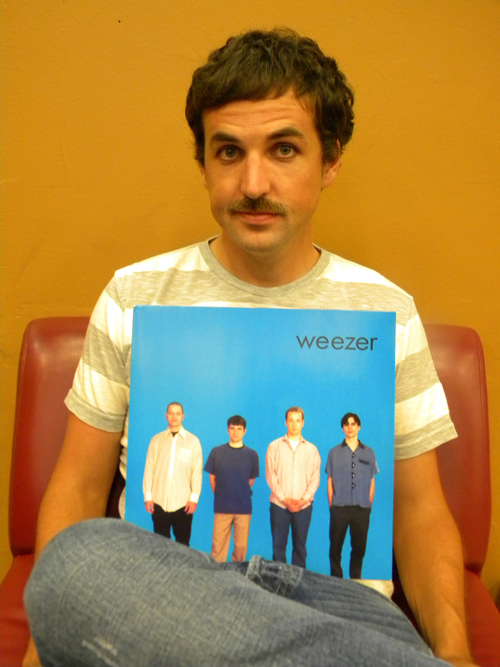 Everything relates back to 1994 - was it pre or post-blue album. Weezer's debut album was an unforgettable introduction to the world and to me on the beauty of simplicity and the way things should work and sound together as a band. The guitars, the dynamics, the arrangements, the harmonies, the artwork... everything about this album was, and still is, perfect. This album relays an authenticity to the listener that is rarely found anywhere. This was the album my sister and I listened to as she drove me to and from school every day. This was the first cassette tape I ever bought. And it's still one of the few albums I can listen to years later and have it be just as new and exciting as when I first listened to it.
Christoph Wieser (Deckchair Orange) Crosstide EP by CROSSTIDE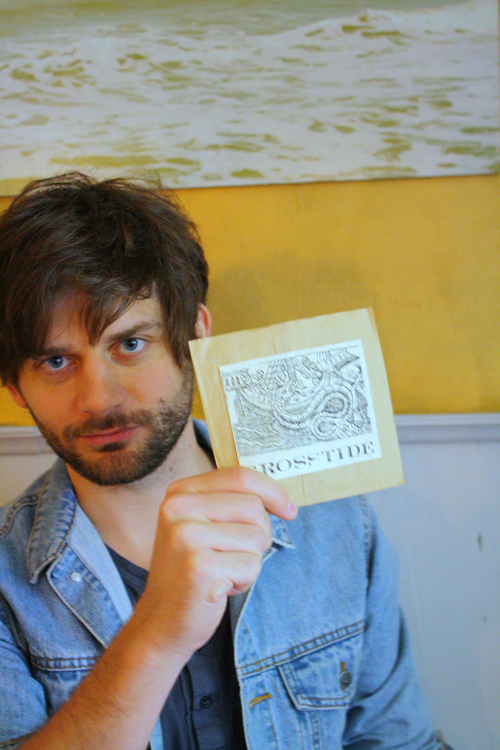 So what's that, favorite album of all times… that's like choosing a favorite color, some people can, I simply can't. So when I got asked to write about this, I went to my collection of CD's, yes you heard it right, those silver compact discs and I stumbled over this paperbag-packed little something, showing a woodcut print of a nautical scene on the cover. That mystic beast of the sea caught my attention and there was the same sensation again I had when I heard this music the first time. It was July 2003 in San Diego, CA and I desperately wanted to see a "local band" so my friend Abby and I had chosen a random place that had 3 bands on the bill. I can't remember the name of it, neither can I remember the other bands but when CROSSTIDE came on stage it was all magic. They filled the air with such a tension and passion within seconds, I was totally into it. They had that one song in the middle of the set, that just blew me away. I was talking about it over and over in the car when we were driving back. I had walked over to the merch corner and asked the girl who was selling self produced CD-R's of the bands playing about the song. I couldn't tell the name of it, but she knew what I was talking about. I can still remember the feeling driving back home, well, Abby was driving, I was taking control over the CD player, trying to find that song on the record. It was track #6, called "Maria".