Microsoft's Xbox One reveal last month was undoubtedly very strange, alienating gamers with an almost weird obsession of shoehorning TV and Sports into our lives with some pretty intrusive draconian DRM. Many gamers were asking "Where are the games?"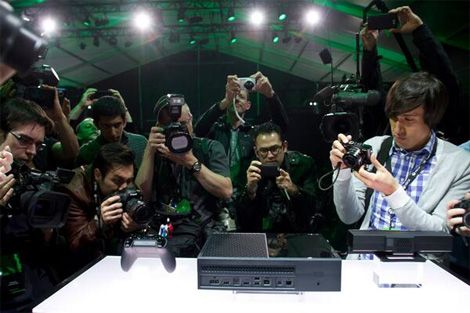 Thankfully Microsoft came out guns blazing with their Xbox One keynote, first announcing the release date and pricing for the console that will see the next-gen piece of kit retailed in the UK on November 2013 for £429.
Next, Microsoft revealed that Metal Gear Solid V: Than Phantom Pain would indeed be coming to the Xbox One as well as its rival the PS4. We got to hear Kiefer Sutherland for the first time as 'Big Boss", and I'll admit it was jarring at points (seriously - why no David Hayter?) however we shall see what the final product brings later this year.
Microsoft was quick not to dismiss its last-gen console, the Xbox 360, by offering a new bundle that will come with 2 free games (Assassins Creed II and Halo 3), games that will also be available to existing XBLA members who are migrating to the Xbox One.
Splinter Cell: Blacklist, Final Fantasy XIII: Lightning Returns and Grand Theft Auto V were all mentioned as games coming to the Xbox 360, as well as World of Tanks, the heavily Trine-influenced Max: The Curse of Brotherhood and Dark Souls II, the latter with completely new trailers!
The next game that debuted was undoubtedly one of the freshest blockbusters to hit the Xbox One line-up: Ryse: Son of Rome. It appears to be a QTE-heavy 'Call of Duty' but-in-Rome-styled bash em-up that sees you control a battle hardened Centurion General in massive historical conflicts.
A fantastic looking trailer for Sunset Overdrive, a stylish parkour focused FPS game with a fantastic soundtrack was shown before segueing into Forza Motorsport 5 that will debuting a really smart 'Driveatar' tech that analyses your driving ability and style and adapts it to you're A.I opponents, making them drive along side you more realistically.
Minecraft, Quantum Break and Swery65's D4 were all quickly shown with their respective trailers and all looked fantastic, however the showcase for Project Spark stole the show with its unique use of Kinect-exclusive voice commands and SmartGlass to mould a unique world that can be shared and played between a whole online community.
Next up Microsoft toted some really solid social features that weren't just your typical throwaway 'ERMAHGED YOU CAN TWEET AND POST ON FACEBURK' type. Instead, Microsoft revealed their partnership with Twitch TV and their 'Upload Studio' that allows gamers to capture in-game footage whilst recording commentary, or play the game live with a game chat via Twitch TV. What made this feature cooler was the 'Smart Match' function that allows players to play another game whilst waiting for their desired game to matchmake an online match.
My own personal highlight was the announcement that Killer Instinct will be making a return to our screens with Crimson Dragon, a spiritual successor to Panzer Dragoon.
A definite low point was the reveal of Dead Rising 3 showing off some pretty shoddy 'now-gen' graphics. The game seems to have a more serious tone with some really out-of-place and slightly jarring voice acting spouted by the main protagonist. The game will be exclusive to Xbox One
The Witcher 3 was revealed with developers CD Project confirming the game will indeed be open world. Next up was some footage from Battlefield 4 which, while technically impressive, was the same ol' flavour of shooty shooty shoot game. There were also some technical difficulties.
A quick trailer for What Lies Below shows that Microsoft is still interested in working with indie styled developers making unique games that aren't all "triple A" blockbusters.
A teaser showing a shrouded figure walking through the desert was revealed to be a Halo 5 trailer. It was very impressive, but incredibly short!
The event concluded on a high with the reveal of another FPS game, Titanfall, featuring parkour jetpack soldiers than can call down gigantic mech suits and take control of them.It looks incredibly fun and will probably make for some incredibly challenging multiplayer action.
Overall, a very strong performance from Xbox One, however if the PS4 reveals a lack of draconian styled DRM that the Xbox One is currently championing, we could see their thunder taken away significantly. If anything, I worry about Nintendo, as Xbox One is packing a lot of new gaming content that we'll probably never see on the Wii U.
Ed.s Note: Not only has the PS4 scrapped DRM, it's also undercut the Xbox One in price.