If you're going to start something with Kanye West, at least put some thought behind it. And that is clearly what online retailer Zappos have done in response to the disdain West expressed on his recent appearance on Bret Easton Ellis's podcast.
On the podcast, Kanye said, "I got into this giant argument with the head of Zappos.com that he's trying to tell me what I need to focus on. Meanwhile, he sells all this shit product to everybody, his whole thing is based off of selling shit product." So, Zappos actually release a shit product to show that Kanye really is right.
This isn't your Azealia Banks's feud, oh no. This is way more than just a quick spat on Twitter. Yesterday, Zappos unveiled their shit product, a $100,000 plunger. But the real beauty can be seen in the product description:
"- Interested in buying sh-t product? You've come to the right place! Here at Zappos.com, we happily sell sh-t products to everybody! This is the throne, everyone has been watching. Whether you're #1 or #2, your clique will show no mercy, even in Paris.
- The perfect gift for the man that has everything.
- Requires lots of "focus" for most productive use.
- Considered a "safety zone" when in arguments.
- Makes giant arguments seem much smaller.
- Caution: Do not place our Sh-t product near any fans.
- Avoid storms."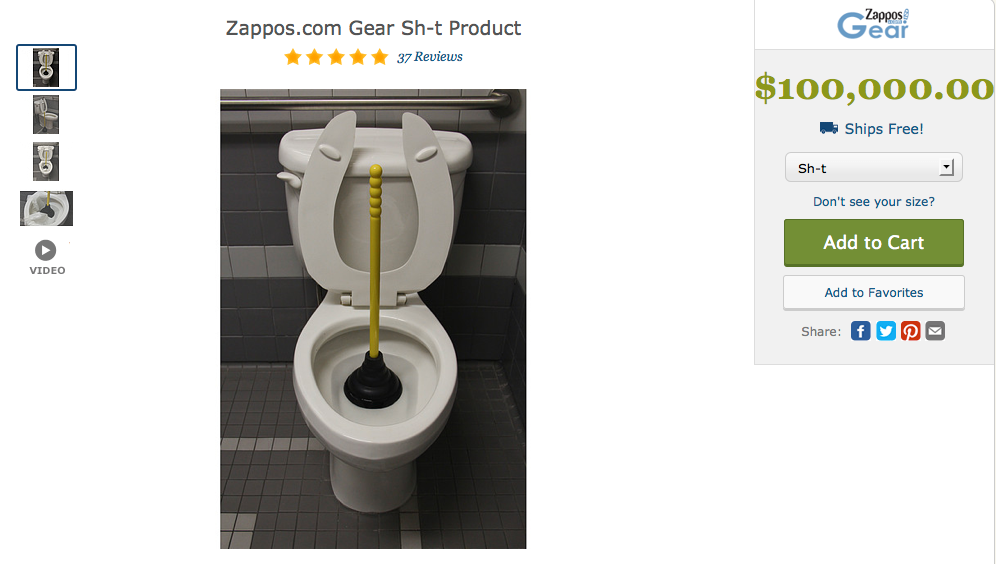 The product reviews are also packed full of Kanye West based puns. This is pretty much best response to a Kanye diatribe you are Bound 2 see. Five stars.
See Also: 5 rappers that you're probably sleeping on