The social orbit surrounding Sharon Van Etten has sometimes felt like the world's most exclusive musicians' club, jam-packed with singers, multi-instrumentalists and producers who in the past helped propel a force from within her that others would normally hide from. Whilst collaboration remains her source of creativity, it's no longer the sole-driver for it. The growing pains have subsided, the training wheels have come off and now she is the one steering the ship - Sharon Van Etten is here.
In many ways, like the three before them, her upcoming album, Are We There, is an open book, though depending on what page you open to, that book seems like you're reading the transcripts of a private confession, a relentless satire, or a fictional tale. The most revealing in her new delivery is how she captures an eternal tension in her words, steering them both poetically and provocatively.
"I felt like every record in the past was a combination of songs that I gathered up, cast the net out to and released into the world," she says as her voice pirouettes over stories of learning how to take control, give direction and find a balance between it all. She's now on a new learning curve that ripples and flows according to her own whim as Are We There embarks on a ride through personal romance, biting desires and aching fears - balanced between complex key changes.
Now, words escape from her before she can even consider them, before she is even aware that they've sprung from her mind and are about to be shaped by her mouth and fly out between her lips, "It's a very emotional record it's very open, it's very raw" she reveals, "...and fairly uncensored".
Last year Van Etten ached through insecurities fashioned from high profile collaborations. Moving forward she's chosen to work with close friends Peter (Efterklang) and his sister Heather Broderick, Jana Hunter (Lower Dens) and Mackenzie Scott (Torres). I suppose the phantom question mark in the title becomes even louder due to its absence - are we there - where she is and needs us to be.
I feel like your past three albums have exposed their own step toward an upward trajectory. The first one - being broken hearted climbs up to the second - getting over that and the third being secure enough for you to talk about it all. So where are you at now?
Totally. I feel like a lot of the songs are talking about what's going on with me right now like I've reflected more on the past before and now it's me coming to terms with that. It's now dealing with how do I actually balance the real world now, you know?
Of course, so then what was your songwriting and recording process like this time around and how did it compare to your last album Tramp?
The difference with the recording for this one was that it was my band and my friends that I brought in. I was the one steering the ship and I was learning how to give direction, before I was learning how to say what I wanted out of a song and then someone else would interpret it for me. I had someone helping me with the record all the time in the past and now everything was my call. It was funny trying to learn how to be a boss and telling people what I wanted.
You've been somewhat blessed with incredible collaborations in the past too (The National, Beirut etc.) and in 2012 Jagjaguwar co-owner Darius Van Arman said in an interview with Billboard; "We don't want her in the Joni Mitchell light or the Patti Smith light. She has her own identity." Do you think bringing your friends on board was going back to basics and showing that you have your own identity too?
Totally! Completely. I mean what I learned from the last record Tramp is that I loved working with Aaron Dressner - I felt so lucky that he helped me learn how to communicate what it was I wanted to say to people. Unfortunately I landed up feeling really insecure about why people ended up liking the record and insecure in the songwriting. I walked away feeling like the album only got attention because the guy from The National worked on it with me. I know that's not entirely true, but it made me insecure because it always came back to that, so I just wanted to have a bit more control and prove to myself that it's my songs it's my call and my friends.
I can imagine it's quite challenging to balance being able to step back and yet still remain invested in it all?
Yeah, I still had someone holding my hand through the producing process because I've never really taken that responsibility before but it was still like me learning how to be in charge.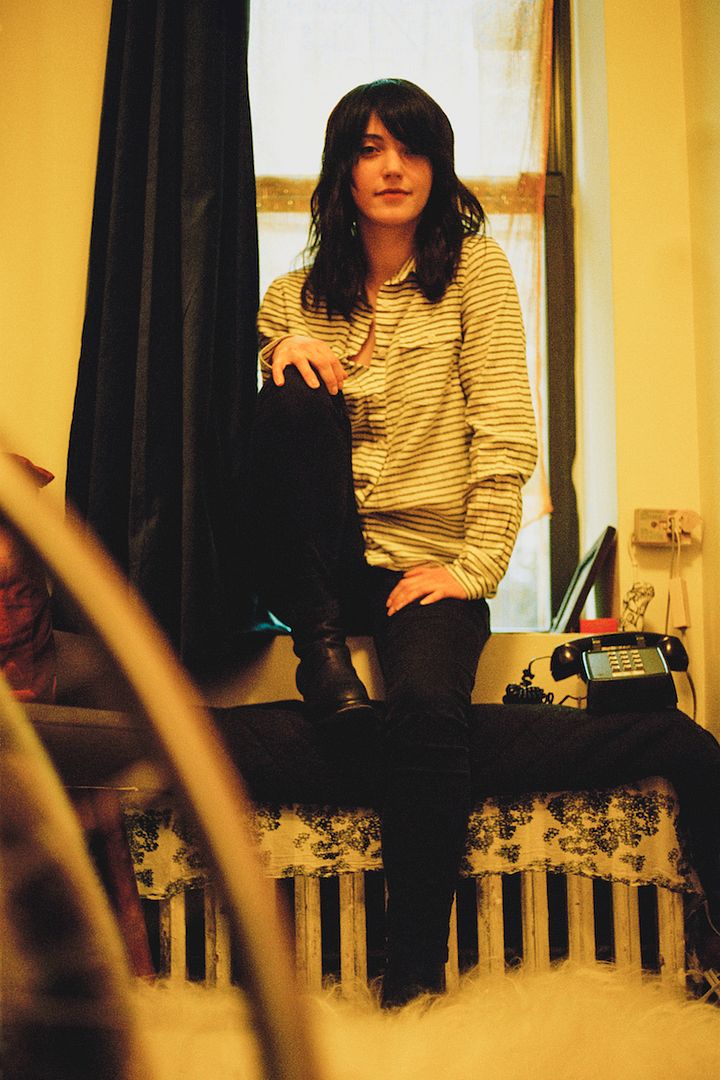 Did you bring in any new additions instrumentally on the album at all?
It's funny because for the center of the record I don't really play that much guitar on this one and I've never really played organ before on a record so there's a lot of it actually piano too. My singer Heather gave me an Omnichord during the last record because one of the songs that we played live, 'Magic Chords', was written on old church organ that we couldn't get our hands on so the Omnichord is like a synthesizer harp.
It's small like a Casio? I also recently read something about you recording on instruments previously used by two of my world's greatest musical icons?
Yeah oh my gosh so Stuart, who I worked on the record with, works out of a lot of studios around New York and because the piano that he had at his studio wasn't ideal for singing and playing together he got me into Electric Lady Studios which is Jimi Hendrix's studio to use their piano. You can isolate the sound of the piano there and that was the one Patti Smith used! Then towards the end of the recording Stuart brought in this piano from the Record Plant and we had it just hanging out in the studio you know - John Lennon's piano that he played Imagine on? It's pretty intense; they both have a very different energy. Patti's piano was the one that you can hear just the vocal on and the low soulful very different textured sound is on the Record Plant piano.
What would you say is the predominant mood of the album then?
It's a pretty R&B soulful record compared to everything I've done and it's darker, not sonically or heavy it just feels kind of dreary, cloudy and moody.
When musicians loosen their grip they tend to find new ways to form and shape their music - what aspects of vocal technique and composition do you think about now that you didn't necessarily think about before?
Well I think part of the sound is that I keep getting more confident with every record and now I'm finally learning how to do things properly [laughs], you know with my control? Getting a more detailed sound of the vocal and playing in different keys. So it was challenging because some of it is a little higher than I normally sing but I wasn't intense with my singing or projecting this time.
And one parallel I see between your music and other singer songwriters is that a single transition between one note to another can make the hugest impact - like on the track 'Afraid of Nothing' what key did you start in?
I believe that song is in G but the transition actually came about by accident because when my friend Jonathan Myburgh came in to play guitar he came up with this really amazing guitar part that helped drive the song and it totally changed the shape of it.
You expose this constant friction between human ego and universal perspective - what were the themes you wanted to explore?
There was a lot of trying to figure out a balance to be better and work harder and expose issues of growth. The last record was more reflecting on a recent relationship where this one is in the current relationship and trying to figure out how to have a career, a relationship, being older, being who you are and acknowledging what you want and being communicative. It's still a relationship record but I feel like this is more working on the now and admitting that I'm not perfect, admitting that I don't know what I'm doing but I'm trying.
And you're clearly not playing your cards close to your chest anymore, does it feel like you were in a box and you've opened the lid?
Like a confessional? Oh yeah.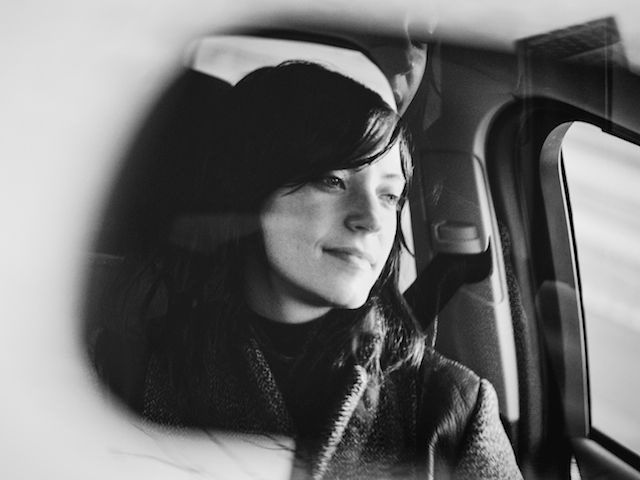 I'm sitting with your lyric sheet now actually and reading it feels like I'm eavesdropping on that confessional
You know I've always written very stream of conscious so when I write lyrics it's free form. I think it's a very emotional record, it's very open and it's very raw, really honest and fairly uncensored.
I couldn't agree more, there's even that line in 'Every Time The Sun Comes Up' you say, "I washed your dishes then I shit in your bathroom."
[Laughs] That is truly sharing! As my band mates say, 'wheels off'. You know that was a song that I had written on the Omnichord, like my Bruce Springsteen kind of Doo-wop song! We'd been hanging all day, took a break to have a drink and relax and then suddenly it was a party - I mean we're pretty responsible when I use the word party we were having a beer and a smoke, but then they were like why don't you just put down a vocal and don't worry you can redo them. So I was goofing off and narrating what happened that day because when you wash the dishes in the studio it's also in the bathroom so that actually happens! We were a little buzzed actually broke glasses when we trying to clean up, so it was very in the moment of having a really good time and being silly.
You know people are going to ask about that lyric nonstop.
On one hand it's kinda' funny because yeah - that's New York living? It's definitely real.
I mean - shitting aside - your lyrics are usually weighted heavily in imagery and emotion but the most 'feelings' are felt on the track 'Your Love Is Killing Me'.
That song is relentless! I call that one the beast. It's really intense about loving someone so much that in a way it's creating a monster. It's a masochistic song of 'yeah we're in this together but see what you're doing to me?' Reflecting on meeting somebody, knowing somebody and loving somebody. It's them seeing me at my weakest, at my most broken and asking if it's worth it.
Do you find as you and your career have developed that you have different expectations ahead of an album release?
Yeah I mean now I know what's coming whereas before I didn't really know. For the first record I was still touring solo so with every record it has built up, changed and grown in a nice organic way. It is just like training wheels, I realise now the things I need and the things I have to change - like growing pains. I'm learning how to do things well, there's a definite learning curve!
Diverting to your album artwork it fits so perfectly - is that you in the car?
Ah! I took the photograph of a friend of mine, Rebecca, when she was screaming out of the window when we were driving on a country road. I used to live in Tennessee and that picture was taken when I had just moved back home to New Jersey and I was living with my parents trying to figure out my life again. So I went to the local community college, took a photography class just to have some normalcy in my life and learn how to do something new.
That was one of the first photographs that I ever developed, but the weird part of the story is that it was the first photograph and gift that I ever gave my boyfriend over 8 years ago. It was the first print that I had ever made and mounted properly in a frame and gave it to him when we first met. Throughout our ups and downs I had assumed he had thrown it away, but then when I moved in with him this summer he pulled out a pile from underneath his bed while he was cleaning and making room for me and he pulled that photograph out along with everything I had ever given him in a pile from under the bed.
Oh god my heart!
I know! Like postcards and CDs and it was one of those weird things where the past summed up where we were in that moment. The resurfacing of that photograph meant as much as when I took that photograph. After I took it my friend moved to Indiana, had a kid and I moved to New York and decided to focus on music - so I guess from that moment forward our lives changed forever. I never realised how sentimental he was, but in that moment I said this is the record cover, this is it, and I was like I'm taking it back!
That image and story reminds me of Jack Kerouac's On The Road, where he says, "Nothing behind me, everything ahead of me, as is ever so on the road." About being in the now, looking back and smiling.
That's really beautiful I agree so much, it's exactly what this record is.
So are you asking a question in the album's title Are We There?
I guess I just don't know, when asked if I wanted to punctuate it I just decided no because I wanted it to be open ended, I would rather it be a statement than a question, but how do you do that!
You also don't want people to have a misconception about what you're doing again but also you can't control what anybody thinks either.
Exactly, exactly and then people are gonna think what they think no matter what I say. Lyrics and songs are open to other people's interpretations and sometimes learning more about the song can limit somebodies experience of it. I get a little nervous telling the story behind the song, I feel like I might be ruining it for somebody else.
But you know I'm so proud of this record - I think it's really good you know.
Sharon Van Etten hits the road again in May to tour her fourth studio album Are We There, available May 27th via Jagjaguwar.
Sun. May 25 - Brussels, BE @ Botanique Grand Salon (Nuits Botanique)
Wed. May 28 - Paris, FR @ Café de la Danse
Fri. May 30 - Barcelona, ES @ Primavera Sound
Sun. June 1 - Koln, DE @ Studio 672
Mon. June 2 - Berlin, DE @ Privatclub
Tue. June 3 - Amsterdam, NL @ Bitterzoet
Thu. June 5 - London, UK @ KOKO