In 2009, Local Natives emerged from nowhere with their self-funded, collaboratively written debut album Gorilla Manor. It debuted at number 3 on the Billboard New Artist Chart, and on their accompanying tour, the band sold out Shepherds Bush Empire in London. The band disappeared for a while, without so much as a taster or a hint of what they'd been up to, but three and a half years since Gorilla Manor was released, they're finally ready to show us what they've been working on.
According to Matt Frazier, new album Hummingbird is a bit of a departure from their last effort. Relentless touring followed by a sudden break meant that the band were experiencing "the highest highs, as well as unexpected lows," and the songwriting comes from a more homesick and fragile place. As ever with Local Natives, the album is a collaborative effort. Each member of the four-piece has a stake in the lyrics, composition and artwork of the record. "It can be a bit trying at times," he admits "especially as we're now a four-piece and still writing songs for a five-piece band" referring to the departure of bassist Andy Hamm last year.
Hummingbird is released on the 29th January 2013, but before that the band headed to London to preview some of the new material in a decidedly intimate venue, Hoxton Bar and Kitchen. Considering some of the songs from the new record were written nearly 3 years ago, Matt and the band are itching to let the fans hear them.
The album's already finished, but it's still a while until it's released. Is it making you feel restless sitting on it?
Yeah, it definitely is! It's been essentially done since September, and by the time it comes out we'll have been sitting on the new music for nearly six months. We're really excited about what we've done. We took our time doing it, and we're definitely anxious to put it out, and for everyone to hear it.
Why did you choose to record in Brooklyn instead of California this time?
We wrote and demoed most of it in LA, but when it came to actually recording, we decided to work with Aaron Dessner from the National, and his studio was in Brooklyn, so that made sense! But when it came to it, we also really wanted to work somewhere outside of our comfort zone, and do something fresh and new.
Do you think that had any effect on the album?
Yeah! I think the whole theme of the album was us wanting to push ourselves, try new things, and not do the same thing twice, and I think being in an environment that was a little uneasy at first gave the record that feeling of experimentation.
How different was it having an outside producer come and work with you guys?
It was definitely different to the first time. Having done everything ourselves, it was a little weird bringing someone in on the creative side of things. We composed this list of potential producers, and we'd spoken to a couple of people, but after touring with the National and meeting Aaron and realising that he was interested in working with us, we just liked that he was this like-minded figure. Like, he's from a band, he's been doing this a long time, he's still in the same kind of environment that we are, and he knows what it's like to be in a collaborative band. He's also a songwriter that we all really respect and love, so it just seemed like a good fit for us. It turned out amazing, and he was really easy to work with, so I think he was the perfect choice to be the first person who we worked with outside of just us.
Did you know from the off that you wanted an outside producer to come in, and you didn't want to do it yourselves again?
We were still open to the idea of maybe doing it ourselves, and we were getting more familiar with the recording, but I think the producer thing was always on our mind. We had some ideal people we would love to work with, but then Aaron came and it was sort of a no-brainer!
Do you think that your experience with the first album affected the way that you chose to approach Hummingbird?
Definitely touring so much made us tighter as a band, and I think we definitely had to adapt a little bit on this record, going from five band members to four. Especially with the writing, because we're still writing as a four-piece and it's collaborative, but we were still writing for a five-piece band, but as four people! We had to adapt because we couldn't play things live, and we had to record things, and loop stuff, and try electronic stuff, and it definitely pushed us to try new things that we were a little bit uncomfortable with. Overall, the first round of things with the new record and touring affected where we are now, for sure.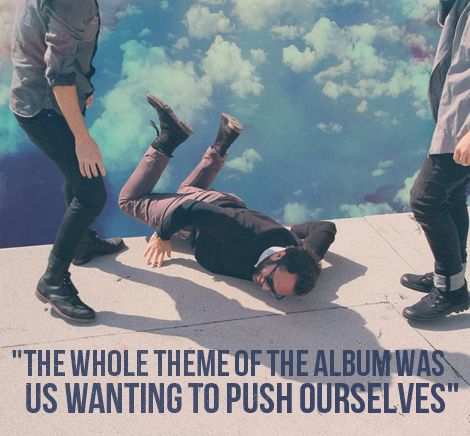 Did you guys ever consider replacing Andy when he left, to make it a five-piece again?
Well, we still play live as a five-piece, so it's more the recording that's changed. We haven't really gotten to that point, but maybe someday we'll have another fifth member? Recording wise, it's kind of the same, because between four and five people, it's like one less cook in the kitchen, but there's still four cooks? That's a lot of people. The way we operate didn't really change, we're all very democratic. It can still be trying at times, but it just about works for us. We do tend to have ties now that there are only four of us and we don't have that tie-breaker fifth person, but so far we've worked it out!
What about other music you've been listening to, do you think that's had any affect?
Definitely! I can't speak for the other guys, because we all have individual music tastes, but because it's collaborative there's definitely got to be some different influences in there. I don't know if these are necessarily direct influences, but some of the guys went through their Leonard Cohen or Bob Dylan phase for the first time, and some of us guys are really into like the third Portishead record, I know Kelsey was super into that. There's kind of a wide range of things.
How would you say Hummingbird is different to Gorilla Manor, sonically or lyrically?
I think both definitely. It's still us, but it's grown and matured and evolved in a way, which is exactly what we sought out to do. The whole theme behind this record is not doing the same thing twice, and we wanted to push ourselves on a sonic level, and create a different landscape. In a lyrical sense, the record is way more personal, more emotional, and I've heard the word "darker" thrown around? I can see how that can be picked up on, it kind of stems from us maturing a bit. It's centred on what we've gone through the last couple of years. You know the success of the first record, and our wildest dreams coming true of becoming a somewhat successful band, touring the world. It's the contrast between these high highs, and the lowest lows we've experienced, so these polar opposite experiences really shaped the record for us.
Would you say that the darker lyrics were subconscious, or was it an intentional way of writing?
We never consciously agree on what kind of song we want to write, it just came from the state of mind we happened to be in at the time. It's like a way for all of us to express our feelings and cope with things, in a way.
You're back in the UK at the end of the year, are you excited to play the news songs in a live setting?
Definitely! We've played a couple of shows recently, and it's been so good to play again and be in front of an audience. We've been playing like 75% new songs, to test run them and see the response. It's been really exciting, so far so good! It's been like two years since we've been to the UK, so we're really definitely excited to be back.
Last time you guys played Shepherds Bush, but you're playing Hoxton Bar and Kitchen this time, do you prefer to play the smaller or bigger shows?
We wanted to do a more intimate show, and we'd played there once before, so we're really excited to play again. I think there's definitely an appeal to smaller shows as well as the bigger ones, because you get more intimacy and there's kind of that rowdy vibe, which is really fun. I really remember that venue being loud, small and hot, and we really enjoy playing shows like that as well as like a big beautiful theatre!
Hummingbird is out now, and you can visit the band by heading to thelocalnatives.com