We all love record stores, right? The allure of sleek black wax, rooting through the miscellany for the rarest gems and most obscure oddities, that faint musty aroma – it's not just a transaction, it's a whole experience. There's a ritual. Back in the day before the Internet, and, we'd like to think, at least to some extent nowadays as well, you'd rely on the encyclopaedic knowledge of your local record store clerk to give you recommendations. This was especially true if all your parents listened to was Manfred Mann, and your older siblings/cousins kept their collection under lock and key.
We wanted to bring that element back to music hunting. The personal touch is often more accurate, more curveball and more wizened than a jumble of algorithms can be, and so far in our crusade, we've delved into a variety of projects, such as our Discovery tool. For our next endeavour, we're going to be bringing you recommendations and tips from the legendary Aquarius Records store, whisking you back in time when the pros ruled the roost and nurtured listening habits.
As the oldest record store in San Francisco (est. 1970), Aquarius has cultivated a respect and well-deserved legacy as one of the most pioneering shops of its kind. Famous for their range of psych, metal, drone ("dronology" is a term they're proud of coining) and various regional styles, Aquarius are meticulous in selecting great records, and not just heaping in any old dross. Quality over quantity, as the saying goes.
Aquarius are an unmovable fixture of San Francisco's musical landscape – or, really, the city in general – and we're ridiculously excited (plus a little smug), to be in cahoots with them, delivering cherry-picked records suggestions the old-fashioned way.
This edition features Chopping Mall, The DeZurik Sisters, (Onibaba)/Nick Millevoi and Siobhan. Even if they don't sound like they'd be of any interest, give 'em a spin; trust Aquarius – they know what they're talking about.
Editor's disclaimer: "They're not paying us to promote stuff they're selling, we just think they have fucking great taste. If you like what you hear, support the shop by visiting their website. All words remain the property of Aquarius Records (minus the introduction, of course)".
The DeZurik Sisters - Yodel And Sing Their Greatest Hits (Mississippi)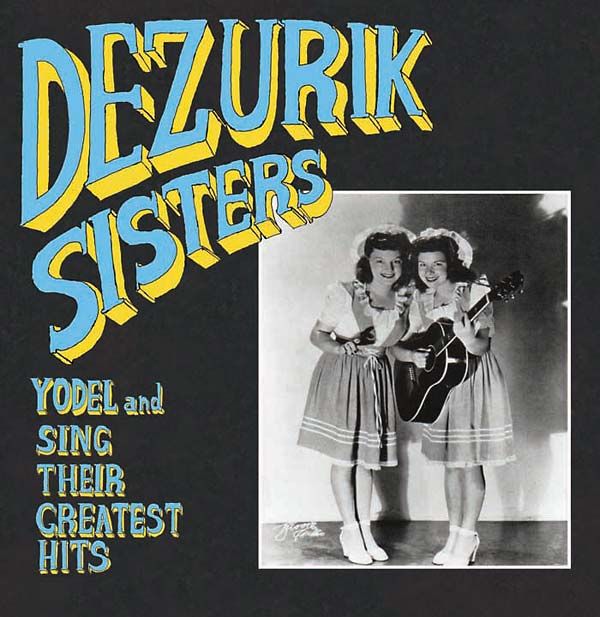 Otherwise known as The Cackle Sisters, this Depression-era barn-dance duo charmed the hearts of rural America with their sweet vintage country songs and incredible vocal acrobatics. Raised on a farm in Royalton, Minnesota, the sisters, Carolyn and Mary Jane DeZurik became excellent mimics of barnyard animals (as well as trains, harmonicas, slide guitar and other instruments and noises) and began incorporating these sound effects and yodelling into their performing repertoire.
Starting off first at local talent contests and state fairs, the sisters gained wide enough attention to tour the country. They recorded many sides for the Vocalion label in the '30s and even made it to Hollywood to star in Barnyard Follies, eventually picking up sponsorship from Purina Mills for a sponsored weekly radio show called Checkerboard Time, to advertise Purina chicken feed and other products, which they did off and on for nearly 30 years. There is an otherworldly almost Lynchian quality to the DeZurik Sisters sound, an effervescent wholesomeness and zany quirkiness that allowed them to elevate themselves from their poor rural roots and allowed others to forget the sadness and desperation of the era. Not your typical vintage country act, these sisters' incredible vocalizations need to be heard to be believed. So Sweet! It comes with a detailed booklet about the DeZurik Sisters' career and history which includes a recent interview with Carolyn DeZurik, who is still alive and well.
Millevoi, Nick / Onibaba - Numbers On The Side (Ivory Antler)

We reviewed a tape from Nick Millevoi a while back, released on local label The Flenser, and at the time it was maybe the weirdest thing on the label, precisely because it was so little like anything else they'd put out: solo electric guitar, spaced out, super abstract dronescapes, looped and raga-like, a bit like a metal Terry Riley or Steve Reich, which obviously pushed lots of our buttons.
So here we are a couple years later, and we've got more new music from Millevoi, a split with some improv jazz group called Onibaba, but first up, Millevoi unfurls a gorgeously languid sprawl of distorted guitars, delivered in waves, slow subtle swells, with long extended decay, the sounds crumbling and pulsing, over the opening track's 21 minutes, growing more and more noisy, swaths of feedback winding their noisy tendrils around the increasingly frantic riffage, which by now has transformed into thick squalls of buzz, a dense psychedelic noise, that manages to be textural and listenable, but also a bit caustic and chaotic. Millevoi's other two tracks get way further out: the first all wild squiggles, and woozy detuned strings, atonal and abstract, loose and noisy, and dizzying, the second taking the first and adding some Haino-esque freak outs over the top, dense tangles of high end squiggle and grinding, avant psych shred, blurred into a swirling dervish of psychedelic noise!
The Onibaba tracks, while ostensibly 'jazz', are similarly abstract and freeform, the first, a slow, smoldering expanse of buried rhythms, and moody murk, of distant clatter and industrial whir, all wreathed in soft focus clouds of keening feedback, the vibe loose and noisy and ethereal, sounding a bit like a more placid, tranquil Wolf Eyes actually, the sound growing more urgent and rhythmic, until the murk clears, leaving a sky full of chiming high end shimmer, and clouds of bowed metallic thrum. The second track is even more minimal, a hushed, lowercase dronescape, all groaning, moaning, barely there rumbles, pocked with bits of glitch and squelch, a sort of minimal industrial dub, but smeared into indistinct blurs, hazy, and heady, hushed and hypnotic.
Housed in an oversized purple and white, printed gatefold sleeve. Limited to 250 copies.
Siobhan - Omega Stamp (Chondritic Sound)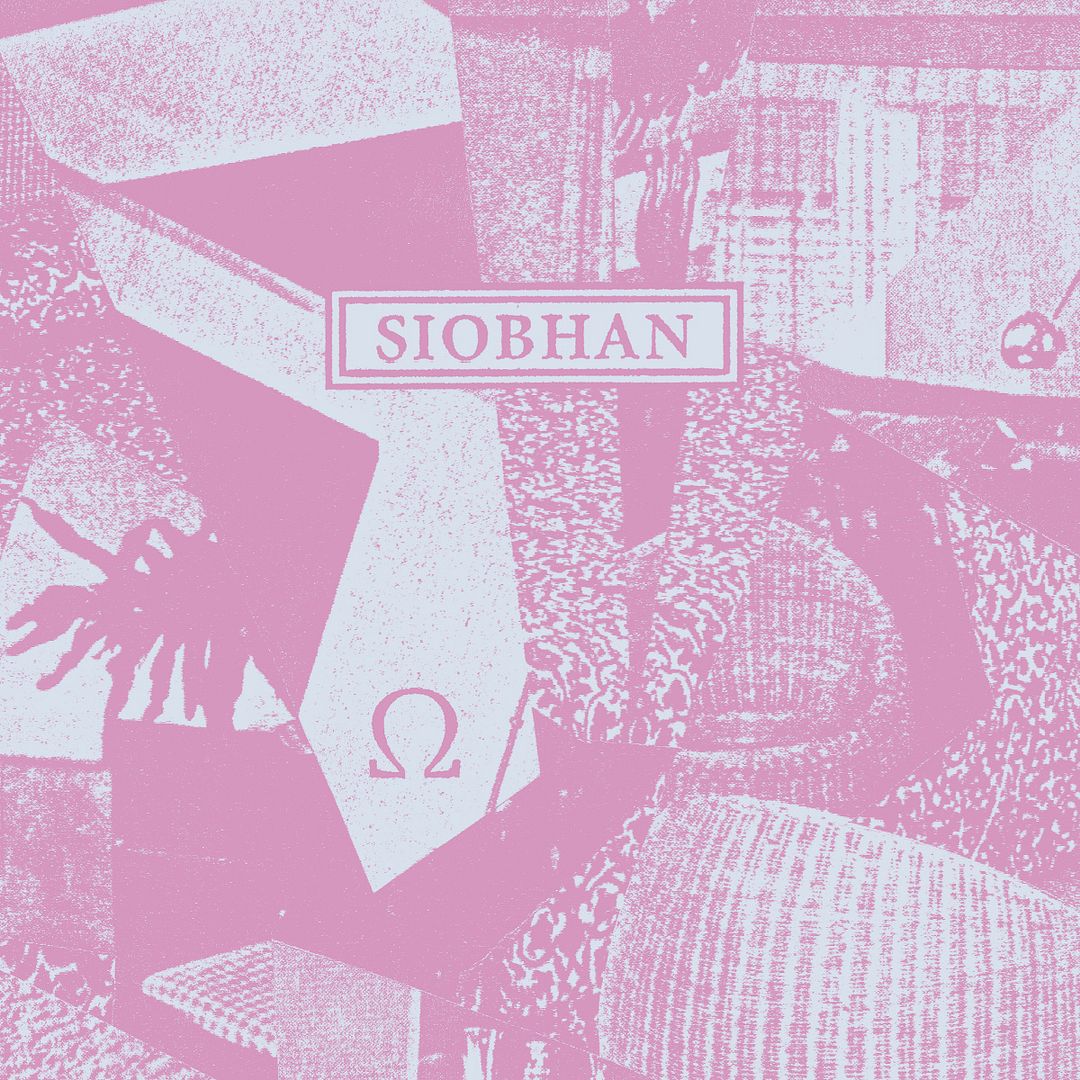 When the pioneers of techno began laying down their tracks in the mid '80s, the futurist sound of Juan Atkins, Derrick May, and Kevin Saunderson had little to do with the ideals and / or decline of the Detroit automotive industry. The sleek, motorik tracks were reflective of cultural dialogue with German electronics in parallel with a distinct African American science fiction emphasizing racial and class-based tensions. Detroit Techno's incredibly long shelf-life results from the mirage of club culture that emphasizes the new and the innovative while recycling the dominant lexicon of whumped basskicks, ecstatic melodies, electronic minimalism, etc. Those dudes did it first back in 1987 and it still sounds badass.
Siobhan (nee Travis Galloway) hails from Detroit and creates his own fucked / Goth-jam techno that has no discernible connection to the prevailing aesthetic of Detroit Techno. These crunchy, lo-fi tracks have none of the sleek production tricks from those Detroit elder statesmen, rather Siobhan takes a guttural, rock approach to production, compressing the fuck out of everything, cranking the tracks into the red, and probably even recording onto tape.
One gets the sense that he could be jamming these tracks in an empty warehouse (or nearly empty with a couple of wasted goth-girls head-nodding alone this corners) through a daisy chain of guitar amps and recording the result through a single microphone. As rough as that sounds, he's a damn fine programmer - squelchy acid percolations that would make Richard James blush, ghostly melodies channeled from Cold Cave, and potent industrially minded drum programming akin to mid-'80s Ministry, 242, Skinny Puppy, etc. One of our favorite cassettes in recent memory, and it makes for a great introduction to a hitherto unknown musician.
Chopping Mall (Chuck Cirino) - OST (Waxwork)

UK horror soundtrack vinyl reissue label Death Waltz might crank out the releases, but US label Waxwork has steadily been giving DW a run for their horror vinyl money, most recently with the vinyl release of the soundtrack to the 1986 techno-horror-schlock thriller Chopping Mall. And while we can safely say we didn't remember at all what the soundtrack was like (before this reissue), we can wholeheartedly say we love the movie.
For those who somehow missed out on this classic, the plot revolves around a handful of kids who work in a hi-tech shopping mall, who one night stay after hours for a party, only to be trapped when the mall goes into lockdown, and then all hell breaks loose when the futuristic security robots malfunction and become murderous killbots and try to eliminate the kids! Besides being hilarious and ridiculous and over the top, it also features some notable stars, including Barbara Crampton, probably best know to horror nerds from her roles in Re-Animator and From Beyond, as well as Mary Woronov who starred in Eating Raoul (as well as plenty of other horror movies including Silent Night, Bloody Night and Death Race 2000) and was a member of Andy Warhol's Factory and a one time go-go dance for the Velvet Underground, along with frequent Woronov collaborator Paul Bartel, a Roger Corman protege who directed Eating Raoul (and Death Race 2000) and starred in Eating Raoul along side Woronov.
Hearing the score again after all these years though brought us right back, cheesy and super eighties sounding, but futuristic and robotic, a sound that had us immediately thinking this could be some lost synth wave obscurity that could get reissued on Medical or Dark Entries, but it's still plenty soundtracky, with some John Carpenter like chase music, some shreddy guitar licks, stuttery drum machines, the vibe tense and claustrophobic, easily conjuring up the image of wild robots hot on your trail, with some tracks getting seriously avant, pulsing and pounding ominously, minimal and tripped out, brooding and psychedelic, with some tracks using primitive sampling to chop up vocals, and create crazy hiccuping melodies, and still other moments, sounding almost like it could be video game music transcribed for analog synth and drum machine. With a lot of these soundtracks, a lot of the appeal is pure nostalgia, and for the film mostly, not the music, but Chuck Cirino's score is pretty amazing, dense and dizzying, and noisy, and wildly chaotic, and is some seriously fantastic listening even removed from the visual. Although this has us really, really wanting to watch Chopping Mall again, which is likely what we're gonna do!
Pressed on 180 gram transparent pink vinyl, housed in super heavy, glossy stock, full color jackets, with killer, cool new retro-modern artwork by art collective We Buy Your Kids, and a 12" x 12" full color printed insert, with more artwork, and new liner notes from Cirino and Chopping Mall cowriter Steve Mitchell.