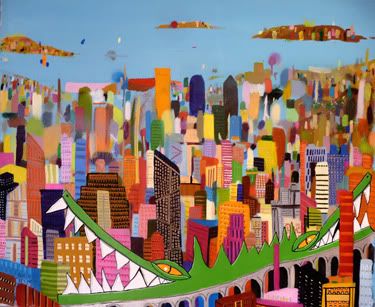 Rowdy's
unique take on urban living delivers landscapes in the form of his legendary boulders, abstract city scapes and ubiquitous crocodiles. Bricks and mortar may mean money and mortgages to some but
Rowdy
prefers his building blocks in their raw state. His Cityscape paintings show Skyscrapers constructed out of the tiniest marks a spray can make. Some are hectic, others more meditative.
Rowdy's
trademark crocodiles are often huge in scale and are indicative of the playful nature of the imagery in his work, and long may we continue to see these King-sized crocs attacking our walls and lurking in the concrete swamps. The last few years have seen him collaborate with cohorts Cyclops & Sweet Toof resulting in one of the most widespread bombing campaigns seen in the UK 's capital in the last decade.
Rowdy
probably is best known for his line in crocodiles, he now continues this activity alongside fellow members of the Burning Candy Crew – Cyclops, Sweet Toof and Tek33.
Rowdy
took some time out to talk to us here at
The405
in the run up to him being featured at
The Thousands
Art show.
When did you first realize that pursuing Art could become a full time career for yourself? Was your choice to become a "graffiti artist" something that was regularly embraced; given your talents, during your youth or was it something often frowned upon by your parents and teachers who told you being an artist wasn't a "real" job.
Being an Artist has a been a full time job for me for many years regardless of payment, parents understood though the Art/Trend establishment often didn't.
From looking at your art work its rather apparent that you're heavily influenced and fascinated by landscapes and city skylines. Do you think its at all ironic that you create these bright and colorful buildings when at the same time you practice in graffiti art which defaces similar structures and buildings?
It just goes hand in hand, I wouldn't necessarily paint something of architectural integrity even if I knew I could get away with it, alot of my work is very considered and site specific. Though every now and then I like to get on an adhoc tip and smash shit up!
You're also a member of a collective group of street artists called "The Burning Candy Crew". Just for our readers at home can you explain what TBCC is, your role in the crew, what you do collectively and how the group first formed.
I paint Crocodiles and keep Lenny ( Skull Gum Geazer) on his toes, the character created by Cyclops and Sweet Toof. I open up certain doors in the West Country and Europe trying to make sure we don't just get dubbed a London Crew. The crews origins go back years however BC began materialising some 3 years ago with Cyc ,Toof, Tek 33 not long after I joined, now we are 9.  Cept and Tek very much keep the NYC flavour of writing alive in the crew, there are many  periods when we leave Graffiti out of  our work but not the essence, but these 2 handle the writing very well. Gold Peg and Mighty Monkey catch killer roof tops and are very instrumental in keeping the Crews energy topped up to 11! as does LL Brainwash. Dscreet is also a film maker and paints heavily, i'm almost surprised at his output due to his laid backness. I would say conceptually it's split between Toof, Cyc and myself. It's worth saying the crew work incredibaly hard.
Like most graffiti artists, you've decided to work under an alias. How did you get the nickname Rowdy
I was 18 had just split up with my 1st Love, got into 3 fights in 2 weeks, after realising it was better to take my frustrations out on walls , the name was ideal.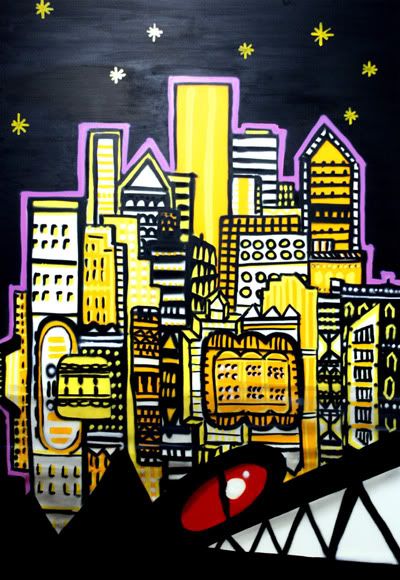 I recently saw some of your art work where you had painted faces onto a number of rocks and stones. What was the idea behind these pieces?
It's a long story and often these pieces have there own narrative. It's the Caveman thing, being primal, similar to how facets of BC roll. I don't just want to dwell in the urban setting with my Art, I need a certain amount of countryside in my life. I'd worked in a number of Quarries producing Art on giant boulders, this year I got the chance to bring this work to the City taking what is literally 'Underground' the foundations of our roads and cities and let the general public be confronted by this rather than the occasional dog walker. The pieces are very heavyweight for instance my yellow mouse weighed in at 5 and half tonnes. The stones get climbed and sat on alot which is great when most art has the do not touch stigma attached to it.
Now that you've started taking on a lot of commissioned work and have been having your art work exhibited do you ever get time to hit up any legal or illegal spots during your days off?
I wouldn't say I do that much commisioned work, though my Art is getting exhibited more and more. What's a day off ?
What is your opinion on graffiti art despite the negative stigma that it seems to carry?
It rocks hard! I could write somthing unprintable about the subject on how it doesn't fit into some peoples cosy little world.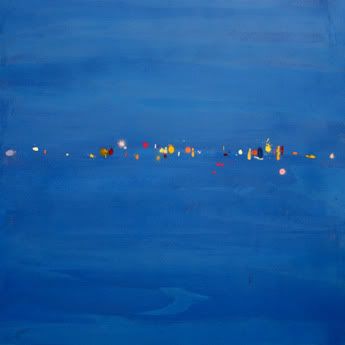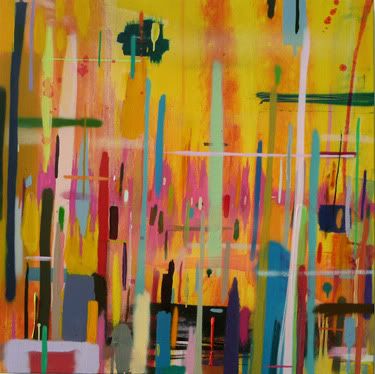 What were you doing before all of this kicked off?
When did it kick off exactly? Some of the New York trains were painted before I was born, what's more I met writers who were not even born when I started painting.
What is the key to keeping your work and ideas fresh and not getting mentally or physically burnt out by what you do?
Good question. Now and then I do crash , it's not so hard to be fresh don't do stencils unless your Banksy, OK i'm being a bit harsh most of the stuff at the 1st Cans Festival rocked! I would say 90% of Street Art / Graffiti does not work in a gallery setting, so please everyone give that some thought! Though strangley it seems to work outside of this....Hhmmmm. If you don't crash maybe you ain't been working that hard, also try drinking Super Malt!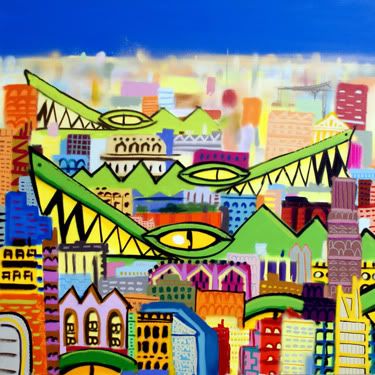 Finally, whats next for Rowdy and The Burning Candy Crew? In terms of any new projects you have or any aspirations you have in life that you would still like to work toward and achieve. Is there anyone you'd like to give a shout out to?
Well the Bristol show needs to be taken down, though I guess our entourage of lovely assistances can do this hahaha haha ha. Personally I would like to push my abstract work futher forward with 1 or 2 decent shows the feeback has been great, it keeps me calm, more Quarry stuff both rural and urban it's fun! also the Travel paint ting maybe with crew members or whoever ? Shot outs- To the lady I 've been hanging out with Filthy Luker and A.CÂ Â  Peace x
The Thousands will be open from November 18th through the 22nd of November at Village Underground in London (54 Holywell Lane, London, EC2A 3PQ). A companion book will be published by Drago Lab to commemorate the event.
Keep checking back this week for exclusive interviews with some of the artists featured in The Thousands - Armsrock and Nick Walker plus an extra special interview with Michael Rushmore himself.