You may not have heard about Vanessa Elisha yet but you're likely to be hearing a whole lot more about her this year. The 21-year-old songstress hails from Queensland, Australia and her debut single 'Blur' has been causing a massive stir across numerous music blogs recently. The combination of her smooth, alluring R&B vocals and Jrdn Gxnius' production make the track sound reminiscent of the female R&B icons of the 90s and early 00s.
With her debut EP scheduled for release in February, big things are expected for Vanessa Elisha this year. We caught up with her to discuss the hype from the blogs, the music scene in Australia, her music career so far and her plans for the rest of the year.
Your debut single 'Blur' has generated a lot of excitement amongst the bloggers, who predict that you're going to be massive this year. Can you tell us a little bit about how your music career has unfolded so far - has it been quite gradual or pretty quick?
The blog support so far has been crazy and totally unexpected! I've wanted to do this for as long as I can remember and have been writing for years. I think it's all happened because I'm finally at a place where I feel like I'm ready for everything that comes your way after releasing your music, whether it's the praise or the criticism. I wouldn't say it's been a fast road to get here, I think everything I've done has led up to this and I think 2013 is my year.
Your vocals along with the production on the track reminded me a lot of the R&B slow jams from the 90s. How much did you think about what you wanted to sound like - did it just work out that way or did you make an effort to sort of revive that classic R&B sound?
I've never really "thought" about my sound. I think it's important to be organic. I'll listen to a beat or I'll hear a melody in my head and I'll go with it. It's never really planned out. But I also think that the 90s sound has influenced me heaps; Monica, SWV, Jon B, Jagged Edge, Lauryn Hill, these are the people that taught me how to sing.
Who would you say are your main musical influences and have they developed or changed much over the years?
Right now, I've gotta say Drake, 40, Jhene Aiko & the Weeknd are the artists that I'm crazy about. I love their sound and I think I've finally found a place where my music fits in. I've always loved simplicity in melodies and beats and these guys are bringing that back to life.
'Blur' was produced by Jrdn Gxnius, who's mainly known for his Hip-Hop production. How did that collaboration come about?
Haha ohh Gxnius. Well, we were introduced to Gxnius by a friend, he came over to the house said hi, sat down at the keyboard and started playing... He's basically lived with us ever since, can't get rid of him! But in all honesty, he's an amazing talent, that's where the name 'Gxnius' came from, we were shocked when we met him – he's something else.
Why did you make the decision to sign with Down With the In Crowd? And were you concerned at all about being an R&B artist and signing with a management team mainly associated with electronic acts?
Wow, you really did your research! My manager, Matt, has known me since I was a kid. He might manage a lot of electro artists but his heart has always been in R&B and Hip-Hop. It was kind of a natural progression, we have a little team; Me, Matt, Gxnius and Cviro – we all sort of just assumed that Matt would manage us. He used to always say to me when I was younger, I hope you're ready to be famous! I would just laugh it off and call him an idiot, but I feel like I'm in good hands on his team.
We don't often hear about many Australian R&B artists. What is the music scene like there and is there much of a market for R&B acts like yourself?
Well, there are a few Australian R&b artists, but they tend to be more pop than R&B. It's tough, because there's a strong local music scene, but it's dominated by electronic and rock acts. There's no real R&B radio format here - it's just pop and alternative. For better or worse, I think R&B music doesn't really fit in either. There's a few successful artists, but their music tends to be more of that "hands in the air" electro music, which is really the sound of pop music right now. And it's definitely not me!
Are there any Australian artists you love that you think more people should know about?
One word – CVIRO. I think everyone's going to recognise the name soon enough. His EP should drop in the next couple of months. He's a new artist but I think he'll find a name quite quickly for himself. Between writing my EP, I've co written every track on his project. I guess that makes me a little biased, but the music speaks for itself! I'm obsessed with every song!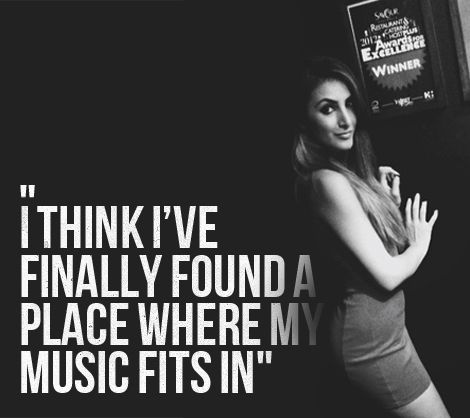 Your EP is scheduled to be released in late February. Has it been completed yet and how is it sounding?
It's not 100% completed yet. We have a million things going on at the moment and we really want to perfect the sound. I think more than anything though it's about having a consistent feel throughout the EP. It might have been done unintentionally, but if you listen closely the lyrics are a story.
Have you made any plans for the year yet in terms of touring and promoting your music worldwide or are you just taking things one step at a time?
I think the plan is to take it one step at a time. I'm just focusing on getting my music out there, seeing what people think and hopefully pick up some fans along the way! As long as people are discovering and enjoying my music, I feel like I'm on the right path. If all goes well, a trip to the U.S. is looking good for the future.
You can visit Vanessa Elisha by heading to vanessaelisha.com