Before adopting the moniker Sea Change and putting out significantly above- average puzzle-pop songs, Ellen A. W. Sunde had about as much confidence in her own abilities as an aviophobe about to go on a skydive. Studying at a music school in Norway, she was too nervous to play her songs to anyone and never let friends hear any bits of the music she'd been working on. "I was afraid of actually making finished songs," she tells The 405, "I guess out of my own self-censorship. Like, I'd think, 'this is so bad - I can't even finish this'. The fear killed all my creativity. But, after a while, I realised that I needed to just stop being afraid and that I needed to just get on with it. So I did. I was twenty-one when I finished my first song."
We use the term puzzle-pop when describing the Sea Change sound because there is something decidedly confounding about it. The songs rarely go down the path you expect them to go down and the music twists and turns in a weird way. Which means that it keeps you on your toes, it keeps you guessing and it keeps you interested.
With Sunde's debut album, Breakage, coming out shortly, there is significant buzz around the Norwegian, particularly after the unveiling of its heralding singles, 'Above' and, more recently, 'Squares'.
That first song she finished at the age of 21 is one which she still thinks about even though it did not make it onto the album. "It was quite a good song, actually," she says. "Maybe I'll come back to it some time. Some of my later songs are nowhere near as good as that one was," she laughs. "But, yeah, it took some time for me to be able to get to a finished product, a finished song."
The next step was to nail down a discipline of both getting other tracks recorded and reminding herself to be more open to sharing them with others. "I had some contacts in the industry from music school but I was still so afraid of showing my work so it took me some time to get to the stage of letting others listen," Sunde recalls. "In 2011 I locked myself in my room and had this plan of 'right - now I need to just start this project because I need to do this'. So I recorded a couple of songs, made some ok demos and started to do some gigs with just my laptop and my controllers and re-invented myself on Facebook as Sea Change. Pretty soon after my first gig, I got another gig and then more gigs after that - they each led to another one - and then I met, Espen, who is my manager and things moved pretty fast from there."
And what about her nom de plume? Is she a fan of the seminal Beck album of the same name? "Yes. Of course," she smiles. "I don't know the rest of Beck's music that well but I have Sea Change and really love it. It's a really, really great album. I bought it when I was 15, I think, and I didn't like it that much when I first got it but I found that I couldn't not listen to it, like, thirteen times in a row." Her favourite song on that record is 'Lost Cause'.
The 405 suggests that, in a way, the name is misleading if listeners are expecting a sonic homage to the Beck LP. "Yes, my music is very different to the music on that record," Sunde agrees, "but I think the word 'Sea' is a good word to link to the music because it is ethereal in a way - I feel like the music is always moving."
How would she describe her musical style? "I like to call everything with a melody 'pop music' so I think my music is pop but I also come from a more experimental genre like noise music and improvisational stuff. A lot of it is about the beats. When I made 'Bursting' that was a big step towards pop music, for me. I was so happy with that song that I had to release it as fast as I could. I loved it so much. The songs I made before 'Bursting' were much slower and more experimental. But, you know, this is not going to be my weirdest album."
'Bursting' and follow-up single, 'Bridges', ended up being left off the album. Sunde explains this decision: "I guess I didn't include them because I wanted to make new songs and give the new songs more space and give the listeners more, other stuff. I thought the album would be more interesting with newer stuff. Those two songs are one thing and the album is another, in a way."
One of the best moments on Breakage is 'Above' - also one of the highlights in Sunde's live set when The 405 catches her performing at Dutch music festival, Eurosonic Noorderslaag. "I tried to make a pop song and this was the result," she muses. "It came to me really fast, the melody and the lyrics. I guess it's about a difficult relationship but I don't think I want to say any more about what it is about. I am not that private in my songs but I think that private stuff also goes universally because, as human beings, we are very much the same in many ways. I feel that 'Above' is very universal but also very personal at the same time."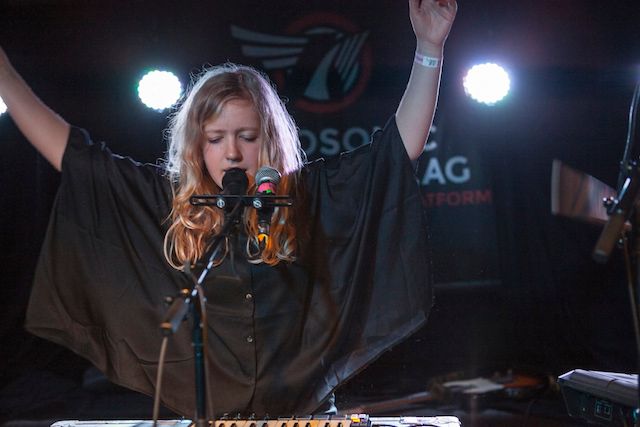 Another track which sounds great in the Sea Change live set is new single, 'Squares', which Sunde describes as one of the easiest songs she's written and one that came to her most naturally. "I tried to make something that is accessible," she says. "Sometimes you just sit down and think 'ok, I want to make that kind of song' and it usually doesn't turn out the way you plan but I find it a very interesting way of creating."
As the album was recorded in Sunde's bedroom and with almost no outside interference, surely she must have felt a bit isolated. "Yes, it was a lonely experience," she admits, "but, on the whole, it is a good way for me to work, I think. It's the only thing that feels natural to me, to lock myself in a room and make music. I start the day at 9am and finish the day around 5pm. I'm quite disciplined."
Sunde's writing process varies from track to track, although the majority of her compositions tend to start with a melody. "Typically, when I am walking somewhere and don't have time for anything, something would pop up in my head. I feel it coming - I just have to put it on my phone and then I'll pick it up again later. A lot of the time songs also start with a beat. I would just put down like a boom-chim-chim-boom [emulates drumming with her voice and hands] beat on my phone. When I listen back to it I normally think 'wow, this is really strange' but it helps. I start with the production very early on too, it's a really important thing for me. I'm not a very good producer so I don't really think of myself as a producer, as such, because I think I still have a lot of things to learn." Listening to the production on Breakage, you can't but disagree with her.
You'll be able to catch Sea Change live in the UK in February with additional European dates coming up in March and April as she takes Breakage out on the road. From what we saw and heard at Eurosonic Noorderslaag, you'd be a fool to miss her.
Breakage is out on February 23rd. Listen to 'Squares' below.