When Brian Shimkovitz stumbled upon Ata Kak's self-released Obaa Sima cassette tape in 2002, he didn't even have an inkling of the curiosity and interest it would ignite amongst music collectors around the world. Obaa Sima became ground zero for Awesome Tapes From Africa, a nearly decade-long blog, label and DJ project exploring under-discussed cassette tape music from across Africa. After eight years, the multi-continent search to find Ata Kak is finally over, and Obaa Sima is now available worldwide in a variety of formats. Near the end of February, we spoke with Ata Kak to find out more about the story behind his infectious and life-affirming music.
Back in the early '90s, Ghanaian singer-producer Ata Kak, birth name Yaw Atta-Owusu, and his wife Mary were raising their young sons in a rented apartment just northwest of Toronto's notorious Jane Street and Finch Avenue. If he wasn't spending time with his family, Ata could be found working odd service jobs around the city, teaching music lessons at a church, and playing in a local highlife band named Marijata. When legendary Ghanaian highlife singer Daddy Lumba embarked on his first Canadian tour, Ata sat in the drummer's seat. In 1991, Ata and Mary's third son Jeffrey was born. Not long after he began work on his legendary album Obaa Sima.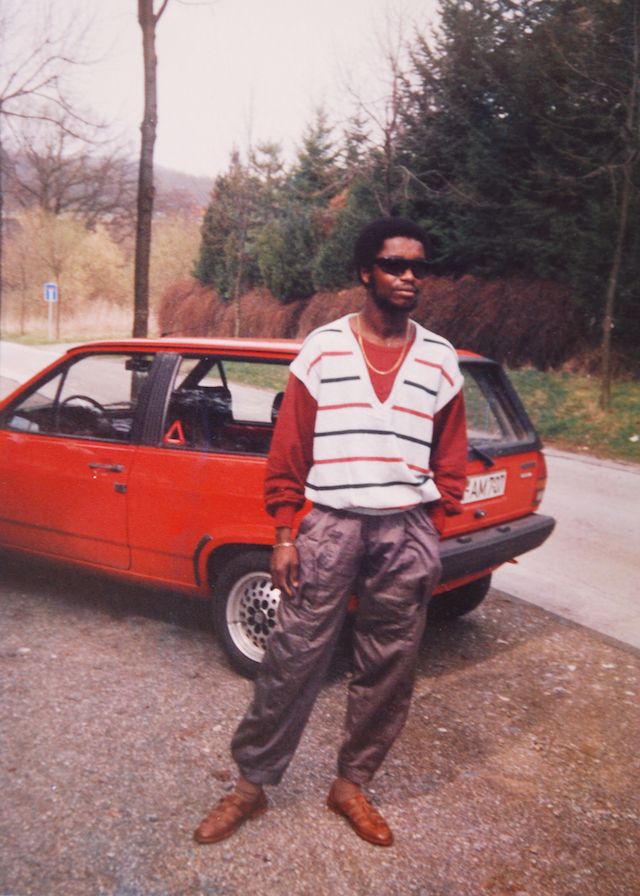 ---
"This guy asked me if I was into music, and I said yes, and that I could play the drums. It was a lie; I don't know why I lied to him, but we swapped numbers. I went home, told my wife, and started practicing drumming on my dining table."
---
Speaking to me down a crackly phone line from his home city of Kumasi in Ghana, Ata thinks back to his time in the 416. "I was playing in the highlife scene," he reflects. "Then I said, 'No, I will do my own thing!' So I set up my own recording studio in my apartment in Canada. There I recorded the songs that are why you're calling." Born in 1960, Ata and his twin brother grew up in Kumsai. After attending AME Zion Mfantsipim Senior High School, he managed the bar at the Kumasi Golf Club. There he was exposed to highlife, a mid-tempo West African pop genre decorated by jazz informed horns, layered group guitars and powerful vocal performances. It wasn't important to him at the time, but years later, he'd draw on the influence of the music.
Come 1985 Ata left Ghana to escape the military coups, political repression and financial ruin of the time and join his wife Mary in Germany. Not long after they arrived, he met a German musician by chance at the post office. "This guy asked me if I was into music, and I said yes, and that I could play the drums," Ata laughs, speaking in a casual and friendly manner that screams of zest for life. "It was a lie; I don't know why I lied to him, but we swapped numbers. I went home, told my wife, and started practicing drumming on my dining table." Ata tapped along to reggae songs on the table before visiting the German musician's band at their practice space. "I did the best I could, and it wasn't so bad. After about three weeks, I was playing good. Everyone was happy and excited. Unfortunately we didn't have a singer, so I became the lead singer at the same time as I did drums! After about three or four months, I was writing songs!" At the time, the band was playing Bob Marley covers, or as he calls them "copywrites." Building on the highlife he'd grown up listening to in West Africa, Ata became fascinated with American disco, R&B, and soul. He kept writing songs and performing them with the band until 1989, when the family moved to Toronto in search of a better life.
"Through joining a band in Germany, I realised I could do something with music," Ata says. "I had become a professional musician. That was my career, and I could make some money out of it. Seeing what I could do encouraged me to record my own stuff." It took him over half a year to record his first song. But once he'd mastered a basic set-up including a computer, synthesizer/drum machine, reel-to-reel recorder and 12 channel mixer (with the assistance of his friend Yanson Nyantakye), the seven game-changing songs on Obaa Sima tumbled out of him. Sitting within an internationally minded interzone that draws on highlife, reggae, pop, funk and early rap music, his idiosyncratic and hyper-colourful soundworld presaged Ghanian rap music and hiplife by years.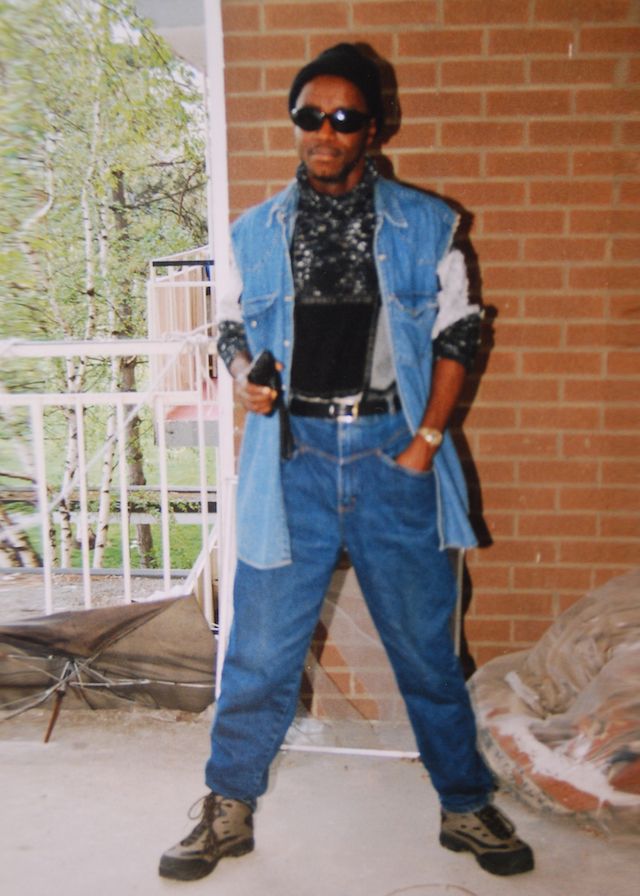 ---
"If I had the opportunity, I would do music again. If I had musical instruments and money, I would still record songs because I have more songs to record. There is a story behind my music which the world must know."
---
Rapping in Twi (a Ghanian dialect of the Akan language) over sun-kissed hypnotic loops, he crafted something that was all his own; a musical singularity if you will. "If you listen carefully, you'll hear that my music is not reggae music, highlife music, funk, rap or pop," Ata enthuses proudly. "It's a blend of all. Like I told you, growing up in Ghana, I was into highlife music. That is my background. From there in Germany I joined a reggae group, and I was exposed to pop and party music in America and Canada. I had to blend all these things, so that is what you get." If Ata Kak's music feels melodically and rhythmically joyful and celebratory, its positive energy is supported by the deeply romantic sentiments that drive the lyrical content of his songs. "The first track, 'Obaa Sima', means ideal woman," he reveals. "I collected my memories of being a husband and put them together to honor my wife. With 'Da Nyinaa', [that phrase] means always and forever. When you are in love with someone, I believe you are always and forever in love with that person. Love is supposed to be permanent stuff; that's what I'm saying."
After finishing Obaa Sima in 1993, Ata had his twin brother arrange the cover artwork design with help from Professor O.A DeGraft Johnson, as well as mastering, and physical duplication. They pressed up a short run on cassette tape in Ghana, and released them in 1994. Tragically, it only sold three copies at the time, and faded into history. Later that decade, Mary had immigration issues and was deported back to Ghana. Ata followed her home in the 2000s, leaving his pursuit of music behind in the process. "Ever since I came back here, I haven't been able to do music much because of financial issues," he admits stoically. "Initially when I came back here, I had something to do. Unfortunately, I'm unemployed at the moment. I'm still hopeful that one day I'll be able to set up my old recording studio." He pauses briefly before issuing an endearingly cool boast, "I still write songs and I still dance. I still got it!"
In 2002, Awesome Tapes From Africa blog/record label founder Brian Shimkovitz purchased a copy of Obaa Sima from a roadside stall in Cape Coast, Ghana. Several years later, it became the inspiration for the Awesome Tapes From Africa blog in 2006. Through regularly ripping and uploading rare African cassette tapes on the site, Brian was afforded the opportunity to play cassette tape DJ sets around the world, and establish a record label of the same name in 2011. Along the way, the mystery behind Ata Kak's identity fuelled imaginations on and offline, and Obaa Sima became loved by music fans across the planet.
As he began to re-release records from the likes of Nâ Hawa Doumbia, Bola, Hailu Mergia and Penny Penny, Brian maintained a steady search for Ata Kak on the side. After eight years, and much deep digging, he made contact with Ata through his son Jeffrey. "Brian is someone I have never met personally, but he is a wonderful guy," Ata enthuses. "When Brian called me, I was very excited because I'd made music and tried to sell it, but I didn't make it beyond that. Even though I was disappointed, I had made up my mind to try again one day. So when this happened, I was very happy. If I had the opportunity, I would do music again. If I had musical instruments and money, I would still record songs because I have more songs to record. There is a story behind my music which the world must know."
Following working with Jessica Thompson at the Magic Shop in NYC to transfer, clean, and restore the sound of Obaa Sima, Brian reissued the album earlier this month. It's available on LP, CD, MP3 and limited edition cassette tape formats. The LP edition comes with incredible archival photographs of Ata wearing some amazingly fly outfits and full biographical liner notes. Since re-release, Obaa Sima been critically praised both on and offline, with interest steadily increasing along the way. At the end of our conversation, I tell him about seeing several hundred people dancing to his songs at a recent Awesome Tapes From Africa show in Wellington, New Zealand. "Wow," Ata exclaims with a chuckle. That's good man, New Zealand! May I end this interview by saying thank you to all my musical fans all over the world. You must continue to groove to Obaa Sima, you know the rest. May God bless you all, thank you very much!"
Ata Kak's album, Obaa Sima, is out now on Awesome Tapes From Africa.