Collaborative projects are always interesting, and Dungeonesse's self-titled debut album is the sound of two people stepping well outside their respective comfort zones. Jon Ehrens and Jenn Wasner don't see their new project as a self-contained band; they're more like a songwriting team for hire, or so Ehrens told me in my email interview with him.
We talked about what went into making the album, the connotations of the term 'songwriter' and why he thinks Wasner is such a good musical partner for him, among other things.
Hello! How does it feel to finally have the album out?
Feels good - a li'l odd 'cuz these songs are almost two years old at this point, and it's the first time, for me at least, to have had to wait this long between creating a record and presenting it to the public - and for me in particular, this album is the first that will have reached as wide an audience as this one already has.
How did the Dungeonesse project come about?
Jenn [Wasner] and I had known each other for years. Around 2009 I gave her a CD of demos I was working on that would eventually become the White Life record. She offered her help in the recording of this record and maybe gained the pop bug from that session. From there, I would send her track I was working on, and she eventually said, "I think I should sing on this one" - so, when working on tracks, I would send her the ones I thought most suited for her voice ... which is a great, great voice and I was more than lucky to have this opportunity.
The two of you are long-time friends, but this was the first time you've worked together - were you surprised by the chemistry between you?
We had actually worked together a bit on the White Life record, but I don't think it was a great surprise. We would have super-geeky conversations about song structure, key-changes, lyrical content etc. In Baltimore, there is a lot of really great music of all kinds, but songwriting-based music is more scarce than one might think, so it seemed natural that the two of us would collaborate as fans of the same very specific thing. We also found that we had both independently arrived at a conclusion about "sound-tendancy" and "song-tendancy" among music fans and musicians. Many many great bands have "sound-tendancy" in which the sonic qualities are the focus, but Jenn and I have "song-tendancy" in which we think songs of all varying styles, aesthetics and sonic quality can all be exquisite based on the way the songs go.
Also, I'd like to add that Jenn and I are both "songwriters" which has an almost inherent connotation with a downtrodden troubadour with a guitar singing the songs of the people. I don't think that Jenn and I are even that lyrically focused, and our songwriting is more oriented around things like arrangement, melody and composition - where the lyric writing process is almost entirely separate from the original idea of the song, which is usually the musical elements.
Was there any particular song which produced a 'Eureka!' moment and made you realise the project was worth pursuing?
For me it was 'Shucks'. A lot of times in working on music, I spend months and months sitting on and tweaking and considering specific tracks. With 'Shucks', which was I think the second track we tried collaborating on, I had made the track and sent it to Jenn in the same day. The next day she sent back a fully written song on top. This project, I will add, is the first time I was not writing lyrics and melody to the tracks I was making. Some of the tracks on the Dungeonesse record I did write almost entirely [by myself], but for many Jenn wrote all of the melodies and lyrics. Anyways, 'Shucks' was a eureka moment because I had no idea what to expect and I definitely freaked out hearing this amazing song on top of my track; especially considering it was the first time I had heard Jenn sing in this way on a recording. She sings along to the radio a lot, so I knew she was capable, but I was dumbstruck when I heard 'Shucks' for the first 30 times or so.
Are there any plans to bring the album out on tour? How do you think it would work in such an environment?
No plans at the moment!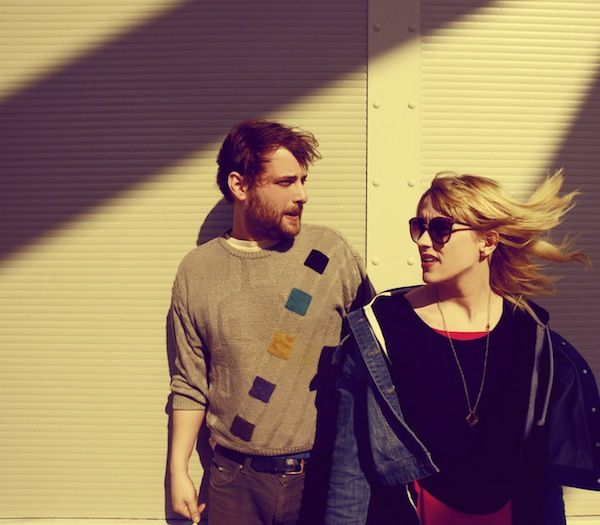 What was the best thing about working on the album?
I think realizing that we were a good team. We are both control freaks, but we also trust the opinions of one another and that combination definitely works to our advantage.
Which of the 10 songs is your favourite? Could you tell us what went into making that song?
I really liked playing bass on 'Drive You Crazy', and it was one of those songs that seemed to come from someone or something other than me; but my definite actual favorite is 'Show You'. I had the least to do with the creation of this song. I had made this essentially abrasive, almost arrangementless drum pattern made up primarily of samples of only the shittiest snare sounds I could find from drum-machines past. I almost forgot I sent it to her, and maybe a month later she sent 'Show You' to me which managed to have a really interesting but cohesive arrangement, beautiful singing, heart-wrenching lyrics, and minimal instrumentation that somehow softened the harshness of the drum track. It was all Jenn. So good.
There's a distinct 90s influence audible on some of the new songs - you've called yourselves '90s children', so was there an attempt to recreate some of the music you grew up with?
Not really. I try and just go with whatever the back, unthinking part of my brain wants to hear. It isn't until the track is near completion that I can step back and be like, "Oh, this sounds like New Jack Swing" or whatever. I try not to get hung up on it, and I've been getting the feeling that some listeners think I'm trying to pull a fast one on them, or that I'm making a joke, or homage album, or doing a genre-exercise. What it mainly comes down to is I try and make songs that are songs that I want to hear. So maybe I somewhere in my mind want to hear 90s R&B, I dunno! I definitely made some big changes in the way I think about and listen to music about five years ago, and this may lead to some nostalgia-influence, which I don't think is a bad thing. Different chord-changes strike different distinct emotions, and I don't think that that is any more or less manipulative of listeners than the use of nostalgic elements - for better or worse.
Is Dungeonesse just a one-album project, or are you leaving the door unlocked, so to speak?
Jenn and I are going to work together again for sure. We are a songwriting/production team. We would really like to write and produce records for other performers and broaden our scope in that way. HIRE US, haha. But, it seems likely that we will make more music as Dungeonesse too.
Finally, what was a typical day like for you when working on the album?
For the most part, this record was made while I was checking out LA. I had never lived outside Maryland before, and an old friend offered a cheap place for me to stay in LA, which is where pop music happens, so I went. While I was there I was largely unemployed so I would spend my mornings moping around and applying for jobs that I wasn't getting. To justify all of this inactivity and typical LA feelings of smallness, I worked on tracks like my life depended on it. My computer was set up on this basement bar, so I was working while standing up, which is a neat trick because it makes working on music feel more physical - and the danceability of a beat more visceral. Meanwhile, Jenn was touring with Wye Oak all damn year and wanted to be musical outside of performing the same set of songs every night - so she would record her voice from wherever she was crashing at the time and send it back to me. Other than maybe "Anywhere You Are", every song was created remotely.
Dungeonesse is out now via Secretly Canadian.