Welcome to our 'Ones to Watch' list for 2012. Much like our list last year, or any list like this in the future, it isn't about trying to prove how great we are at predicting who's going to sell the most records next year. If you want that list, feel free to email us. No, this list is about providing you with a bunch of bands/artists we feel could release something special over the course of 2012.
"But wait, I've heard of [Insert Band] before! They're not very new!"
Again, we're not concerned with what these bands/artists have done before, we've all heard '212' by Azealia Banks a million times this year, and Clams Casino is hardly a hidden entity, but don't worry about that. Our only criteria was to pick the bands/artists we love and believe in.
Below you'll find profiles on all of the bands/artists we chose, and a download album (+ stream) for you to have for free. We won't be giving away any physical copies of the album this year, but to make up for that we have something pretty special to offer you.
Thanks to our friends over at Audyssey (and theneighborhood.tv), we have a pair of Lower East Side Media Speakers to give away. To get the most out of our download album, you really need to hear them through a good sound system, so this really is a match made in heaven. You can find out more about the competition (and speakers) at the bottom of the article, but until you reach that point, we really hope you enjoy our 2012 list.
The 405
You can download your free 'Ones To Watch' album at the bottom.

Purity Ring, side project of Gobble Gobble man Corin Roddick, are perhaps one of the most surprising bands to receive a large amount of attention in 2011. The sound of Purity Ring is rather hard to define, most of the ludicrously named blog genres of recent years (Chillwave, Witch House etc…) are explored and vastly improved upon, whilst also incorporates the warped futuristic sounds synonymous with more experimental acts like Gang Gang Dance.
Their output in 2011 consisted of just 3 songs, featuring made up words that sound like Pokémon battle moves as song titles. All 3 songs being remarkably excellent and forward thinking. 'Lofticries' comes across like a haunting studio ghibli soundtrack on acid, meanwhile 'Belispeak' concerns itself with swathes of gothic synths and chopped up hip-hop style beats, all the while being innocently cooed over by vocalist Megan James. With an album on the way, and a string of elaborate live shows completed across the USA supporting acts like Neon Indian, great things are expected of Purity Ring in 2012. And judging on the strength of the 3 tracks so far, they don't seem likely to disappoint.
You can visit Purity Ring by clicking here.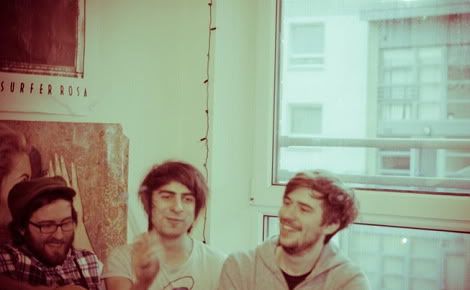 Paws are a trio of young lads from Glasgow who have already been making waves in their hometown due to a mixture of distorted garage rock and a true DIY ethic – they told one blog they will "play literally anywhere if it's possible" and their Facebook page appears to confirm this. Fast-paced pop with no respite at all, they offer a persistent assault with tracks that come across like a mixture of a youthful Blur's enthusiasm colliding with Cloud Nothings' directness and the slightly shoegazing sound of Yuck. Titles like 'Shut Up And Drink Your Battery Acid', a hectic instrumental showpiece, confirm they are a band prepared to raise a few eyebrows, and could well be the breath of fresh air a genre polluted by the likes of The Vaccines needs.
Phillip, Josh and Matt may have only released a split-single with Lady North and a few cassette tape singles so far, but there is far more to come, and the thought of what they'll do with their artwork is intriguing. A band with a tremendous visual aesthetic, their Tumblr proudly displays a picture of the cartoon character Daria showing off her Paws 'fangirl' tattoo. And their artwork and T-shirts have kittens plastered all over them – something no-one can argue is less than fantastic.
You can visit PAWS by clicking here.
There have been many artists this year taking the R&B genre and putting their own stamp on it; it's gone from the deep, dark sounds created by The Weeknd, to the light and angelic vibes of Active Child.
Pandr Eyez are a duo that are about to step into 2012 with another take on the genre. There's a soulful, R&B feel about their music, constructed with the help of electronic beats from genres that are so popular now, like dub-step and dream-pop. Ferron Gipson is American and Tom Lloyd is English, so when listening to stand out track 'Eyez On You' from the EP of the same name, you can hear the different influences from both members. There are the British styles of trip-hop and garage thrown in the pot with American Soul and classy R&B, which made artists like The Dream and the late Aaliyah so popular. It seems like Pandr Eyez haven't fully committed to a certain sound yet, so there is an unpredictable excitement about their releases in the future.
You can visit Pandr Eyez by clicking here.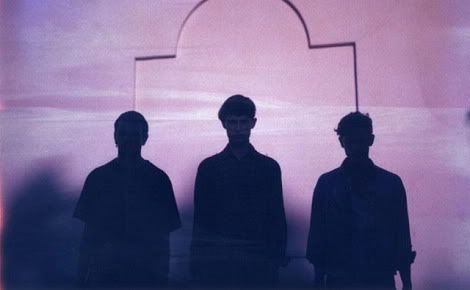 The Brighton trio of Regal Safari consist of two musicians (Guy and Sean) and a visual artist, Josef, who sort of came together accidentally only four hours before what would be their first gig, due to a band pulling out. Their debut six-track (generous right?) EP released in the summer, R G L S F R, is one of the finest EPs of the year, and possesses the sound of finding yourself in a lucid dream and having carte-blanche to get lost in a landscape of fantastical, vibrant possibilities. Yeah, it inspires waffly leftfield imagery, you get it; no wonder they've been played on 405 Radio so much.
So it's a chillwave name, sure, but there's more going on here make no mistake. The tracks are full of ambient effervescence that flow earnestly, branching off into warm pop realms embedded by subtle beats. By including a visual artist, a much needed visual stimulation is provided in a genre sometimes stifled by the lone figure hunched over a Mac look. The video for Light beholds a trash black and white, Tron-esque evolving landscape that somehow manages to both be extraneous to their music whilst paradoxically making perfect sense. New material for 2012 we have been told. Arrange the words: Promising. Massively.
You can visit Regal Safari by clicking here.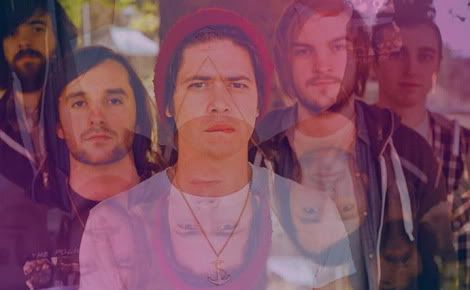 Winding up together after circulating around the same, incestuous music scene, a winning five-piece combo was formed, going by the name of Hey Sholay. They hail from Sheffield and Leeds, make rollicking psychedelic pop, and are primed for a fully fledged break-out in 2012. Their current single 'Wishbone', due to be released on Christmas day, makes for a promising start, with a mini album following at the end of January.
I know this is more than a little bit cliched they've got that certain... spark. Take one listen to their MySpace offerings and you're hooked on a delectable cocktail of twinkling yet striking vocals and jovial skin-beating. Call it vivaciousness. Call it je ne sais quoi. Call it the bloody X Factor, if you truly must. Whatever it is, Hey Sholay have got it in abundance, and it's about time everyone knew about it.
You can visit Hey Sholay by clicking here.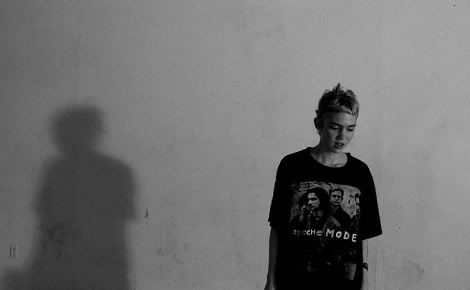 Claire Boucher's Grimes project is a bit different from a few of the bands we have listed here, not only does she have solid tangible material that she's put out in the past, but there's reason to believe that her upcoming material is even better.
This year's Geidi Primes proved to be one of the more unique albums we've seen this year. Built on the strength of astounding torch burners like 'Rosa' she seemed poised for a career of middling indiedom. These songs were good--even very good, but nothing seemed to indicate that she might be headed for anything bigger than niche-y indie appeal. However, after turns opening for Lykke Li, more time developing her live set, and the strength of a new single 'Oblivion', she's greatly increased her stock in the world. She's stated in interviews that her previously released material at this point was something like practice for her new album, Visions (out January 31st), and if that's the case, it's sure to be something special.
You can visit Grimes by clicking here.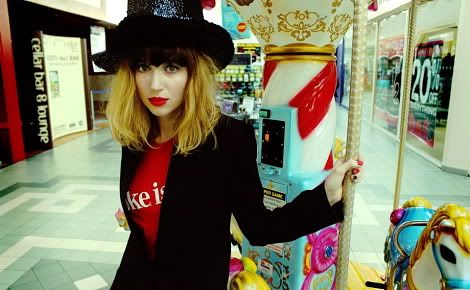 If not for her deeply sassy and seemingly irascible attitude, there are several other reasons why FOE will be a force to be reckoned with in 2012.
Her debut, Entrepreneurs-produced EP Hot New Trash has quite clearly had the great Adam M. Crisp's (of Elle Milano fame) stamp on it, what with its twisted fairground sounds and incredibly thick and sludgy riffs. Not only does she deliver with her irresistible vocal lick, but also with her witty, contentious lyrics involving pissing in playgrounds and clowns in g-strings. It's the end result of compelling and downright ravishing grunge-pop over the course of just four tracks that FOE confirms herself as next year's middle finger response to Lana del Ray and Florence and the Machine. If either of those girls got dragged down a dark alleyway late at night to the sound of Nirvana and Milk Music then they'd certainly come out the other end sounding a lot like FOE – which is definitely a good thing.
You can visit FOE by clicking here.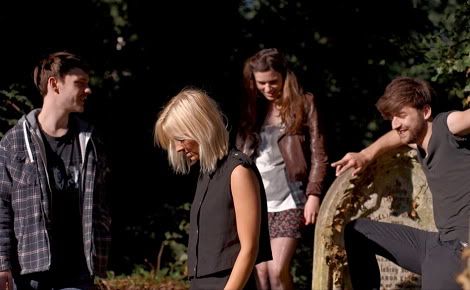 I was fortunate enough to catch Fear of Men at this year's Great Escape Festival, and the blogosphere has been entirely favourable to the band since then. Made up of two boys and two girls, comparisons have been made to Veronica Falls and Belle & Sebastian, as the band navigate their way through an effortlessly endearing indie pop and shoegaze sound.
So taken by this sound was the independent music world, Sex is Disgusting put out 50 cassettes of the band's material, which all inevitably sold out rapidly. This in turn led to the release of the band's debut single on Italian Beach Babes, and numerous introducing pieces on blogs and mainstream music publications alike. With recent, and well publicized, tour dates with Bos Angeles under their belt, 2012 looks like a very promising year indeed for Fear of Men.
You can visit Fear Of Men by clicking here.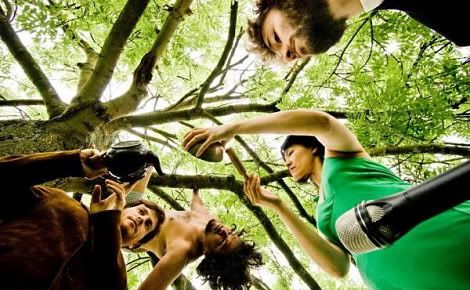 Zun Zun Egui call their music 'free-range rock' and that's a fairly true description, though they do drift between funk, punk, African guitar music and Japanese avant-rock to make up this 'free-range' of theirs. With Kushal Gaya handling most of the vocal duties there is a strong French African vibe to the songs - in fact the lyrics are a bit of a puzzle, as they lapse between English, French and Mauritian Creole. Their gigs are quite a spectacle as this exotic mix of clattering funk, tribal rhythms, wild electric guitar wigouts, not to mention catchy refrains, can grab the attention of any audience.
They grew out of the Bristol improv/ DIY scene and after a few home made CD-Rs and an ever increasing buzz at their shows, they released a couple of 12" singles on the Blank Tapes label, then after signing with Bella Union their debut album Katang came out in October 2011 to very positive reviews. Katang builds on their live reputation but shows a lot of depth to their music, as the more intense material is tempered by a reflective side, with enough song craft and particularly impressive guitar playing to make them well worth watching.
You can visit Zun Zun Egui by clicking here.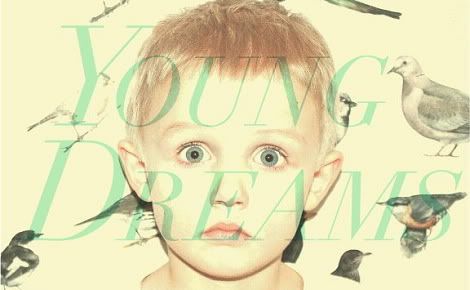 Young Dreams manage to answer that age old question of 'What would have happened if The Beach Boys had been Norwegian?' There's no denying, their Scandinavian brand of tropical pop is familiar. And that's definitely no bad thing. Vocals float above calypso inspired guitars and Caribbean drums, a stretch from Norway's typical climate but it comes as second nature to them.
With twelve regular band members and a further seven that join them on tour they bring their luscious pop-psychadelia scene on stage with them wherever they go. There's an album in the works to be released next year and if it's anything like the sounds they're putting out so far, we're in for something special this 2012.
You can visit Young Dreams by clicking here.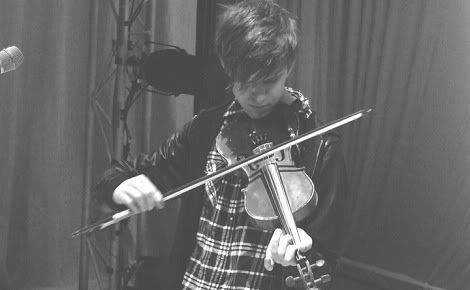 Australian orchestral pop that could slip you into a coma. James Wallace aka Wintercoats could win over your hearts as well as your ears and minds with his heartfelt lo-fi love songs. Active since 2010, when he self-released Cathedral EP and having unveiled three more singles since then, this particular Melburnian also has support slots for How To Dress Well and Beach House to his name. A big fan of loop pedals as he performs solo with a wide variety of instruments, his live shows are something to be seen as soon as you can. Sharing a record label with fellow OTW-ees Pandr Eyez, you can expect to hear a lot more from Wintercoats in 2012.
You can visit Wintercoats by clicking here.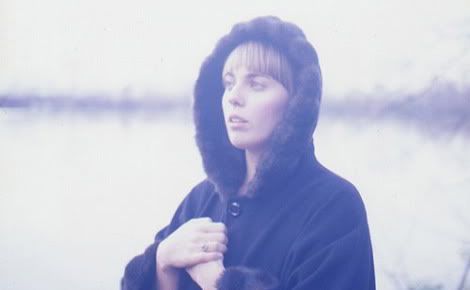 Megan Remy's moniker U.S. Girls may have already released two LPs on the Siltbreeze label, a split EP with Dirty Beaches and have a Bandcamp page full of rarities, but if she carries on this rich vein of form it won't be long before she's made even more of an established name for herself. Having just started up her own label called Calico in November, 2012 promises that we'll be hearing a lot more from this enchanting individual.
A psychedelic and avant-garde mixture of LA Vampires, Zola Jesus's darker moments and Deerhunter's hazy intensity – the sound she makes may be dreamy, but it most certainly isn't light. There is a dark and uncomfortable eeriness surrounding all the glitch soundtracks and an industrial tone that is as hypnotic as it is unnerving. With a live show that has enthralled audiences in equal measure in both in the States and Europe, the Chicago-based musician certainly seems one to keep an eye out for.
You can visit U.S. Girls by clicking here.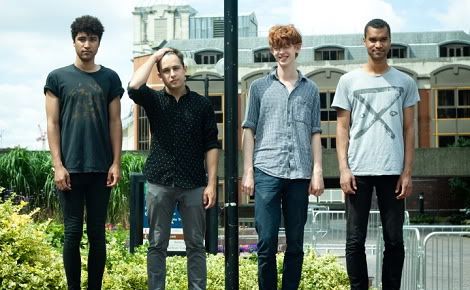 Theme Park: a collective embodiment of happiness; danceable music that isn't riddled with sexually transmitted diseases and sticky nightclubs. Combining Talking Heads' vocals and first album Friendly Fires' guitar and synth, Theme Park manage to blend two different musical spectrums without sounding like a pretentious guilty pleasure. Their newest single 'Milk' demonstrates this collision of sounds perfectly.
Acquiring support slots with up-and-coming bands Spector and Summer Camp (and impressively one with Florence and the Machine in the new year), 2012 is shaping up to be a promising year already.
You can visit Theme Park by clicking here.

Airick Woodhead, aka Montreal-based Doldrums has been simmering throughout 2011, with the release of single 'Euphoria' at the beginning of the year and Empire Sounds EP through No Pain in Pop this October, he has been turning quite a few heads with his dreamy take on dance music. Sounding like a melting pot containing Yeasayer, Gold Panda and The Rapture, it would seem likely that Mr Woodhead will have increased his fan base significantly by the end of 2012. If the world really does come to an end in 2012, at least we will be going out with a bang.
You can visit Doldrums by clicking here.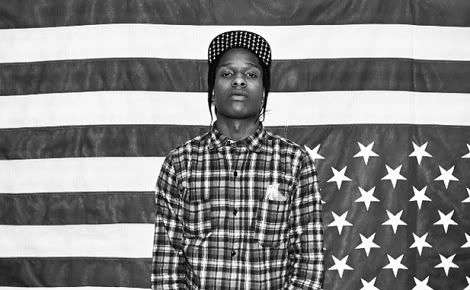 2011 has been a year of swag: Kanye, Jay-Z, Drake and Tyler all ooze it onto their releases. However there is a relatively new Harlem based rapper with an alluring arrogance and a silver tongue doing the rounds on mixtapes, shooting out lyrics like "Still don't give a shit, my ignorance is still a bliss." His name is Rakim Mayers, a.k.a. A$AP Rocky, and he's going to make 2012 another swag-tastic year.
He's got a Shakur-esque slur, a cocky nature, and a love for resurrecting the chopped and screwed Dirty South style samples, which surprisingly sit so well next to his New York flow. A$AP's mixtape 'LiveLoveA$AP' had the critics calling it the finest mixtape to hit the web, and this is not just down to his cheeky bravado. He manages to swarm himself with up and coming talented producers, who bring a style of production to his raps which is so fresh and unheard of. Mayers won't need to wait; commercial success will be coming ASAP.
You can visit A$AP Rocky by clicking here.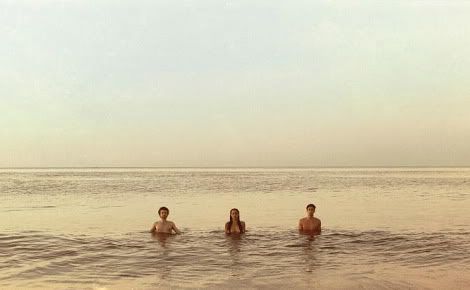 This Brooklyn-based collective range from making shoegaze ambitious enough to the fill the room, rather than just our heads, to electronica catchy enough to fill dancefloors. With support slots for Youth Lagoon, as well as two 7"s under their belt with 'Night In The Ocean/Slip Time' and 'You With Air/Sparkly', they've been building the foundations from which they will launch their assault on the general public in 2012. Young Magic are a band filled with ideas and influenced by more genres than you could name, so let's see if they can be as spellbinding next year as they have been so far.
You can visit Young Magic by clicking here.

David Hilali, who these days goes by the musical moniker of Dauwd, grew up in his rural Wales where a melange of sheet music-based traditional instruments he became learned in. As a teenager an electronic awakening kicked-in, learning the laptop/pc music software ways incongruous to the hilly surroundings - and it is this synergy that lay the foundations for the astute, richly textured sound that he is crafting now.
Having received a helping hand from electronic tastemakers extraordinaries Rinse FM and Giles Peterson, the precocious DJ/producer this year has started to garner wider-spread attention that will only grow exponentially in 2012. Used in his tracks are a myriad of found sounds, but expertly dismantled, packaged and processed into frequently gorgeous melodies, accompanied by deep bass than makes you wanna comment all under his soundcloud with words like DOPE!!
If you need anymore convincing, his 12" release of 'Whats there' (pfffft grammar) is out on the fantastic Peckham-based coterie of Pictures Music - whose frighteningly visionary releases have included work by Chairman Kato, Koreless and Seams (one our One's to Watch of 2011 incidentally).
You can visit Dauwd by clicking here.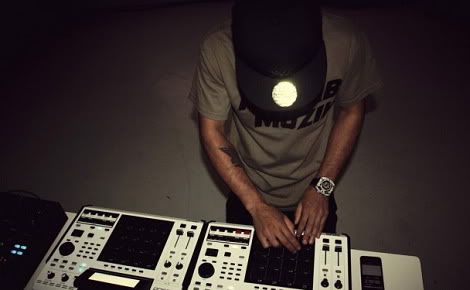 The modern musical age has bought about the rise of the technical men behind the scenes, from Kanye to James Blake to Star Slinger, all pushing through to the forefront of various scenes. It feels like electronic music is entering somewhat of a rejuvenation period, with acclaimed records in 2011 from the likes of Balam Acab and Modeselektor. Hopefully, 2012 should bring a lot more of one such figure, a hip-hop producer named Abraham Orellana, aka AraabMuzik.
Originally producing the for the likes of Jadakiss and Busta Rhymes, he set out to bring his own scrambled electronic thoughts to life, utilising a drum machine and various samples, cut, slashed and pasted here, there and everywhere. His debut LP, Electronic Dream, takes in such a wealth of electric history, from trance to techno to dubstep, whilst crafting something entirely untarnished, playing with hip-hop beats that create a dark, euphoric aura of tension, a blend of pitch black dance floors and futuristic dystopian landscapes. Keep an ear tuned for his MPC inspired musical vision in 2012, either in the explosive hip-hop scene or bursting open a whole new genre of electric dreams.
You can visit AraabMuzik by clicking here.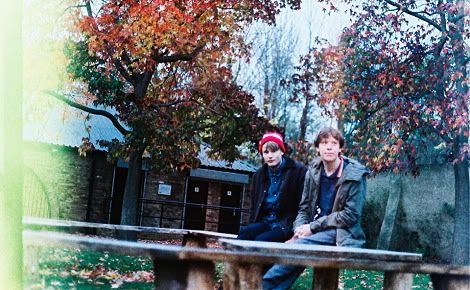 Crushed Beaks are fairly late contenders to the 'Ones To Watch' party, coming to the attention of music bloggers everywhere in the last couple of months – but it's certainly a case of better late than never with these guys.
Hailing from good old London, the duo (consisting of Alex Morris and Matthew Poile) has had a handful of demos making the rounds. There's the sharp and energetic 'Close-Ups', a track that's vocals are rushed into an indistinguishable haven by deadly combination of guitars and drums that become utterly raucous, as well as the completely hypnotic and spellbinding 'Sun Dogs'. It all sounds a bit like if Weekend stripped things back even further than they already do, and smothered their bread in lashings of melody (who wouldn't want a bite of that?). These guys will be pioneering the garage rock scene in 2012 and you'd be a fool not to follow their journey.
You can visit Crushed Beaks by clicking here.

Azealia Banks is a clever entry into a 'One's to Watch' list, as she's been known to a significant number of people for the past couple of years. It was the release of the critically acclaimed, and lyrically provocative, track '212' that formed the bulk of her foundation of hype, and what would lead to her topping NME's 'Cool List' and her shortlist place in the BBC Sound of 2012. However, prior to all of this Azealia had spent years building her profile, studying performing arts at La Guardia High School, and working on various well known collaborations and projects such as the Major Lazer EP and a Nike Sportswear video. This said, Azealia is only 20 years old and such a history of development gives her a strong advantage on many of her peers in similar lists, meaning her electro infused hip hop sound will hopefully last 2012 and beyond.
You can visit Azealia Banks by clicking here.
It's not often you can say a hip hop producer creates a spectral, atmospheric sound scape for artists to rap over. This is exactly what 24 year old Mike Volpe does for rappers, and his credits include Souljah Boy, Lil B and A$AP Rocky so far. It's small now, but this list is sure to be a lot bigger by the end of 2012.
Clams Casino doesn't just make beats for rappers; he is an artist as well as a producer. After the release of his first mixtape lazily titled 'Instrumental Mixtape', he then went on to release the 'Rainforest EP' earlier this year. It was a slow winding, trippy EP drenched in all kinds of audio effects, and it featured airy vocal samples that swooned around the tracks like uninvited ghosts. It's the kind of music you would expect to hear from a chillwave artist but it still has that hip hop feel to it, thanks to the steady tempo and drum patterns. It is also an inventive style that I'm sure we'll hear a lot more of over the next twelve months.
You can visit Clams Casino by clicking here.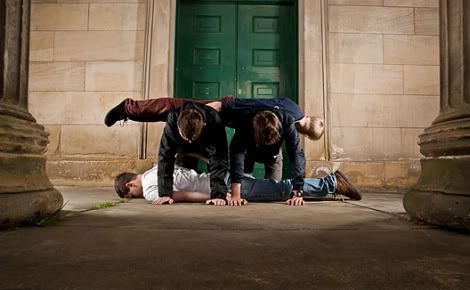 Starting life as FILMS, Alt-J changed to their present guise after the folk behind the Live at Leeds 2011 programme carelessly used a description of an American band with the same name. What made the mistake all the more embarrassing was the fact Alt-J themselves are from Leeds. However this aside, FILMS was a pretty poor name in the first place, and Alt-J has at least provoked a plethora of varied reactions, some who enjoy the name, some who dismiss it as ridiculous, and even one blogger who took it as a self referential irony on the triangle symbol it creates on a Mac.
After their track 'Breezeblocks' attracted a significant amount of blog attention, with many praising the band's alternative sound and vocal harmonies, the band signed to East City Management and put a release out with Loud & Quiet's label arm. A very shrewd move by the band, as this obviously meant they would garner a significant amount of press whilst remaining to be seen as independent. With new material in the works, 2012 stands as a make or break year for this rather talented outfit.
You can visit Alt-J by clicking here.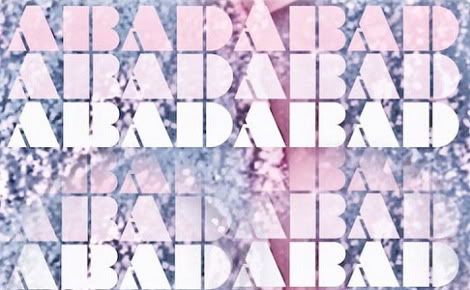 Try to say ABADABAD out loud. Go on, I dare you. Well hopefully you were in a public place when you submitted to my dare, and now those around you are looking at you with an unnerved suspicion. Or, more depressingly, a blogger sat in your immediate vicinity perked his head up from his twitter feed and has smiled at you manically in jubilation.
Yet to significantly break outside of the blogosphere, ABADABAD have spent the year releasing several reverb drenched, lofi tracks of beauty, born out of a dreamy haze of inspiration. Moreover they've collaborated with artists such as Keep Shelley In Athens, and in doing so Jeremy Lee Given's outfit has attracted the attention of music critics on this side of the Atlantic. It is only a matter of time until the spark of interest from a wider audience fires ABADABAD to mainstream recognition, as Given's vocals are far too pure and the guitars too jangly for these tracks to be marginalized for much longer. A definite one to watch for 2012.
You can visit ABADABAD by clicking here.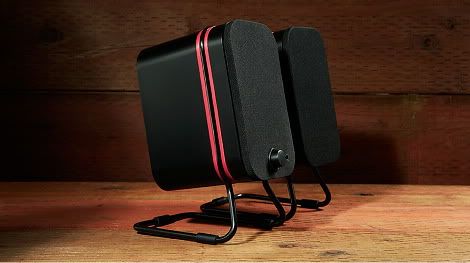 As we mentioned above, we have an amazing pair of speakers to give away courtesy of the awesome people over at Audyssey (and theneighborhood.tv). You need these speakers in your life. Not only do they sound great, but they look great too.
For your chance to win the speakers, all you have to do is sign up for our newsletter. There isn't a question to answer, or a bunch of hoops to jump through, you just have to enter your email address and hit 'subscribe'. We won't sell your email address to a dodgy con man, or share it with the guys down the local pub, we just want you to receive our weekly newsletter...which we're very proud of.
You can Download our 'Ones To Watch for 2012' album by clicking here!
('212' by Azealia is stream only and is not included in the download) - or you can stream it by clicking the play button in the middle of the album artwork below.