You know a product is going to be good when its name sounds like a 80s superhero. Let me introduce the Choosatron, an interactive fiction arcade game with a twist.
Remember Berg's Little Printer, the super cute cloud-connected printer that can be used to print off your friends' tweets (amongst other things)? Well, Choosatron looks a bit like that, except that its inspiration comes from a love of the 80s arcade experience.
Jerry Belich, the software developer who designed the DIY kit, explains why he has always been fascinated by the game design of arcades. "They'd design these video games to be so difficult that you'd use up all your allowance trying to brute force your way through. I always thought that was both funny and nefarious, so one day, I thought it would be fun to do a CYOA arcade machine." And that is exactly what he did.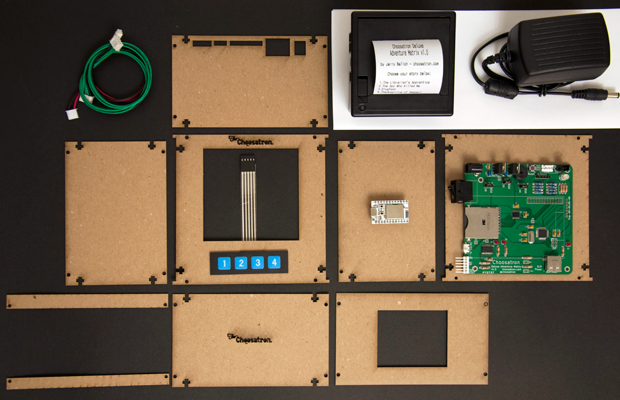 The Kickstarter model is a mini arcade kit that plays choice-based adventures, which the user can both build and programme themselves. Wanting to create a model that is accessible to all, Belich has enabled the use of open and free software for kids and adults to create and share their own stories. In this way, Choosatron is fun and educational!
Projects like these are championing the right to a 'mental breath of fresh air', where concepts of childhood openness and curiosity combine with the application of play and self-expression. What we love about the Choosatron is that it not only engages on an interactive and participatory level, but makes use of childhood creativity to spark the imagination.
As of writing, the Choosatron has surpassed its goal of $22,000, with a total of $31,654 and 28 days to go. Read more about the project here.
Remember to head over to our 'News' section to keep up to date with all the latest Music & Culture news.