Venue:
The Social
Date:
22/10/09 Another night and another gig whereby I miss the support act. I should be put down I know. Anyway, let's get onto the main course, the reason why we were all crammed into the ironically named venue (have you ever been there?),
A.A. Bondy
. My last Bondy experience came in the form of a short solo acoustic set supporting Kevin Devine. Anyone that knows me well will know that my girlfriend is a music Nazi of the highest order. For her to fall in love with someone so quickly is unheard of (apart from me of course); so when we saw him at the Borderline last year I was more than a little bit shocked when she hailed him as the new Bob Dylan, with a voice that instantly pulled at her heart strings. Tonight we had a new Bondy experience. A full band! As soon as I saw the drum kit panic set in. He was so strong as a solo act last year, surely a band would detract from his story telling ways? Hell no. In fact, I enjoyed tonight much more than last time. The way he uses his harmonica to destroy us all when the heavy parts drop is quite remarkable.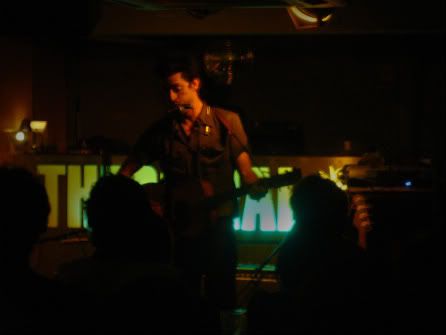 For those in the know, AA Bondy is one cool guy. He's all whiskey drawl, trucker caps and classic American story telling. He's not some pseudo Alt-country story teller that informs us of his hard life whilst driving a BMW. He's the real deal. Every word he sings, or croaks, is believable. This is echoed in his between song banter. I guess that's what makes him so appealing; he writes what he knows and sings it from a place you know exists and not a place he just made up whilst putting together some fake ass character people buy into. Musically he pretty much messed with every song he played from his debut record,
American Hearts
, which wasn't a bad thing really; whilst displaying the songs from his new record (
When The Devils Loose
) effortlessly. What AA Bondy proved tonight was that even with the flu he has it all and a lot of it at that.