The last time I played an Animal Crossing game was back in 2005 or 2006 with Animal Crossing: Wide World on the Nintendo DS. Back then I was in my late-teens, and so I guess my priorities were different. This has never been clearer until I played Animal Crossing: New Leaf …it's made me feel like an old bastard.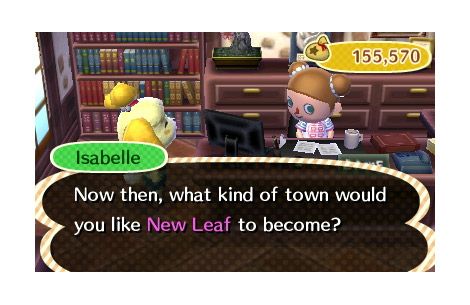 The basic concept of the game sees you take control of a customized character. You start off taking a train, a fast talking cat comes over to your seat and speaks to you asking a couple of questions about where you're going. Through this mini-questionnaire you can formulate your town and decide the name of it (I dedicated mine to the real North American neighborhood of 'Mianus').
Once your arrive at your town, you are welcomed by the residents who mistake you for the mayor. Instead of looking like a total asshole, your character decides to just play-along and …well …becomes the actual mayor of the town taking on all its mayoral duties!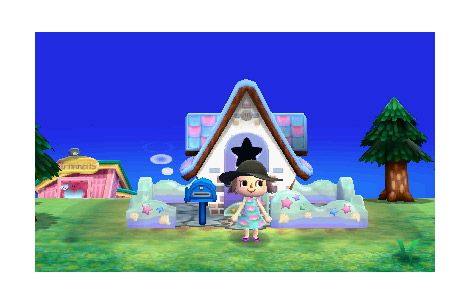 So, basically the game (if you haven't guessed already) is a life simulator and, my god, that concept gets drilled into you when you meet the infamous Tom Nook again (Of previous Animal Crossing game's fame).
The last time you met Tom Nook, he sold you a house and started forcefully taking rent from you (He even has human remains sometimes behind his convenience store!) – In Animal Crossing: New Leaf, Tom Nook is a Real Estate agent (Next he'll be a lawyer at this rate!). He sells you your house, and from there it's a matter of taking care of the land and talking to the random townspeople to build up your mayoral rating.
The game is an excruciatingly slow start for night owls like myself, as you'll find that the game runs in real-time. So if your wanting to cultivate your land or town at night, you can forget about talking to people or going into shops as they are all closed. More over, I didn't want to mess with my 3DS's clock to "cheat" as I already know the consequences of moving your clock forward and backward in previous Animal Crossing games: your town becomes seriously messed up!
Thankfully, Animal Crossing: New Leaf has that 'New Leaf' in its title, as in this game your main job as a mayor is to not only renovate and build new buildings, bridges and shops on the land, but to also pass laws such as the 'Night Owl' law that will force those ditzy weird townsfolk to work only at night. Handy!
I found collecting money staggeringly simple compared to previous games in the series. I found a quick investment in a bug net, fishing rod and shovel roped me a nice 100,000+ bells (the currency in this game) within an hour of gameplay – not to mention the fact that you can start taxing your citizens or players that visit your city. Basically, you'll become rich in no time.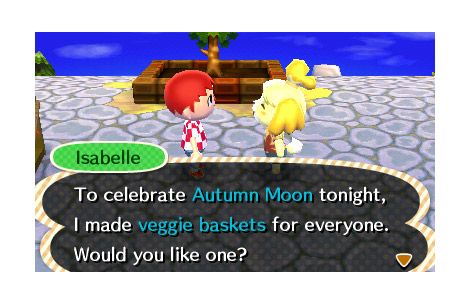 You don't have to sell everything you collect, of course. Your town has a museum that you can donate your collection to. The museum can hold dinosaur fossils, insects, fish and artwork. It doesn't unlock anything; it's just to show off your collection to other people who visit your town.
The main event of gameplay occurs when you travel to a friend's town and can interact and play alongside them. Thankfully, the integrated online features of the 3DS allows players around the world to travel to their towns and interact with each other. Handily, players playing via local co-op can do the same.
For the most part, I would say that covers most of the new features in Animal Crossing: New Leaf. There really isn't much to this game other than it's an extremely laid back and easy 'life simulator'.
I will say though that if you are in any way used to solo gameplay or are a gamer that loves an objective of some sort , or get your kicks out of triumph over adversity, then Animal Crossing: New Leaf simply won't give you that: it's a game that requires patience and a lot more social interaction.
I also wouldn't recommend this game if you have quite an active lifestyle. As I mentioned previously, my lifestyle just simply doesn't fit this game's style anymore as I feel I'm already looked into my OWN life sim, paying a mysterious real life Tom Nook's bills and going to work everyday to collect my bells. I call it "Being Ryuki Akira".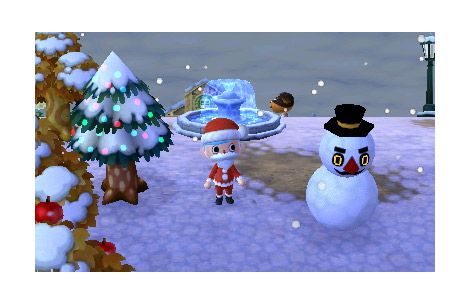 However, I will say that there are moments in this game that, due to their nice, cute and kind/light-hearted atmosphere can remind you of moments in your own life that make you feel calm. For example, I played the opening sequence on the train at night, so seeing the nighttime lights outside the train's windows in game reminded me of when I lived in Tokyo, Japan and used to travel back home by train. Ditto when it rains in the game: the music, the sound and general atmosphere really calms your heart and brings a smile to your face.
There can also be a laborious tedium felt when you are waiting for the game to allow you to create more things. True, the game picks up more speed as you advance, collecting more bells to create and develop, but it never really takes off or gives you a timeless experience where you can constantly come back for more. The word 'challenge' is not in the Animal Crossing vocabulary, at least not for seasoned gamers.
So, to summarize: if you are a hardcore fan, or a much younger gamer then this game is going to be tons of fun for you. There is no real 'New Leaf' here; the game is basically the same fundamentals as previous titles and you will find yourself constantly cleaning up the town, investing in the town or your house and so forth. There is no 'end goal', and that is not necessarily a bad thing, but if you're a goal orientated gamer, then you will never be satisfied.
Overall, it's the best Animal Crossing game made bar-none, but its innovation is really more impressive for those who are already hooked by the series. Everyone else will simply just not get it.