I won't ever need much convincing to take a trip into Northern Europe. I've been nurturing a soft spot of fascination for Nordic culture for quite a few years now and I've found that there is something very interesting about the music arising from this part of the world. It's hard to place. It's not aesthetic. It's not genre. It's some sort of avant-garde, high-art perspective that encourages experimentalism and innovation. It conjures a feeling of fearlessness for normality. Plus, with the festival produced by debatably the most tasteful promoters in the game, ATP, this was a bit of a no-brainer.
Firstly, the location. The festival was hosted in a former NATO base in Keflavik - a small town not too far from the Reykjavik capital. Until about 7 years ago this compound was regarded as American soil consisting of an armed guard on the gates and perimeter. The US army would regard the base as a footstep into Europe just in case anything imminently disgusting hit the fan over here. Nowadays it is completely desolate.
There are thousands of apartments and other amenities entirely empty and combined with the stillness of the toy-town if feels beyond creepy. It evokes a sense of haunting nervousness and you can envisage that the thousands of former residents must have packed up and left overnight. It feels impending. A bit like how I imagine Chernobyl after the nuclear disaster, but with less destruction, or the setting for a zombie apocalypse movie, but the sun just doesn't set in summer round here so the hoard won't attack just yet. I couldn't place a better environment for ATP to live up to their notorious reputation of hosting events in ridiculous venues.
I started to think that the beginning of this festival couldn't get more surreal, but then along came ÆLA. The Icelandic four-piece came out with the band wearing matching Christmas elf outfits, whilst the restless frontman was dressed as a Victorian doctor of medicine and sung songs about sexually pleasuring a bull to stop it from committing suicide. They play jaunty post-punk that frequently chop-changes in Gang Of Four-esque fashion and emit an overall feeling of weirdness. Like, you how Devo are weird, but you can't really explain exactly how? That.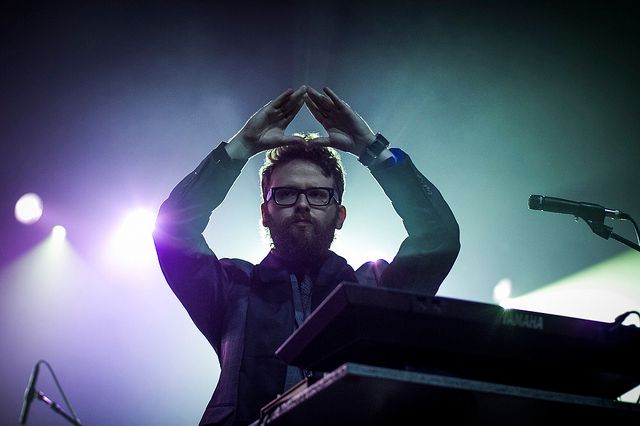 My sanity very much appreciated catching Apparat Organ Quartet shortly afterwards. Their material is mainly electronically instrumental and they use thick synthesised sounds with vocoder harmonies that work well in contrast to the real, full-on drums. The sections are repetitive, but cleverly layered and remain interesting throughout. They also have [what I hope was] someone's Dad wearing some incredible dungarees playing one of the synths and it was obvious that he was seriously into Kraftwerk in their heyday.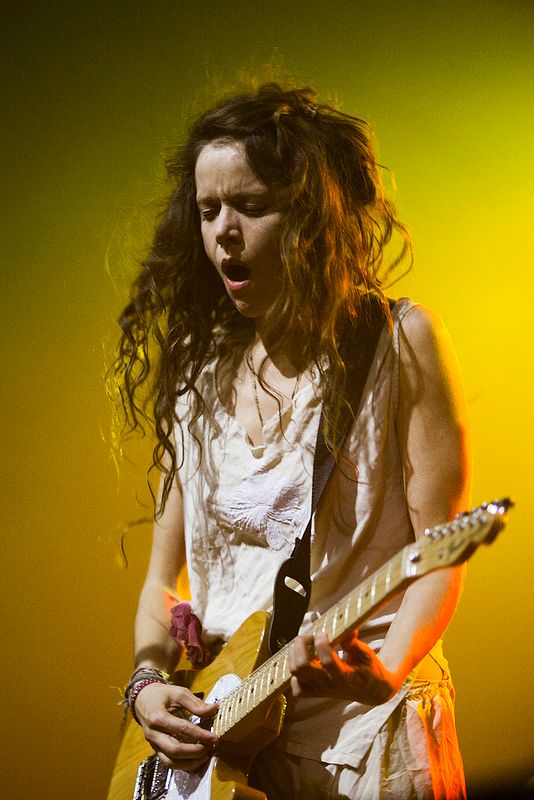 Múm then somehow hypnotised everyone in a heavenly trance. Their introductory song is what I would want to be playing if I get ever get critically ill and am ready to finally slip into the peaceful clutch of death. Their performance was so enthralling that when the house lights came on afterwards you realise that real life sucks and whatever you were doing or thinking about ("Those hot dogs smell good"/"I'm gonna get a beer"/"How much is 600 Krona in Sterling? etc) just isn't relevant anymore and you preferred it in Múm-ville.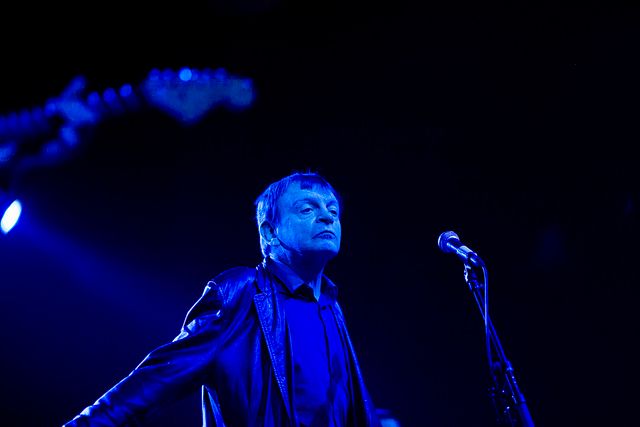 Although, all good things have to come to an end and nothing would more easily slam dunk you back down to Earth harder than The Fall (no pun intended). They were diabolical. Actually, that's not true: Mark E, Smith was diabolical. I actually sympathised with his band for putting up with his antics. He single-handedly reaffirmed a decision I made a few years ago to not witness all these old bands that I admire re-forming/carrying on well past their sell-by fate. Now, I'm aware that this is his 'thing' and Smith is renowned for being, well, tricky to work with. However sitting on a chair hidden behind an amplifier wailing inaudible nonsense for half the set and spending the other half tampering with your bandmate's equipment whilst they're trying their best to play? You're too old for this behaviour. Not cool, Marky.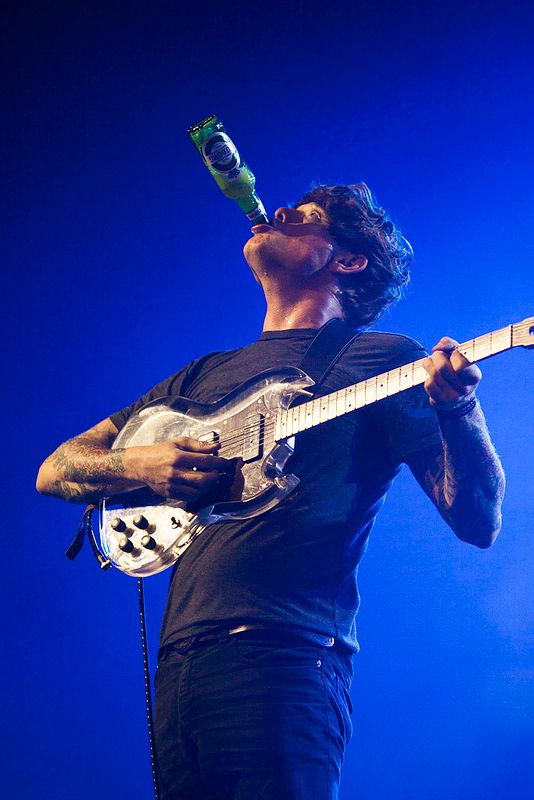 It didn't take long until Thee Oh Sees restored my faith in music. Frontman John Dwyer is just electric. He wears his guitar uncomfortably high and grasps it like an old bayoneted rifle, yet delivers his performance with raucous punk presence and an undeniable sense of fun. I like the way that they pay homage to the 60s rulebook, used by a lot of west coast garage and surf bands of this era, by opting not to use a bass guitar when you can just play the bass lines on a regular electric guitar. Certainly the catch of the day.
I wrapped the night off by watching 'legendary' Iceland 80's metal band, HAM. They have a really big guitarist dude who sings with vibrato in an operatic baritone, whilst they're other vocalist (who is also a Minister of Parliament in Iceland, apparently?!) scowls with a gross, cackling, gothic vocal. Their songs sound like what you would expect the Vikings to listen to as they get hyped up on their longboats before the pillage.
You leave the venue at 2am and the sun is still up. This place is weird.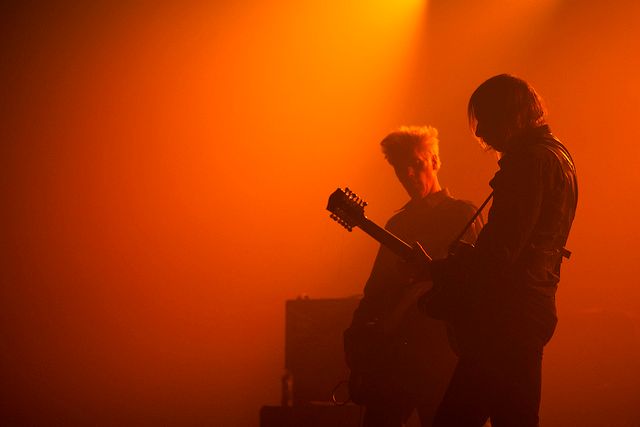 Sqürl kicked off proceedings on the second day of ATP Iceland. The band is the brainchild of independent film director Jim Jarmusch, who was also curating some of the film screening that were being held the previous day. On approach I really dug their super strung-out, lethargic shoegaze/psych sound and I gave it a fair hearing, but eventually the monotony got a little tedious. Some songs had a good 2-chord structure that you could relate to the slower 'Just Like Honey'-esque numbers on Psychocandy, but this seemed to be the consistent level of their whole performance and I would personally like to hear a little more vibrancy and energy form them.
A short walk over the road to the cinema made a very welcome host to Amiina. The girls in this outfit used to play the string parts for fellow Icelanders Sigur Rós, yet they're own material is not to be underestimated. They played three song from they're latest record that wrapped you in a warm blanket of innocence and purity and went on to get the makeshift venue for its rightful purpose for the second half of the performance. They screened two silent animated films from the 1920s and 1940s by Lotte Reiniger (Cinderella and Aladdin, respectively) whilst they composed a live soundtrack to assist the visuals. It was really effective and a welcome change of focus that will be a lasting memory for some time. One of the girls, in the most adorable Icelandic accent, said mid-way through for people to not worry about missing Nick Cave as they'll be done soon.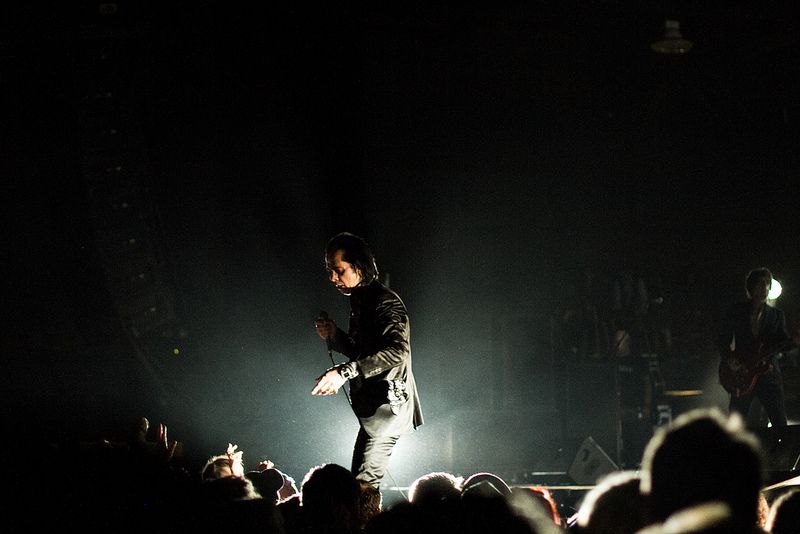 She was right. The main stage felt the most excitable than it had all weekend as everyone had hailed to see The Prince Of Darkness. Nick Cave was simply phenomenal. He instantly made me feel that I should revoke my earlier Mark E. Smith influenced stance on ignoring the old boys who keep on truckin', but he has, without any sliver of doubt, still got it. I couldn't comprehend how his stage presence can be completely schizophrenic, but still totally contingent. He can play the slick, cool, collected persona for the downtime songs such as 'Jubilee Street' and 'Weeping Song', yet still be an absolute wild man for the more frantic song in the vein of 'Jack The Ripper'.
At some point during 'Stagger Lee' the dynamic dropped right down and out of nowhere the strobe went berserk and a thunderous sound panned from the back of the room to the front, creating a lightning storm effect. Every member of the audience all braced themselves and turned around, as if they were about to be ploughed down by a truck from behind, to immense effect. I love how the Bad Seeds also have such an intricate eye for musical detail, such as actually playing the bell sound used in set's highlight of 'Red Right Hand' live instead of copping out with a pre-produced sample. This was the best performance I've seen all year and it'll take something very special to top it.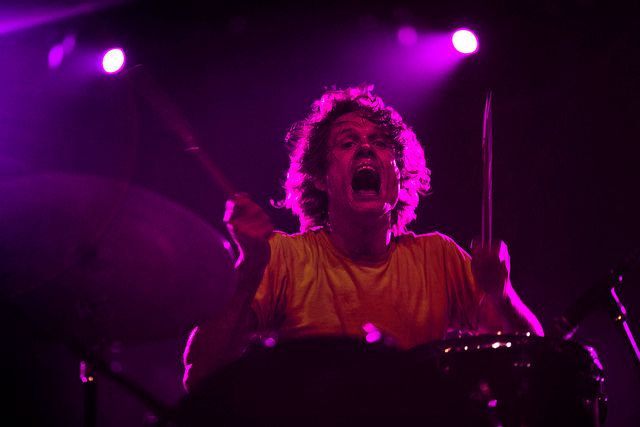 Deerhoof are a bunch of weirdos. I mean that in the best possible sense of the word. Their music is the epitome of organised chaos. They have sections that seem to be loosely played parts that don't conventionally work together in a sense of time or rhythm, but then they'll flaw you with a perfectly delivered drop straight rock-out beats including big riffs. They don't take themselves too seriously and they have an enormous sense of fun and lightheartedness.
Thurston Moore's latest project, Chelsea Light Moving, introduced a refreshing level of scuzz to a generally beauteous few days in Iceland. The brilliant thing about this band is that they do sound like a natural continuation where Sonic Youth left off. Although, it's still progressive and not to be tainted by the 'Beady Eye effect' that is clearly just the same old thing and rehashed to keep the old fans giving you their money. 'Lip' certainly is a fan favourite and urged mosh pits to form and it felt like the audience was fully letting loose for the first time of the weekend.
A pretty surreal weekend couldn't possibly end in any other way than in the capably crooked hands of Dead Skeletons. These guys play dark psychedelia that creates a very moody environment. I noticed a reference point to their sound from krautrock; not in terms of sound, but in ethos. The bass and drums lock down in a machinelike repetitive drone that allows a sturdy platform for the other instruments to experiment on top of. At one point they introduced a young girl of about 12 years of age to assist with backing vocals, which was cute and warming, but weirdly out of context to their freakish music. This was then seconded by another two kids wearing skeletal masks and capes standing completely still at either sides of the stage staring ominously at the audience.
When I reflect upon the festival I think of potential. This was the first ATP in Iceland and was certainly a success. The compound is an ideal location for the event and the amount amount of space and accommodation available I can only see it developing onto bigger and better things in the years to come.