Photos by Michael Do
With the release of their phenomenal new album Bloom, Beach House seem to be reaching a peak in their popularity that even surpasses the love they received for 2010's modern classic Teen Dream. As popular as they've been in years past, though, opinion has always been a little split on their live show; some fans will sing their praises while others will dismiss their performances as slow, unimpressive, or boring. With Bloom likely providing them their biggest wave of publicity yet, this ensuing bout of touring will serve to solidify their live reputation one way or another. But I wouldn't be too worried about Beach House. For one reason or another, I walked into the Beacham on Wednesday night with pretty high expectations, and the show still managed to completely blow me away.
Opening act Zomes (AKA Lungfish guitarist Asa Osborne) took to the stage first to warm up the room. His minimalist brand of looping, hypnotic drone music, played entirely on a single keyboard and set to hard-hitting drum machine patterns, was met with a mixed reception from the restless concertgoers. Some amongst the crowd were completely transfixed, while others fell somewhere between bemused and annoyed; a few seconds into his second song, two guys in front of us declared the distorted sounds emitting from Osborne's keyboard to be "the world's longest fart." Still, Zomes managed to command the attention of a decent part of the audience, and, from where I was standing, his music did an excellent job of filling the room and setting the mood. The distorted, chippy tone of his keyboard really gave the music a nice driving quality, and at times reminded me pretty heavily of Jeff Mangum's early noise experiments with Neutral Milk Hotel and others. Over the course of 45 minutes though, Zomes lost favor even with his most loyal listeners, and the final third of his set was a bit painful to sit through, if only because of the increasingly vocal frustration of the audience. But, not long after Osborne's departure, the main attraction took the stage, and all qualms were forgotten.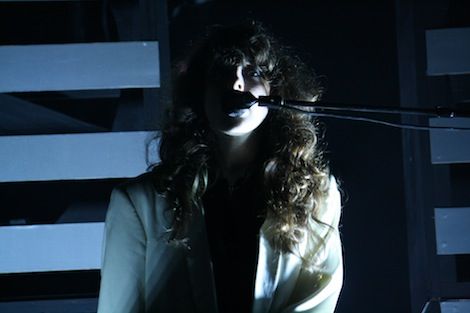 I'd seen Beach House a couple of times before this - once at Coachella and once supporting a hugely popular Vampire Weekend tour - and I can confidently say that this is easily the strongest their live show has ever been. By far. Maybe it's because they're headlining this tour, but the band, once again a trio with the addition of a drummer, performed with more confidence and energy than I've ever seen from them, propelling their stage presence from "good live band" to "dream pop tour-de-force."
The band opened with a one-two punch of cuts from Bloom, easing into the show under sparse, ghostly lighting with 'Troublemaker' before lighting up the stage with 'Other People'. The crowd was really receptive to the Bloom material, and a good chunk quickly recognized and sang along with the new songs, a fact for which we can probably thank the album's widespread and insanely early leak. It was a nice, solid opener, but it was the third song of the set, Teen Dream single and crowd favorite 'Norway', that really set the mood for the rest of the night.
Beach House's MVP has always been Victoria Legrand's powerful voice, but I'll be damned if their excellent light show didn't give her a run for her money. As the band went into 'Norway', the stage was doused in icy blue lighting and a flurry of snowflake- like lights were illuminated behind them, providing an appropriately frigid backdrop for one of Beach House's most wintry songs. The breathtaking stage setting, combined with an incredibly emotive performance and enthusiastic singing from nearly everyone in attendance, made for a truly magical moment in a set that had quite a few of them.
Both the band's performances and stage settings continued to be fantastic for the duration of the show. Each song in the set was matched with a different lighting approach, a mood-setting technique that gave each performance a unique character and a memorable visual aspect. The rising and falling action of 'Wild' was accentuated with sudden flourishes of light. A veil of green smoke shrouded Victoria during a haunting performance of vinyl-only b-side 'Equal Mind', which came out of left-field to be one of the night's most striking moments. And a spotlight shone down on Victoria during 'Wishes', adding a theatrical element to what was already one of Bloom's most dramatic tracks. A spectacle of flashing lights during the song's peaks led to it being one of the most memorable of the lot.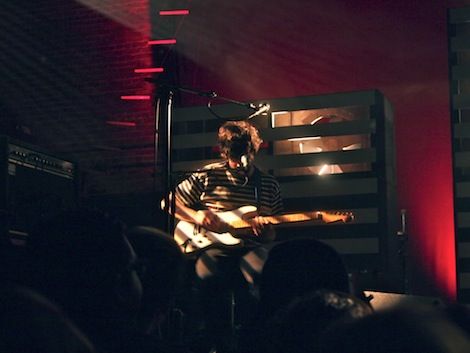 But, despite the strength of everything preceding it, the absolute highlight of the show was the electrifying, stratospheric encore performance of Teen Dream highlight '10 Mile Stereo' and the following rendition of epic Bloom closer 'Irene'. Strange as it may seem, Beach House had been getting the crowd moving all night, especially to favorites like 'Zebra' and slow-dancer 'Myth', but it was during '10 Mile Stereo', amidst the frantically flashing lights and Victoria's booming vocals, that people actually started attempting to crowdsurf to Beach House, which is so obviously and unspeakably amazing that it doesn't bear further explanation. 'Irene' proved to be a perfect followup, slowly building to a momentous singalong outro and providing a perfect note of release to end the show on.
In the final moments of the set, as they had at various other points, spotlights shone into the audience, reflecting off of mirrorballs and creating imitations of Bloom's album art all across the walls. It was an amazing effect, and, as it illuminated the room around us, it revealed the most beautiful aspect of the bands' performance: the way that it brought people together in a communal celebration of music. The crown jewel in a show full of more incredible moments than any indie concert has the right to, it was something even Beach House's staunchest detractors would have trouble arguing with.