Split across four distinct locations within a small strip of Shepherd's Bush, Communion have been bringing their favourite artists to West London for three years now. Bushstock is well known for showcasing new acts before they break, and past lineups have thrown up the likes of Bastille, Daughter, Michael Kiwanuka and Lucy Rose. A brief glance at this year's bill has me wondering which acts I will be looking back - doe-eyed in disbelief that I saw them in a venue as humble as a converted public toilet (one of the host venues, Ginglik) – in a year's time. Motivated by my immense keenness to boast about things of this ilk, I head straight to St. Stephen's Church to catch the day's first act.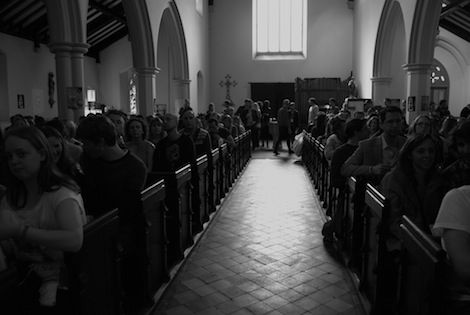 A young girl by the name of Rosie Carney awkwardly shuffles her way to the front of the beautiful 19th century gothic building. Though the 16-year-old says little between tracks her songwriting shows great promise, and her strongest tool, an effortless falsetto, fills every inch of the church's four walls. With the pews now starting to fill to capacity, another young female songwriter takes the stage. Annie Eve has been gaining a decent following of late, with upcoming support tours for Matt Corby and Little Green Cars. In spite of the quality of her songwriting - with 'Bodyweight' and the sensation Bon-Iver-esque, 'Elvis', being particular favourites - her disjointed, uninterested performance style falls a little flat on the majority of the crowd.
After several beers in the warm(ish) English summer(ish), I had heard a growing buzz for the next act to take to the church's cool exterior, Sivu. I've caught this intriguing talent on several occasions of late - supporting The Staves and Benjamin Francis Leftwich on their London shows - and it seems as though his relentless touring schedule and increasing radio play has won him many fans along the way. Accompanied by a host of backing musicians, his quirky-pop is given increased depth and stands him apart from the more stripped back performances which have proceeded. New single 'Bodies' is re-invigorated live with a heavier execution, and the set's closer 'Sleep' is a wonderful, slow-burning anthem, building to a sensational thrashing climax. From the way Sivu delivers this set with renewed confidence it's clear that this is an artist that is starting to find their footing. One to look out for in the future? Without doubt.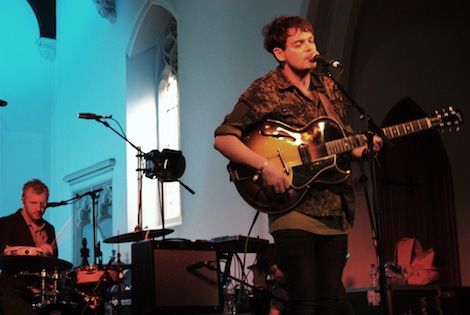 With the day growing later, I go in search of patches new, and having heard good things about Sunderland's The Lake Poets I make my way to The Defector's Weld. Upon entry you realise just how impractical a venue this is for live music. With a large central bar, there is little room to squeeze into to watch the performers, and the noise levels at the back of the venue drown out the sweet sounding acoustic lilts of the northern songwriter. The lesson is learnt for the next act, and I fight my way to front of stage early. In the world of acoustic-tinged indie we rarely encounter confident front-people; the awkward, faltering style fits the mysterious, wounded image that we like to assign to this genre, making Kimberly Anne's beautifully warm and involving manner a breath of fresh air. Musically there are definitely comparisons to be made with Tracy Chapman, with her sharing a rich, baritone vocal and opting for intelligent, personable lyrics. Her interaction with the crowd makes this set one of the day's highlights, and on penultimate track 'La la' she has the entire pub united in belting the song's title back at her.
After a slightly disappointing set from the husky-voiced troubadour, Roo Panes, Bush hall is the next venue on the agenda for an evening set from Communion's own Story Books. The band's debut EP Too Much a Hunter is one of the finest records released this year, and the opportunity to hear it uninterrupted in this beautiful Edwardian setting is a genuine pleasure. A recurring theme with this band is the disturbing intensity to their sound, and this comes across in every fibre of frontman Kristofer Harris as he utters dark lyrics like "I was a lonely kid with a sinful disposition." It is on their lead single, 'Peregrine', that Story Books really hit their stride; with each member of the band wreaking their own kind of havoc across the stage, kicking over drums in the song's climax. A brief moment of rock and roll attitude at a festival notable for its polite and reserved performances.
With a bumper crowd now amassing for Bear's Den, the band take to the stage like returning heroes. Having grown significantly since their inception just over a year ago, the band have become the poster boys of Communion records; and a rise to household name status for them seems most probable amongst all the bill's acts. Watching them smash their way through a set littered in beautifully crafted Americana gems like 'Isaac' and 'Agape', you realise that this is a talent deserving of both success and accolades.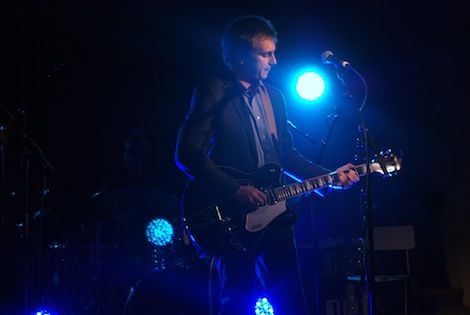 Willy Mason. At only 28 years old, the New York songwriter has accrued close to a decade long career, creating his visionary blend of country/folk/blue; though his voice has a road-weariness of a man twice his years. Dressed in his Sunday best, and supported by his full band, he swoons the crowd with the delicate 'Keep Moving', before stepping up the gears and stripping back the years with the brilliantly intelligent 'Save Myself'. It wasn't long before the band left his side and he gave in to the undercurrents of yearning, playing a stripped-back rendition of fan favourite 'Oxygen'. Slumping gingerly back to the stage for his encore, he has just two more treats for us; the first was in the swinging shape of 2012's 'Pickup Truck'. Standing affront a packed church, now on their feet, a gospel vibe overtook the bystanders, who clapped, whooped and performed the role of backing singer until the last line of his majestic closer, 'Waiter at the Station', fell to its silent conclusion.
With the curtain closing on a day of rich in up-and-coming musical talent, Bushstock's mission was complete - for just one day West London was transformed into the centre of London's music scene.