Ever since they released their debut album Sistrionix in 2013 (and even before that, when singles 'End of the World' and 'Baby I Can Hell' first got my attention and wouldn't leave my head for days on end), Deap Vally had been the ones that got away. I lost the opportunity to see them live at Optimus Alive 2013 in Lisbon, and them being based in America, I knew it would be harder to catch them on this side of the pond. So when I saw that Julie and Lindsey were closing the EU leg of their Femejism tour at Paris' Le Point Éphémère, I was pretty excited.
On Tuesday night, I squeezed my way to the front row - where I felt somewhat alone gender-wise - and patiently waited to be blown away.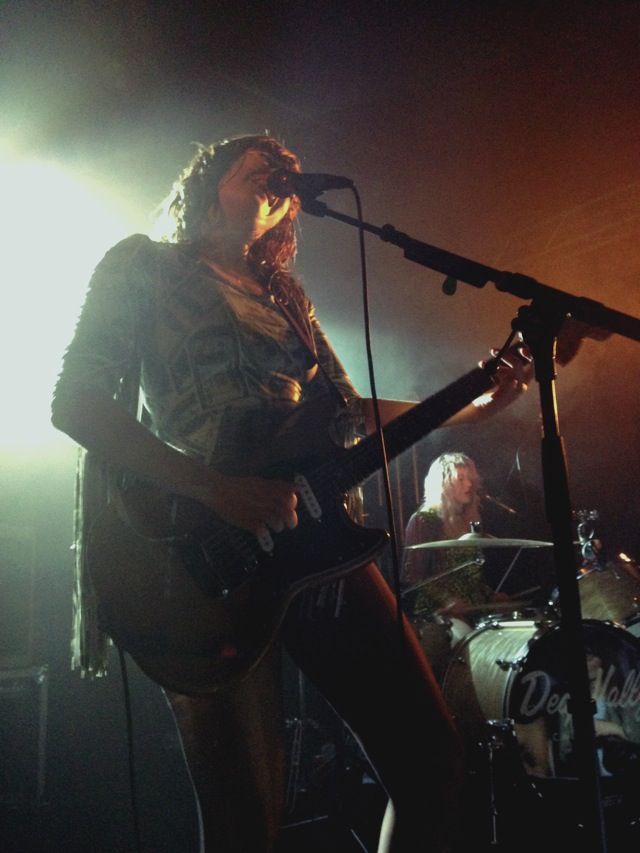 And then they appeared, Lindsey in a dollar bill-patterned romper and Julie with these awesome fringed Sgt Pepper-esque shoulder-pads. They cut the bullshit and dove straight in, beating us up pretty badly in the process. While Lindsey treated her guitar like an extension of her body as if it had been there all her life, Julie massacred her drumkit as she whipped her pink-bleached mermaid hair back and forth in a way that would make most hardcore metal headbangers blush in shame. They're all red-painted toenails and fringed sleeves and ripped tights - the epitome of cool. And as they emptied Kronenbourg cans like there's no tomorrow -- with Lindsey theatrically spitting half of her beer over the audience -- you both feared and adored them.
Their excellent set, which benefited from a great balance between Sistrionix and Femejism, was raw and loud -- just like rock'n'roll should be. Among the many highlights were 'End of the World', 'Raw Material', Femejism's first single 'Smile More', and, of course, 'Baby I Can Hell', which opened the encore.
They embody the "fuck everything" trailer park spirit that ran through early Stooges and MC5, mixing it with the raw eroticism of a more mature Runaways and Led Zep-oriented riffs minus Plant's (sometimes) annoying voice. The funny thing is, they do play the "macho rock" game, but they do it as a détournement: by flipping the tropes, Deap Vally emerge as an all-devouring force, superior to any attempt of patronisation.
The main purpose of a show is to make you feel good, and when you attend a concert like Deap Vally's, you know that for a split second you've entered a dimension where you belong; a strangely familiar place where it all comes together both musically and emotionally. Kurt Cobain once said he liked the comfort in knowing that women are the only future in rock and roll. He would've probably liked Deap Vally.