Written by: Anika Mottershaw A quiet Wednesday night at Highbury & Islington's 'Relentless' Garage and Brent Knopf takes to the stage, backed by South African four piece Dear Reader. It's the final night of a long tour together but Knopf seems as excited as if it were the first night of the tour. He repeatedly thanks the crowd and the band and makes clear how much fun he's having. He plays under the name
Ramona Falls
, a spin off of Oregonian band Menomena. Every song is rich with layers, each with Brent's soft voice at the forefront. It's hard to imagine how he would play these songs solo; Dear Reader act as a tight backing band, with songs like 'I Say Fever' packing a punch and 'Russia' sounding almost exotic. Unfortunately the set draws to an anti-climatic close, with a string on the acoustic guitar breaking leaving Knopf struggling to decide whether to play the last song or not, and then finally deciding against it and abruptly leaving the stage.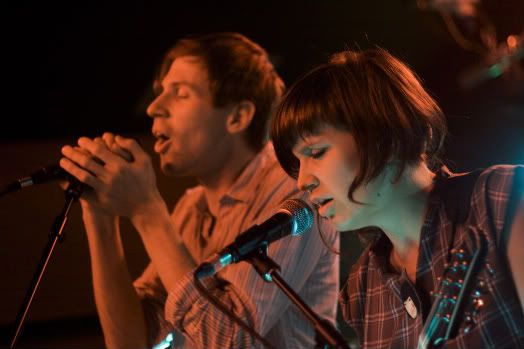 Dear Reader
headline, also playing with Knopf. Singer Cherilyn MacNeil has a wonderful voice that shines as much live as on record, with her South African accent making her annunciations particularly interesting. It's always endearing to watch a band enjoy themselves on stage, and it's sweet to see MacNeil smile as she plays the almost comedically jaunty piano on 'Dearheart'. 'Never Goes' is a set highlight, with the catchy, dark piano, and the epic violin parts... it's brilliant.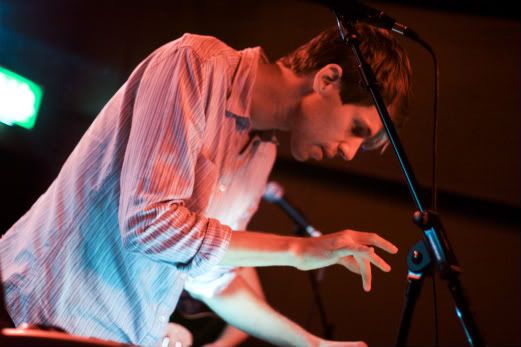 The band close with 'Great White Bear' which features some particularly enjoyable slide guitar sections. It's a strong set but I couldn't help but feel the venue perhaps hindered the band a bit, and it would have all felt much cosier and more special in a venue like The Luminaire, as oppose to the cold clinical setting of The Garage. Nonetheless, Dear Reader were enjoyable and more than worth investigating.
http://www.myspace.com/dearreadermusic
http://www.myspace.com/ramonafalls