Written by Sebastian Weikart
The Local as a Promoter are normally known to showcase more Folk-related artists, but today their Lexington bill is seriously hot stuff, demonstrating a rather logical musical progression. We are talking about a hybrid of dubstep and indie- / postrock here!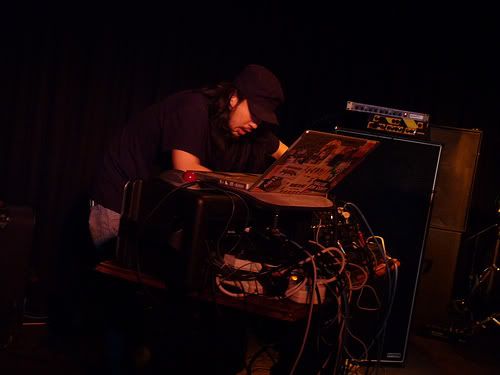 Devilman
are comprised of Gorgonn at electronic beats and live dub and Shige a.k.a. DJ Scotch Egg of Drum Eyes playing bass. They cook up a wild storm of breaking beats and rolling thunderous bass lines that are very well received by the crowd, seeing the first row swaying and dancing to the sound. Joined during the last song by Taigen from Bo Ningen providing some vocals, shows the groups effort to not only party hard, but also to throw in some experimentation and improvisation at any point.
Next on was
Nedry
, and I would put these guys on the same map as their genre-bending aforementioned kins. At the beginning they were a bit struggling to get attention as their sound was a bit more subtle than their predecessor. However when the first dubby sub bass was rolling on, with Ayu the singer starting to loop and distort her voice, the audience was captivated. Indeed it is the singer who is the jewel in the crown of Nedry, evoking a lot of resemblance to Björk, in the best way possible, but never afraid of experimenting. If you heard their debut LP
Condors
, you know they are more ambient with a strong leaning towards Portishead and the likes. However they learned to expand, add more dynamics, drive and edge to their composition. At some point I was even inclined to label it as "shoegaze-dub" as all 3 band members eventually picked up their guitars, laying out a hazy blanket of noise over the rolling sub-bass lines. This was their best moment out of many in a gig that probably not only expanded my own musical horizon - I'm sure I've seen some musical future tonight.