Photos by Sarah Dorman
When most bands get back together after a time apart, you're worried. Dubious about the reasons they reunited and doubtful whether they can recapture what they once had. With Electrelane you were never in any doubt.
They're too self-assured and too good to let a 3 and a half year break stop them being anything less than amazing. This sold out show at XOYO was the last in the series of shows they had announced when they got back together after their hiatus – and it was the sound of a band enjoying themselves. They make their way on to the stage in front of an adoring crowd. One woman near the front shouts 'I love you' before the band rip into a set made up mostly of tracks from The Power Out and Axes (with surprisingly little drawn from last album No Shouts, No Calls).
Understatedly cool and assured of their own ability this is show is a celebration of their return. After song after song of imperious, hypnotic kraut-pop one thing strikes you: just how tight they are as a band.
Verity conducts from her keyboards, her hair flowing wildly as she plays, her eyes seeming to follow you about as she stares out at the crowd. The rhythm section Emma and Ros are a powerhouse of precision, providing the perfect backdrop for Mia Clarke's visceral guitar shredding (at one point she drapes herself over the amp to create a mountain of feedback).
Tonight Electrelane are more intense than I remember previous Electrelane shows. They have perfected the balance between motorik precision and discipline and guitar shredding, saxophone wielding rock outs. From the spine-tingling piano opening of 'Bells' through to the exuberant yelps on the frantic 'On Parade', the homesick, beautiful elegance of 'To The East' and right through to the way 'Birds' builds and builds until it overpowers you and has the whole crowd pogoing, this performance ebbs and flows perfectly.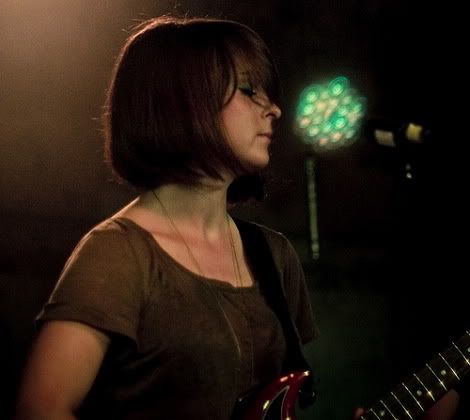 An epic cover of 'Small Town Boy' by Bronski Beat is another highlight, 'the saxophone freak out and 'Oooh, ooohs' of 'Only One Thing Is Needed' another dimension pop smash. A section of the crowd break into dancing as they encore with 'I want to be the President'. They disappear from the stage with smiles on their faces.
Yet none of this is the best bit of the night, it's not even a song: it's when Verity says 'Next time I promise we'll have new songs" New. Songs. Yes. This setlist – light on No Shouts and heavy on both the Albiini records – gives a clue as to the future direction of this new material.
Gig of the year? Quite possibly.