Photography by Nick Miners
I've always erred on the side of caution when I enter the realms of pop, but that is purely due to a slight touch of music snobbery which I am free and willing to hold my hands up to. I have to admit, I have never set aside the time to be a diehard fan of Ellie Goulding, but tonight's concert really won me over.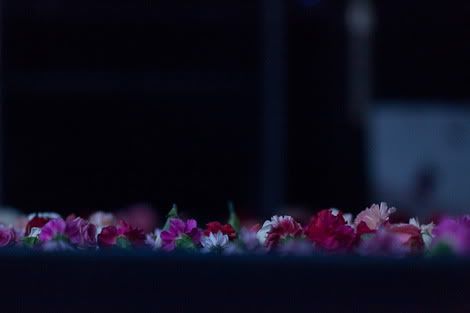 The setting was perfect. The grounds of Somerset house, lit up by colours was near amazing, the crowd enclosed by elegant buildings gave a sophisticated feel about the event – making it seem far more special than your average festival or gig set up. And of course, no sticky floor, win.
Ellie fitted into this set up like a hand in a glove, her white dress was stunning, and so was her voice. I always look for aspects of an artist that set them aside from the herd; it's very easy to sound good but when an artist has that extra kapow its really refreshing to see. Gouldings voice is unique, it's striking, yet at the same time live it has that very attractive husky edge to it. I don't know how to describe her voice other than that. I want to say it has some sort of twang to it, truly original, 'Under the Sheets' is a good example of said twang. Hopefully that description isn't too vague, either way, live, Ellie Goulding's voice does not falter.
The set started with 'Under the Sheets', this song pretty much represents the first time Ellie started to kill the scene, back in 2009, this was around the time I saw her support the Temper Trap. I think her set consisted of 3 or 4 songs, so as you can imagine it was awesome to see how far she has progressed, and she made the stage her own. Go girl.
Her latest album Bright Lights shows a collection of her work, including the bonus track 'your song'. I have to say, a cover of your song by Elton john could be construed as cheesy, and a bit, shall we say gooey? But Ellie makes it work, using a string quartet and two other vocalists to really carry it home, I reckon Elton would give his approval, one would hope anyway. The sea of teenage girls seemed to approve at any rate. Further backing this up with loud singing, even to the point where Ellie had her job taken from her, always a positive thing to see. Never thought I would gain an armful of goosebumps, but let me assure you, this happened at a couple of points during the night.
I have to say though, one of the highlights of the show for me, was the crafty use of a Kanye West sample, the beginning of 'Power' no less, this coupled with Goulding on the drums proved to be a really well thought out, brilliant couple of minutes. The enthused drumming of Ellie created a rather ecstatic atmosphere amongst fans. The drumming, with intervening guitar coupled with the occasional dance made for a vibrant performance.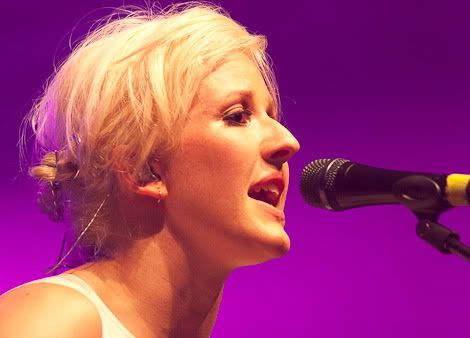 Another intriguing moment was a cover of Rhianna's, 'Only Girl In The World'. A guilty pleasure of mine, and was in no way to criticise its presence. It suited the audience, and on top of that, it was made a lot more bearable, slowed down and less shall we say 'Rihanna'. Excellent, pleased they managed to mix the set up a bit and include this cover.
Honestly, I was really impressed with Ellie Goulding, she clearly has an amazing ability to write songs which manage to capture what she is feeling, and live she is able to entertain large audiences. On my part, intrigue certainly turned to good honest appreciation, I had fun, and that's pretty much all that matters.