Fight Like Apes with Heathers, Jape, The Minutes and Adebisi Shank DJ set (Dylan Haskins election campaign fundraiser).
Ok, so, a London-based music website is not really the place to start discussing Irish politics, but you'll probably want some context: Dylan Haskins is a 23-year-old guy running for the Dáil (Irish parliament) on a general lefty reformy platform. What makes him interesting and explains the bands' agreeing to play this fundraiser is his background in the Irish music scene and in DIY punk in particular. A few years ago Haskins made his house into an all-ages venue, his record label co-released the first run of Heathers' album Here, Not There with Plan-It-X, and he was the main person involved in setting up the Exchange, an art space for young people in Dublin. And he drove Ghost Mice round Europe on their tour, how could I not vote for that? (I don't actually live in his constituency).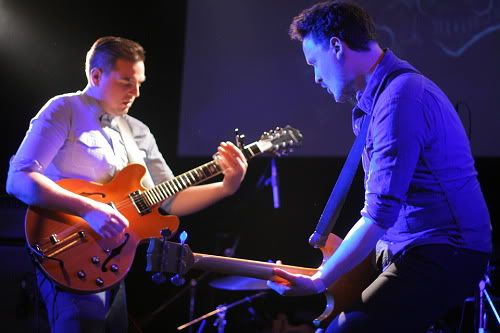 All right. Hopefully I have not impinged too much on The 405's journalistic neutrality or my own political science degree-born cynicism by implicitly endorsing Haskins, and we can move on. The Minutes were the first band on, playing to a relatively small number of people who turned up on time, not that this phased them. They played a tight and energetic set of old-fashioned rock and roll despite playing to a much smaller crowd than they're presumably used to, a few weeks back they headlined this venue. In lesser hands this sort of thing can and has bored me to tears, but they were good enough at it for me to enjoy their set.
Jape were on next, with the crowd now starting to swell. Jape is Richie Egan from The Redneck Manifesto and various collaborators, the band was a two-piece tonight but there are sometimes more of them. They play a pretty relaxed and very melodic mix of rock and electronic music, leaning on guitars but not too heavily.
The venue was properly filling up by the time Heathers' set started. Heathers have been around for a couple of years now, playing punk shows and linking in with the US folk-punk scene (hence the co-release with Plan-It-X). A lot of people really started paying attention to them last year when their song was used in an ad by the Irish tourist board and they've got pretty big here. I'd expect them to start making waves outside of Ireland soon if this whole folk revival thing that seems to be happening keeps up. Heathers started out as just twin sisters Ellie and Louise MacNamara, and although they've since started playing with a cellist or with a full band (something I'm sorry I haven't seen yet), it was just the two of them again tonight. What I still think of as their usual sound, although that might be about to change, is really stripped down, just Ellie and Louise's vocals and Louise's accompanying acoustic guitar. Even with this simple set-up they really filled the venue with their music. Look them up online and you'll find a lot of videos of them in really intimate settings, which you'd expect, but over the last few years they've really learned how to make their sound work in bigger venues. Of course, it does help that their vocal style is really full-on and loud, with interweaving harmonies that approach Sleater-Kinney levels of intricacy. They've slowly been adding new songs to their set (as well as often covering Beyonce's Halo, as they did tonight, and songs by the Mountain Goats, which they didn't) and the new material is making me very excited for their second album, which they hope to release later this year. I did miss the cellist a little, but mainly because I really love cello.
By the time Fight Like Apes started, the venue had finally properly filled up. I've never been disappointed by Fight Like Apes, and while this wasn't the absolute best I've seen them, it was still a great gig, and what was by now a big crowd really got into it. The set had some pretty big highlights, too, with a lot of the crowd actually waltzing to the appropriate parts of 'I'm Beginning To Think You Prefer Beverly Hills 90210 To Me' (which if I remember right the band have tried to get people to do before without much success), and then the band tearing through a cover of 'Push It by Salt n Pepa' (because why not, I guess).
I only stayed for the start of Adebisi Shank's DJ set, it was getting late, but I did want to applaud their first two song choices, 'Whip My Hair' into 'Gettin' Jiggy Wit It', an inspired choice that reminded me of every time I've sat around planning silly DJ sets with friends. It must have been a very fun set.