Platform: PC, Mac, PS Vita TBC Reviewed On: Mac
For many fans, the beginning of the football season can be broken down into a series of very specific landmarks; The release of the new fixture list, scurrying around to find the day you play your rivals, what game will clash with your anniversary or who will you play on Boxing Day. Opening day, full of optimism and hope of what is to come from this new term of the nations favourite sport. Transfer deadline day, we all love watching Jim White till the wee hours report on the comings and goings from the training facilities of clubs all over the country. And finally, the release of Football Manager.
For years this game has ruined relationships, hindered coursework and caused sleepless nights as people have wrestled with formations, training regimes and contract negotiations. I myself am a Crystal Palace fan so this year's edition is one that excites me more than most because we were promoted to the English top flight last year and because there is no tie in between the game and Premier League the club's crest is reduced to a red and blue shield which bizarrely acts as more of a kudos than you would expect.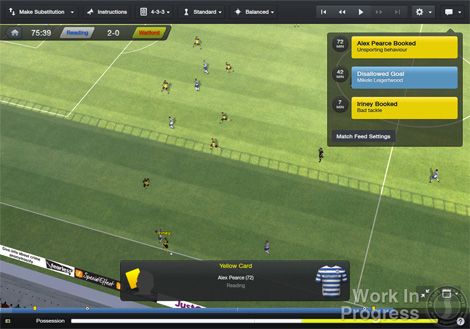 Saying all that however, I don't usually play the game as Crystal Palace but instead as Sutton United (another South London club I used to watch occasionally when I lived close by). Just last year I led my boys from Gander Green Lane to the country's top division for the first time ever on a Mac/PC version of the game. I managed it on 2008s handheld version on my Sony PSP but that's a much more simple form of the game so we wont count that.
Given the fortunes of my favourite club and having just over a week to get this review published I threw caution to the wind and took charge of my beloved Eagles and set off on a week long journey that unsurprisingly matched the problems beguiling Crystal Palace in real life.
The first problem being the size of the squad, the game starts off with an up to date squad at time of release rather than how it really was during the summer break, which is great if your chosen club managed to clinch the surprise signing of a top player that would usually prove difficult achieve within the game but in the case of my chosen side, it's a massive headache. With an opening budget of £4.5m there isn't much room to improve things but if you do manage to sign a decent player, I get Stoke City's Charlie Adam for around £2m, you'll immediately need to chat to a few of the other midfielders who want guarantees of first team football.
The transfer process itself has been improved within the game and you can re-negotiate rebuffed offers directly from your "inbox" without having to navigate through the transfer negotiating screen, which if you like playing the game quickly is a massive time saver. Drawing up contract offers for players is equally as effective under the new design and the biggest boost of all is the game offering to adjust your budget to force a transfer through where previously it could prove a fiddly exercise to reappoint funds from your wage budget to your transfer kitty or vice versa.
Working from the inbox has been extended to your teams training instructions as well allowing your assistant coaches to prompt you toward changes straight from their emails, likewise scouting which from what I can tell is much more comprehensive. Recommendations come with a bit more detail and you can feel more confident about making a move for a player without having to ask for a full scouting report. Very helpful when needing to shore up a defence that couldn't keep sheets clean in a laundry.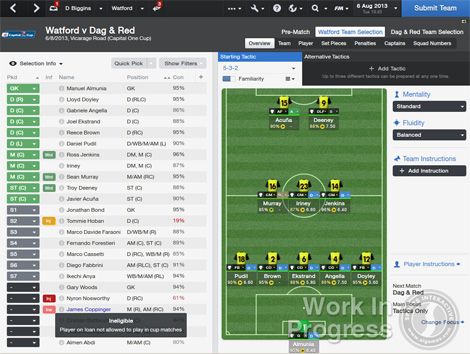 The look of the game has been simplified which at time of writing I hope is the case and not just because my review copy isn't the fully finished article yet. Not sure if it is deliberate or just a fortunate coincidence but the user interface has a bit of an iOS 7 feel to it. No shading on buttons to make them look 3D, but instead just minimalist blocks of colour. This really freshens the game up and brings it up to date aesthetically; most screens feel brighter than last years outing which is most welcome, especially when the darker screens could lead to tired eyes when having mammoth sessions in previous incarnations.
Another improvement is the load screen: the calendar telling you where you and what is upcoming while the game generates its next slab of data has doubled in size meaning that information is much easier to see and sticks around longer before being pushed out of view by the next stat or headline.
Once you've got your side sorted and hopefully picked your best XI (a process that hasn't changed, but didn't need to) you can lead the team out for a match, personally I'm a bit old school and I just like the commentary bar. Plus I'm playing with my MacBook Air which gets very hot and noisy if you start running the 3D engine. For the purpose of this review I use it for my first game and it does appear much more varied on previous incarnations of the game and it is a delight seeing the team in the accurate kit for this season. The standard commentary has improved as well, while in game stats are more realistic than ever before, responsive to the event in the match. If your striker is having an off day he'll get more frustrated and you're assistant will advise you to sub him.
That leads me to probably my favourite update during match play, the ability to control most things from the one screen. Not only can you make quick subs following those snippets of advice from your staff but you can adopt tactical instructions too, even if you're playing on a fast match speed when the speech bubbles come thick and fast you can still go back and review them back at a click of a button.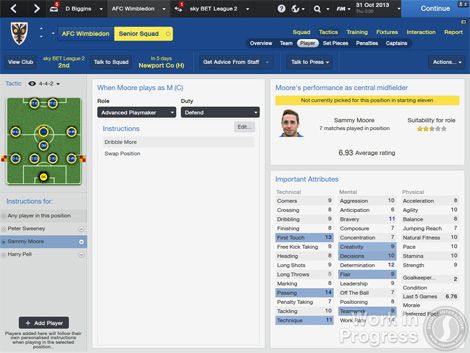 If like mine, your team has little ability or resources to remain active throughout the entire transfer window then the deadline day feature can't be stretched to its full capabilities however, it's still a fun part of the game and a great way to offload some of the deadwood in your squad and perhaps grab some last minute loan signings. Sadly I don't do well with either but I do make a tidy profit on a player, who in real life I love but in game has been injured and failed to get any pre season under his belt. This helps me balance the wages which will in turn help keep the board happy and hopefully buy me some time if my team performs badly in the league.
One final, very subtle, yet frankly "about bloody time" update is when giving a defence specific team talk at full or half time also goes to the goal keeper now. Yeah, I told you it was small but these are the little things that FM14 has really nailed. On a game that doesn't require major overhaul every year, it's ironing out the creases that keep this game head and shoulders above the rest, not even EA Sports, whose FIFA franchise surely has to be the best selling football game in the world, couldn't create a management sim to compete despite annual attempts.
Back to my endeavours and despite a pre-season that saw my team play some terrific football, they are struggling in the Premier League and ten games in they aren't fairing well, a case of art imitating life unfortunately. I wish I could get some more game time in before the deadline for this review just to tell you how it feels to be sacked but alas, I can't quite fit the time in. Give it a day or two mind and now the embargo has been lifted I'll be sure to tweet about my inevitable demise as Crystal Palace manager and subsequent journey down the A217 to more familiar territory: Sutton United.