What could be a better kick-off to summer than a music festival? The one and only annually held Free Press Summer Fest in the heart of Houston would be the correct answer. Though record degree highs of 100 occupied the entire weekend, that didn't stop the thousands of spectators that flocked to the park grounds this year. It's only been the third year that Houston has hosted the fest and it's gotten bigger and better by time. I was surprised at how much fun I had when attending last year as it seemed like a definite free for all and full-blown party. Big headliners were Girl Talk and The Flaming Lips. They were some pretty insane acts to follow, but this year would be no competition; closing day one would be Ween and the following day, Weezer.
So day one of the festival finally arrived. One of the most exciting days that I've been waiting for all year. I learned a few lessons from my last attendance by dressing accordingly because heat and rain would be inevitable and to also push my way through the crowd no matter what in order to get the full experience. This year's different because of its growing success. I noticed more stages, sponsors, food trucks and of course people. It's day one, I arrive before noon to take in as much as I can minus the sun. I immediately fall in line to the free water station and fill my life saver for the day, my empty water bottle. To kick things off, I head over to the Budweiser stage and catch one of Houston's best acts, Wild Moccasins. These guys had the opportunity last year to play the Main Stage last year and I feel fortunate to see them twice. They always play a fun set and entertain the locals with their delightful indie pop. There's a good amount of people that dance away in early attendance as the lead female singer swings back and forth, in and out of microphone distance with her tambourine. This was perfect way to wake me up.
Next stop is the Gritsy/Reprogram stage which is basically the electronic stage. If you want to dance all day you might as well stay there. I stumbled across these two great guys, Knome & Juxta. What a nice surprise, these guys were standouts. Some afternoon dub-step never hurt anyone, especially if it's not mediocre. There was ruckus a stir at the Warehouse Live stage that included hard-hitting drums and a slamming bass. This duo, Female Demand sure had the crowd on their feet and energy level higher as they jumped off stage multiple times. After that exhausting performance wore off of me, I decided to grab a jumbo corn dog and multi-task. I caught some last melodies of Leg Sweeper, having seen them previously they were similar to the previous band. Just two guys that really never want to end a song. A little bit off one end of the entrances, at one of the smaller stages there a band seemed to be attracting one of the largest crowds. A local band by the name of Glasnost that I had never heard of until that day had everyone entranced. This electronic outfit were pretty flawless led by a wonderful front man.
I headed to the Super Happy Fun Land stage which was pretty much the place for the psychedelic. I was greeted by what I thought was a dancing mascot but instead a spectator donning a giant head. The band SOMOSUNO rocked out. Other bands that kept the crowds going from the Main Stage to much smaller secluded ones were Los Skarnales playing ska/cumbia, local favorites Tax the Wolf and Little Lo brought along their violin and saxophone.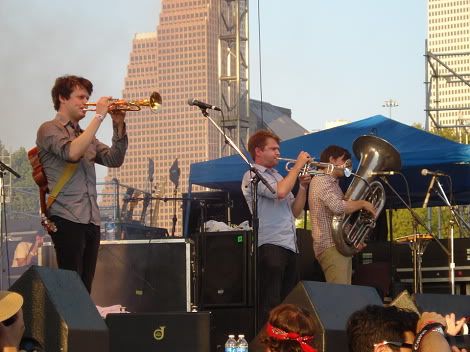 Now for the highly anticipated acts, Black Joe Lewis brought back Motown, Bun B had everyone coming out to see him of course and Big Boi wowed to accompany the groovy mood. Big Boi flew right through his amazing set and even invited a few surprises, up and comer Trae Tha Truth and a duet with Bun B. Big Boi was surprised by the overwhelming support and fanatics that screamed every line. I took a much needed break from the heat and lied amongst others underneath the trees until Beirut and Ween.
There was absolutely nothing wrong with Beirut's performance. I was in awe at how talented these guys were. They're a definite must see and that's why everyone waited out just for them. Interchanging with accordion, ukulele, trumpet, french horn and everything else, produced such a great sound outdoors. Ween were Ween! I got a history lesson from an obsessed fan right behind me. I didn't mind his passion; I actually loved it. He said they would '"change my life" and they pretty much did. Sometimes I really can't fathom the longevity of a band especially the creativity of one such as Ween's. With age, the performances only get better and more refined. The night ended with confetti canons, it was a great first day.