The last day of a fantastic weekend, day two of the Free Press Summer Fest is always better no matter what. Last year it poured rain and apparently again this year. I didn't mind the rain because it cooled us down and added to the fun of a festival. The only fear was ruining my brand new shoes again, but oh well, you have to sacrifice some things like food and rest to get front row at Cut Copy and Weezer. Am I right?
The day started off early once again, still recovering from the night before. The sun was blazing, the heat, unbearable, it's officially summer in Texas. I was more prepared that day by bringing some snacks for the road and towels to avoid ant bites. The only thing I brought less of was clothing.
First stop was to get super, happy, fun at the Super Happy Fun Land Stage and not to my surprise was a quirky band getting the crowd going for the start of the day. Poopy Lungstuffing was fronted by a red, pig-tailed, funky costume donning woman belting out high pitched yelps. While her band mates swayed side by side, one holding a puppet. I moved on to the Night Owl Stage and local punk-rock/screamo band Omotai had a pretty decent crowd. Though I couldn't understand a word, I was intrigued by the diverse spectators and female bassist. I wanted more super happy fun so I trekked back and there was a one-man multi instrumentalist band on stage rapping. I just caught the very end of The Nonsense Music Band's set, but he's definitely worth checking out
.
Ani DiFranco's Dick was at the Warehouse Live Stage. They drove all the way from California to endure the Houston heat.They're a more experienced band.. the lead guitarist had bleached spikes protruding from his scalp in all different directions.. yeah I really just wanted a t-shirt. The heat became so exhausting as the second day proved to be hotter; it didn't start raining until a couple of hours later but it still was not enough. I ventured around to take a look at the festivities and the annual paint slide was finally set up to be tested. I'll try it next year for sure, I'll just have to remember to wear cloths that I don't mind throwing away.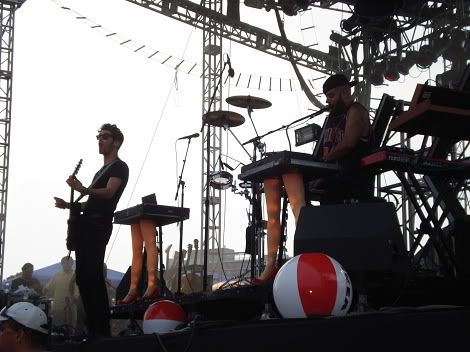 The Main Stage was packed by 2:30 as The Black Angels rocked the stage. What followed onto the night would be crowd surfing worthy. Yeasayer played an unbelievable set. They were so incredible and on-point I really couldn't believe it. The party just got started and now it was time for Chromeo-o-o. As soon as I saw those famous leg-stand keyboards I quickly snapped a picture. Dave 1 and P-Thugg invited Houston to their dance party. I can't get over Dave's sexy vocals and stage presence and P's sense of humour with his awesome talk box.
I have to say that Houston's own BLACKIE started the whole crazy stage diving/filthy rap tactics way before Tyler, The Creator. He tore up the stage and persistently dove into the crowd knocking down his own homemade sign. It was some pretty insane stuff, but I was just waiting for Cut Copy right after.
It was the first time in town for the Aussie's. We're always a great crowd, and you could tell they fed off our energy. I can't even put in words how mind-blowing they were. They played extended tracks, jumped on top of their equipment and turned the entire festival into a rave. The whole park filled by this time at night with no grass insight and everyone was sweating, dancing to classic tunes that these guys brought all the way from down under. 'Lights & Music' had the biggest reaction while new tunes from Zonoscope were each played with precision.
The final act that the entire city showed up for had people pushing forward. I luckily didn't move an inch during the previous sets so I was front and almost center. It couldn't be anymore perfect. I was surrounded by fanatics; the guy to the left of me had been withstanding the heat for over six hours just to hear Pinkerton and the two friends to the right of me quizzed each other and wondered what the set list would be. I just knew it would be a memorable night because I would be getting the full experience. The only way to enjoy the closing act of the festival would have to be up against the railing. The sun had set, over 50,000 showed up as I glanced around and the famous =W= sign lighted up. Fat drops of rain sprinkled, Rivers came out hooded in a windbreaker and it was 'Undone.' The best tracks were 'Island in the Sun', 'Hashpipe', 'Say It Ain't So' and 'Surf Wax America.' Rivers took breaks by carrying around a giant mushroom and kicking around a soccer ball on stage. By the time they played 'I Want You To' and Buddy Holly' Rivers came over to my side of the stage and was literally in front of me and I was able to grab him. Everyone was soaking wet, screaming their lungs out and free water bottles were passed around and hosed down to avoid dehydration. The night ended with fireworks and the weekend ended with me getting the worst sunburn, darkest tan and no voice. All 70,000 spectators quickly scattered through the gates, while I ran to the nearest sausage stand to get some food in my belly. I made my way though downtown, scarfing down my meal on a stick more than satisfied with my decision to skip a meal in order to make eye contact with Rivers Cuomo.