Photos by Valerio Berdini
As the editor of this site, I very rarely write reviews. Don't get me wrong, I write a fair amount on day-today basis, though mostly emails (which isn't really the same). However, Girls left the Electric Ballroom stage about 30 mins ago and I'm already sat here writing a review. That probably means I either a) had a really good time, or b) had a really bad time. If you follow us on twitter you'll already know the answer to that one. If you don't, read on.
Talking about highlights is going to be impossible as their entire set was perfectly constructed, weaving beautifully between their recent release Father, Son, Holy Ghost, last years smash EP Broken Dreams Club and the record that broke them back in 2009, Album - so I won't bother going down that route.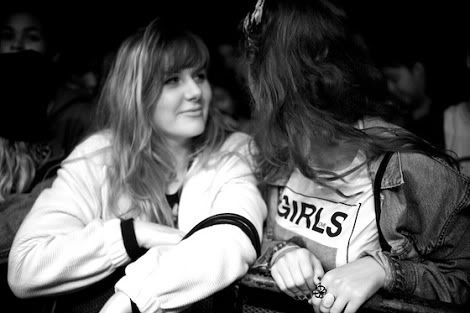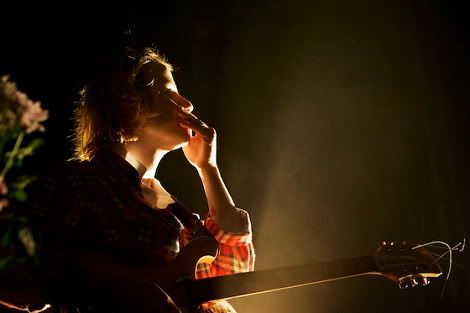 For me, the priority for Girls on this tour was to try and emulate the progression they've made on record in a live environment, and they managed that with ease tonight. Even their older tracks like 'Morning Light' and 'Laura' sounded huge, and that wasn't necessarily the case a year or so ago. Ok, so the addition of backing vocals always helps, but tonight they looked, and sounded, like a band with 20+ years of experience, not 3.
I apologise for the brevity of this review but it's hard to really analyze a show like this without sounding like a pretentious idiot. It wasn't a 'spiritual' occasion or anything like that, but it certainly wasn't your standard rock concert. Hell, just head over to their Facebook page now to see examples of how powerful they were tonight ("You have no idea how much it meant to me to see you live tonight in London. Pure love!".)
One of our American writers caught the band in New York back in September, and this was his parting paragraph:
"It was such a communal event because deep down we all like to think we're a little messed up on the inside and sometimes any outside events start to feel like too much. Well at that moment, none of that mattered. The crowd was a sea of smiles, and I swear I saw one on Owens' face too as he left the stage."
A month and a half later and I just had the same experience as Colin, except tonight the smile on Owens' face was there from the very second he took the stage, and unsurprisingly, it never left.