Photography by Sapphire Mason Brown
There was something alien and unearthly unveiling slowly and steadily within the realm of XOYO when three acts who revel in the softly reverential hush of calm and melodious mystery graced the stage, each amplifying such an aura as the night drew on. This was an evening of mood lighting, hushed admiration and space-age attire, welcoming a selection of celebrity fans (well, Twitter told me the xx and Little Boots were there but I never know what these musicians look like) as well as hordes of us normal folk who fell under the spell of a dizzying deluge of beautifully realised sound.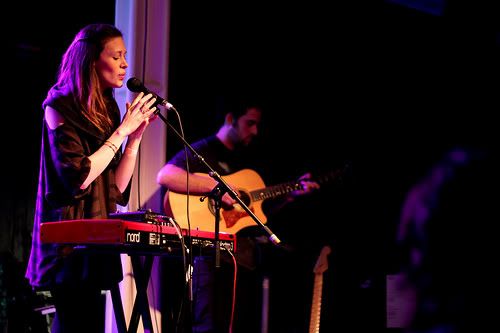 It is not often I get as excited about an opening act but a beautiful but rare opportunity came with Lia Ice, whose second album has become a mainstay in my ears since its late January release. She has a voice that has captured my heart, soaring with a carefully constrained intensity. She possesses a powerful sweetness that sways with a simple ferocity, skipping from calm, collected quietude to subtle roars of vocal virtue. Sampha provides a warped soul selection of distant, aged dubtronica, sounding like a cascading, musical rainfall complete with a lush sense and sensibility regarding the use of electronic rhythms.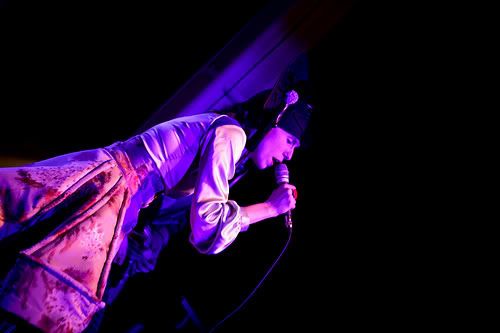 California based Glasser, aka Cameron Mesirow, is an eye-catching figure of inscrutable obscurity, masking herself behind extravagant dress, bathed in murky mires of warped lighting levels and accompanied by a trio of space-age-looking men who feel oddly out of place surrounding the titular heroine centre stage. Taller than I imagined, with a dominating glare and surprisingly sporadic movements, she held a rapt audience in hushed awe from the moment she began to release her oral authority from somewhere deep within with the rumbling shuffle of 'Apply'. An arcing piece of head-wear, a primped and fluffed Geisha-esque dress and eyes mostly closed, the performance is understated yet overpowering, utilising minimal (and somewhat nervous) movement to it's utmost as she works through her set. Musically, the mixture of delicacy and laden bass works to encapsulate that ethos of the ether, crafting a soundtrack to a spell being spun by Miss Mesirow. Her band know how to develop her music into dizzying sonic states, utilising a range of electronic manipulators to craft a disorientating melody that invades the stage.
It's odd to hear her speak in-between tracks, humorous and smiling, human again, until the next track starts and sound-centred sorcery starts once more. A slight costume malfunction towards the end, in the form of a fabric tear, side-tracked proceedings for only a short moment, allowing that odd contrast of humour to step forth once more. Yet when she performs, her energy is justifiably fascinating, as with 'T', a steady pounding track nestled in the midst of her debut album Ring that takes on an alternate form onstage, utilising one lone electronic instrument to provide a path for the sweeping splendour that tumbles from Glasser's vocal chords, effortlessly restrained and yet reaching right through the melting heart of the crowd. A quiet, appreciative and reverential crowd. A rare, rare feat for any gig. Maybe the wizardry and witchcraft concocted in a musical cauldron by Glasser really worked, hypnotising the massed audience. I certainly revisited the album for a good week after and feel more complete for having seen her. This is one spell I don't want to break out of and I urge you to let her wave her wand over your head as soon as she flies back into town on her broomstick.