Hold Your Horse Is Christmas Party at the West End Centre, Aldershot. 19 December 2009.
Christmas parties inevitably end up in an anti-climax. With arguments, drunkenness and DJs more suited to Phoenix Nights playing a series of songs at the wrong speed and at different volumes. So it was thankful that
Hold Your Horse Is
came to the rescue this year with their own unique take on a festive bash - a celebration of the local music scene around Hampshire, Surrey and beyond, complete with a wrestling tag team theme. It was testament to their hard work that a sold-out crowd was waiting for the gig to kick off, and a special atmosphere brewing, well in advance of the night's proceedings.
The first support was not one but four acoustic acts, all set up in each corner of the room. An Acoustic Battle Royale.
Hannah Shark
started the night with a short, charming track that showcased her stunning vocals. After she finished, the crowd turned to the next corner to see The 405 favourites
Stagecoach
, or three-fifths of them, playing their slice of Americana-via-Surrey indie pop. 'Ice Age' felt particularly apt with the roads resembling skating rinks. With everyone starting to feel a little dizzy, Thom Ashworth from
Our Lost Infantry
played an acoustic version of recent free download release 'Scissorfight', complete with harmonies from OLI's other band members in the audience. Toby Hayes', formerly of Meet Me In St Louis, acoustic project
Shoes And Socks Off
finished off the round with his lo-fi sprawling sound and ethereal lyrics.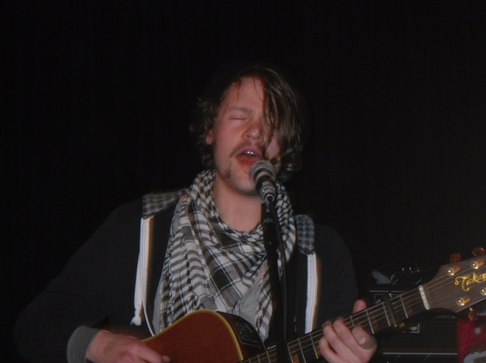 Each act played three songs each, the final one being a festive cover. Hannah perfectly performed 'I Saw Mummy Kissing Santa Claus', Stagecoach tackled 'Last Christmas', Thom by his own admission failed miserably at learning an xmas song, so instead played a poignant cover of Blink 182's 'Stay Together For The Kids', before Toby closed the bout with a cheese-based reworking of 'Away In A Manger', one he'd worked on two years before with his young niece. It was both witty and touching. After such a stunning start, it was a little odd to see things back to normal by the time
Cities Of Glass
took to the stage, a young four-piece rock band clad in t-shirts spelling out "Ding Dong Merrily On High" – do you reckon there was an argument over who wore "Dong"? With nods to emo, they were very tight and have a lot of potential, fitting in with the Home Counties scene that has spawned Canterbury recently. Their set was very short and finished just when the crowd really seemed to be getting in to them.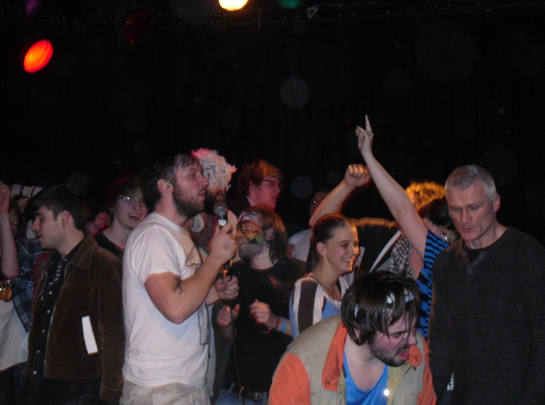 Now it was time for the main event, the man in a thousand local bands, Simon Gerring, stepped on stage to a hanging microphone and introduced each member of Hold Your Horse Is with an assortment of bad-taste jokes. One-by-one, HYHI entered through the crowd to a heroes' welcome, and the response was even more enthusiastic when the three-piece burst in to the first cover of the night - The Beastie Boys' 'Sabotage'. Between each song, Simon would once again enter the arena and introduce artists from past 20 years of the Surrey and Hampshire music scene, who would then take it in turns to perform a cover from the last half-century while one of HYHI would take a breather. I think the revolving door of artists reached 17, but it could easily have been more. Covers ranged from Hannah Shark fronting Fleetwood Mac's 'Little Lies' to a dirty version of 'Deeper Underground', sang by Jonny from Lady And The Lost Boys. As the set went on, the audience began to lose their inhibitions with 50s style dancing breaking out to 'Rock Around The Clock'. A moshpit was in full swing as soon as HYHI's drummer Chris Rouse donned a backwards red cap and dropped his sticks to perform his finest Fred Durst impersonation on Limp Bizkit's 'My Generation'. Even the Westy's manager, Barney Jeavons, got in on the act playing bass on a frenetic version of 'Blitzkrieg Bop'. Much to the crowd's delight, all three members of the still-missed Reuben were involved too. Jamie Lenman's take on 'Word Up' being a particular highlight of the night. However, the best performance of the night was probably saved for Weezer's 'Buddy Holly'. Fronted by Jamie Stuart from Dive Dive, everyone in the place was singing along and Robin Pearson from HYHI performed the rap section perfectly. Of course, with a night like this it had to end with something special. As sweets were thrown in to the crowd, complementing the earlier free cakes and face painting, the stage filled with every artist who had performed. And what better way to finish a triumphant night than a high-octane version of Andrew W.K.'s 'Party Hard'. While so many acts were dancing and singing along, James Penny, HYHI's bassist, was in the crowd pushing audience members on stage, it was a communal, celebratory and fantastic way to end any party. Now can I book Hold Your Horse Is to organise next year's office Christmas party?
Links
http://www.myspace.com/hyhi
http://www.myspace.com/citiesofglass
http://www.myspace.com/hannahsharkmusic
http://www.myspace.com/stagecoachuk
http://www.myspace.com/whereisourlostinfantry
http://shoesandsocksoff.blogspot.com/