It's a striking fact that Tim Wheeler and Ash have been playing together for nearly twenty years and are still in their early thirties. This means they're in the rare position of possessing both a youthful exuberance and tonnes of experience in the music business (before and after it started nibbling its own toes off). So after circumnavigating the globe, bashing out platinum-selling albums and several top ten hits in the process, they're now able to take a more unconventional approach to music. Hence the recent 'A-Z' singles collection and subsequent alphabetical tour of venues throughout the British Isles (from Aldershot to Zennor), and projects such as tonight's JD Set, wherein Tim Wheeler and a host of guests pay tribute to a band they all are indebted to: Pixies.
These types of events are always vaguely freakish beasts in nature. It's naive to insist there is no place for sponsorship in pop music, but there is something slightly perverse about a company that produces hard liquor putting together an event in celebration of Pixies, bearing in mind Kim Deal's problems with alcohol abuse and her infamous insistence on it's absence from the band's riders. So it is a with a sense of trepidation that I enter the concrete bunker that is XOYO in East London, and have a huge camera thrust in my face as I do so. A free whisky-based drink is on offer and I gladly take it as I try to escape the cameraman presumably waiting for me to do something photogenic. After an hour or so of enjoying my drinks responsibly, Tim bounds onto the stage with new kids on the block The Crookes, who this evening appear to be sponsored by Topman. Maybe they messed their dates up and turned up to CTRL MX dressed in Jack Daniels apparel. They suitably kick things off with 'Here Comes Your Man' and 'Wave of Mutilation', songs born of the same jaunty 60s pop tradition that The Crookes currently exploit. It's a polite enough way to begin the night.
After a short break, Ma Mentor take things up a notch and treat us to one of the better Pixies b-sides, 'Dance of the Manta Ray'. Afterwards, Tim points to the right of the stage and announces: Emmy the Great who, it turns out, has gone on walkabout. Cue silence, some puzzled looks and general confusion, and the crew begin to scramble around offstage like blind puppies. After a minute or so, I see Emmy stroll down the stairs to the left of the stage, completely oblivious to what has just happened. No one pays her any attention, no staff appear, and she's still standing there on the left while everyone looks for her in the opposite direction. In the end I can't help myself and I zip over and tell her she's supposed to be onstage. What the hell am I doing? What kind of twisted world are we living in when people like me are invited to gigs, given tasty whisky-based beverages and then coerced into stage management?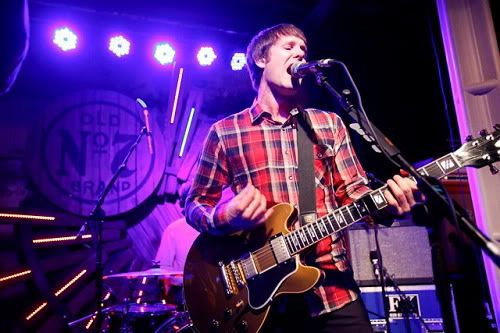 Despite the initial hiccups, things kick off in a big way by the time Tim and Emmy launch into 'Where Is My Mind?' and, judging by the reaction, it's the song the majority of the crowd have been waiting for. My reservations long-subsided, it proves to be a highlight in a night full of authentically great moments, with Emmy playing Kim Deal to Tim's Black Francis. Her gentle cooing provides the appropriate balance to Tim's powerful piping and, for someone with roots in folk music, it's refreshing to see her in an unusual context.
After another short break, And So I Watched You From Afar put the Pixies party wagon into fifth gear; 'Bone Machine', 'Isla De Encanta' and 'Debaser' all building the requisite ragged noise and nuanced dynamics that Pixies are famous for. Tim looks to be revelling in the whole scenario, surrounded by his mates, playing tunes he loves; in the end, the night has the air of a friendly jam session.
A few times throughout the night, the other members of Ash are seen creeping around, and people begin talking. Sure enough, one by one, Rick, Mark and recent addition to the line-up Russell Lissack take up their places around Tim and it looks like we'll be getting the unannounced Ash set everyone had hoped for. The band try out a couple of new songs, and stampede through classics 'Petrol' and 'Burn Baby Burn', which Tim humbly admits to merely being "Pixies rip-offs". Everyone looks to be enjoying themselves now (except for Russell who could be having the time of his life and no one would ever know). Ash can turn it on at the drop of a hat, any hat, in the strangest of circumstances. A few years ago, I saw them doing a similarly odd gig at an Xbox release party for Republic Commando, for which they had written the song 'Clones'. Despite the blatant corporate atmosphere, Ash (then with Charlotte Hatherley) pulled out of their hats an immense greatest hits set, a powerful reminder of their incredible legacy to modern pop music. When you string together so many amazing tunes in one night, you can do no wrong, and tonight Pixies are in good hands.