"He's real you know?" exclaims Young Knives frontman Henry Dartnall, "Lee, he actually exists." Quite a thing that, having The Young Knives namecheck you on stage. But, then again, an anecdote involving The Young Knives is probably quite low on the list for Lee Denny to whip out at the occasional dinner party; his signature one is no doubt is the re-telling of how he and his friends started a festival in his back garden some 6 years ago while his 'rents were away on holiday. Surely that one never gets old? The resulting event then went on to grow year on year until we find ourselves pulled into its path, whisked to the furthest reaches of south London where, in the middle of a load of council estates, a field appears from nowhere and you are instantly welcomed into the bosom of Leefest 2011. With a steel band. A steel band playing Abba covers.
For the first time the festival is stretched over 2 days and the challenge is met full on, filling the time and space with as much to see and do as possible. Pitching up the tent in some rather drizzly weather it soon clears up - which is good news for the sandcastle enthusiasts that are busy at work in the sand pit; most under 5, but a few over (I BUILT A SANDCASTLE). The site is densely packed: the sandpit is slotted in between the dance arena and the spoken word tent, and the main stage is not far to the left of that. Talking of which, King Charles is about to take the stage just as we're done walking around the site for the first time. Emerging on the scene in a wave of buzz a couple of years ago, it was interesting to see how he has come along. He plays a good set - however, it's the older stuff that seems to go down the best. 
Public Service Announcement are up next across the way, in the twinkly lit 'Colin Denny Kava Lounge'. Their instrumental electro-rock, complete with a sprinkling of 50's samples taken from old American TV shows, is a good combo, if a little repetitive. Dutch Uncles start just as PSA are finishing; the line-ups on both stages are tiered so you can happily watch all acts on both stages; a nice touch. I don't get the fuss around Dutch Uncles - they play a solid set, but it's nothing to write home about (or, indeed, blog about). To Kill A King provide the first memorable entry of the day; starting the set accompanied by a brass section they go on to perform a rousing set of solid pop, with strong hooks and harmonies.
Little Comets are so bland they might have blended into the background of the stage if it wasn't for that stringy thing they have at the front holding up their interesting percussion instruments and their snazzy jumpers. Shortly after them, The Whip completely own the crowd: the instant dancefloor-ready tracks of the new album mix well with classics like 'Blackout' and 'Trash' of their first. A quick stop-off in the lounge presents us with David's Lyre, whose likable pop sounds like it perhaps could have been written by a more commercially viable Tom Vek. I like him a lot - keep an eye on this one. Fenech Soler are the Friday night headliners and pull out all the stops to make the night theirs. 'Demons', 'Lies' and 'Stop & Stare' are all powered out with the kind of precision you'd expect from a band that have done nothing but gig constantly since their formation in 2006. Problems emerge though: performing a headline set with only one album's worth of material results in elongated intros and outros and no new material is played, which is a pity.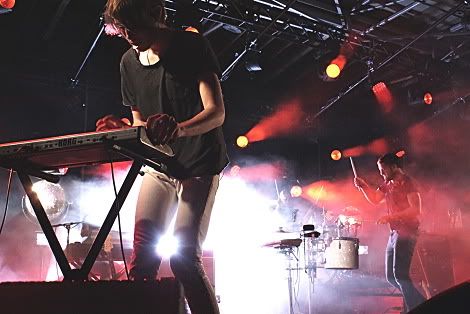 'Karma Kills' my mug informs me, as I gently sip down some coffee the following day - which begins in the quaint cafe to the side of the campsite field. (They have a fascinating array of retro/bizarre mugs.) Bordeauxxx are first up on the main stage, on a day where there's a lot to fit in. They're really good at what they do, but I can't help but think the world already has a Los Campesinos! - do we need another one? Loose Talk Costs Lives are next, and their music perfectly fits the summer sun that's starting to re-introduce itself to the fest. Their music lies somewhere in between Paul Simon and Vampire Weekend, and is mostly great. Pengilly's have everyone mesmerized and sitting down cross-legged in the lounge tent as they gently perform their soulful numbers, complete with electronic tinkering. Man Like Me give us a spectacularly rowdy set: their swagger-some music goes down well with the afternoon crowd. Stagecoach do what they do best: their 'college rock'-inspired songs packed full of references to Star Wars and MTV are brilliantly done to the rather packed tent. Dinosuar Pile Up shortly after them, however, are just dull and it doesn't help that the track introduced as the new single sounds like a cover of Monkey Wrench by the FFs. Young Knives are fantastic as ever - the cheeky humour still very much present in a band that have accepted the fact that they may not be the hot new thing any more. Despite this though, the material of latest album Ornaments from the Silver Arcade all sounds as quirkily brilliant as ever.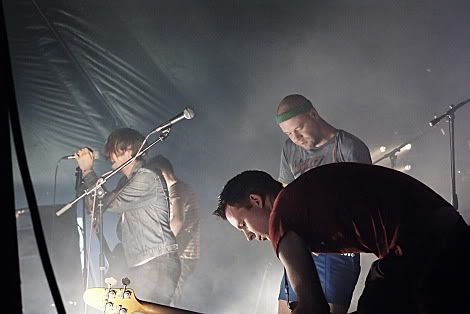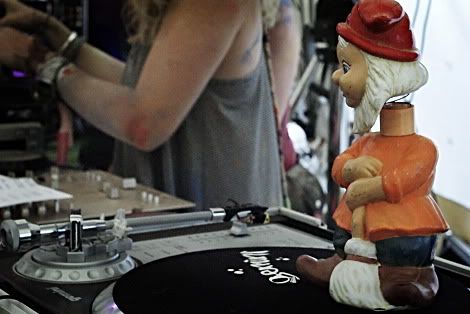 British Sea Power are the final headliners of the fest, and perform a rousing set. Straight from the minute go they look like they're savouring every minute of it, and convey with gusto their hits like 'Remember Me', 'Who's in Control' and 'No Lucifer'. However - this seemed like the perfect time for the children of Leefest to, once again, try and form a moshpit. They had been attempting somewhat unsuccessfully all weekend to make this happen - which to me felt like an act that was drastically at odds with the musical genres this festival mainly caters for - but fuck it, let them have their fun. Towards the end of BSP the band are joined on stage by homemade robots and people in fox and bear costumes - and they even finish everything off with a handstand. Brilliant. After this we catch the remainder of DJ Fresh, and look once more around the site before heading back to the campsite - it's then we find, tucked away in the corner, an arcade machine with Street Fighter 2 on it and it was here that we end up staying.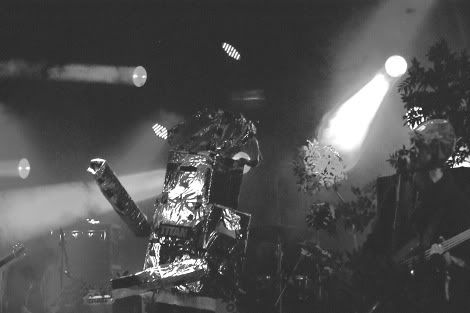 And that was Leefest 2011. As an event its rich array of talent on display ultimately impressed. The warm atmosphere that the organizers create and the unassuming crowd goes a long way to welcome you in - it's a grass roots festival but has the organizational clout to take on the big boys. Could it one day be as big as a Rob Da Bank/Michael Eavis organised affair? Very possibly, but I wouldn't want it to be. As it is it remains the small gem off the beaten track that not a lot of people are on to. My advice: get in there while it's still a secret. And, maybe, keep it to yourself, yeah?