Buffalo Bar
is fast becoming my second home. It's pleasant, is host to plenty of good live bands, and the hand-drawn stamp is always an enjoyable, quirky little treat. Arriving early at Buffalo lets you in for lots of treats, such as getting a drink in at the queue-less bar, enjoying the sound-check of the upcoming acts, and righting your ill-prepared wrongs (making notes with a half broken pen you find on the floor on the listings booklet of the venue may be incredibly cool but it isn't the sign of the most prepared reviewer).
First up was Bath based two-piece
Kita Akita
, featuring the vocalist of Zissou (click
here
for a review of their recent gig), playing what was most probably their first ever gig given that they have 150 profile views on 3 MySpace friends. Although the lack of practise and a few jitters did come across in the sound, Kita Akita showed signs of potential to make catchy lo-fi songs through the medium of synths and broken drum-hits. They play a sound which is difficult to describe, but that reminded me of Is Tropical (which is a very good thing), only slower and less dance-y. A band in their early stages.
The Jelas
somehow managed to provide even more genre-describing woes with their set which saw the 3-piece reject norms and do things their own way. Their sound, which might possibly be described as experimentaljazzmeetsbluesindierockpop, left me feeling slightly confused (the band care not for time keeping or melody) and yet still entertained. Other members of the crowd, including lead act Internet Forever, seemed to love it, but I just didn't quite manage to "get" it. I'd suggest it may well be an acquired taste, not that that's a bad thing.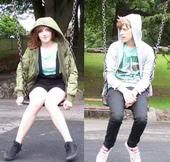 Final support band
The Bumblebees
push the boundaries at what some might consider too sweet. Combining jangly guitar, electro-drum beats, boy-girl harmonies and twee-sounding synth, the three-piece remind slightly of the now deceased I Was A Cub Scout with hints of Los Campesinos! vocal work. On occasion, the sweetness did turn slightly sickly with the keys and use of the bass-drum pad growing slightly tedious at times, but on the whole the band stayed on the right side of colourful and full of joy in front of the dancey, appreciative crowd.
Recently lauded by the likes of Pitchfork, NME and DrownedInSound, and also pals with Los Campesinos!, it is slightly disappointing then that Buffalo Bar was far from full for the first date of
Internet Forever's
UK tour. Internet Forever strike a perfect balance between lo-fi fuzz and indie pop, coming across equally as well live as it does recorded. The set, which included a surprise Dire Straits' 'The Walk of Life' cover caused by unexpected shouts of "encore!", heard the London band slightly less twee and slightly more dirty and noisy than recordings. They don't take themselves too seriously which is quite surprising given how perfect the songs sound. Their ethos seems to be "do it first, analyse it later" and this has worked brilliant thus far. You need these in your lives.