Label:
Wichita
Release date:
15/02/2010
Website:
Official Site
l
Amazon
The title track from forthcoming album 'Romance Is Boring' sees
Los Campesinos!
in fine form. Bridging the finest singalong pop moments from 'Hold On Now, Youngster' along with the more experimental and scuzzy side of 'We Are Beautiful, We Are Doomed', it shows a band flowing with creativity and bursting with ideas. It's certainly one of their most direct songs starting with some bold and dirty sounding guitar that soon makes way for Gareth Campesinos to deliver yet another bunch of insightful, witty and razor-sharp lyrics.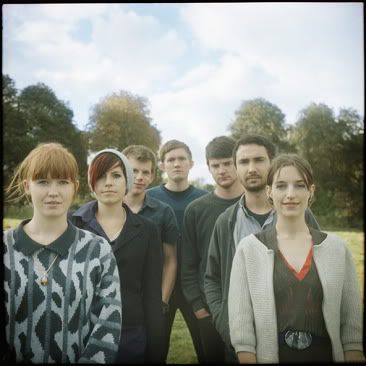 The catchy chorus brings to mind the shouty brilliance of 'Modern Life Is Rubbish'-era Blur mixed with the art pop joyfulness of Deerhoof. The persistent lines of "You're pouting in your sleep, I'm waking still yawning, we're proving to each other that romance is boring" should be sung at festivals across the country come the summer season. A song for anyone with a pessimistic view of modern love, it may be only two and a half minutes long but says more than any fake letters or poems could ever. And the song still finds space for a crashing middle section that sounds somewhat like an instrumental Times New Viking B-side (this is a very good thing). Romance may well be boring, Los Campesinos! are anything but.