The journey to Canterbury East train station was somewhat haunted by a newspaper article that predicted a weekend-long, momentous downpour worthy of a tropical typhoon. This lingering prophecy, whilst terrifying at first, proved to be erroneous for the most part and the sun seemed to grace a small field in Kent when all other parts of the country remained a darker shade of grey. The occasion was Lounge on the Farm, who would this year; see a very special visit from a select crew of 405ers, which included a second festival appearance from Nigel the 405 gnome. The boutique festival, now in it's seventh year, promised its most propitious and eclectic line-up of music, comedy and spoken word thus far.
Musically, the weekend began with an impressive-but-short set from Birmingham quartet Peace. They played the Meadows stage, which came with an authentic redolent of shit and hosted some of the best acts the weekend had to offer. Next up came 405 favorites Theme Park, who managed to get the up-until-that-point seated crowd on their feet using the powers of their infectious, pseudo-synchronised bounce. Fellow Londoners Summer Camp followed shortly after and their charismatic set attracted one of the biggest crowds of the night that included some very eager fans indeed.
The evening was rounded off in the very best of ways with a magical set from the ever-present Mystery Jets. With a strong sense of nostalgia in my heart and a hefty sum of cider in my belly, I, along with a large number of reminiscent twenty-somethings, belted out classics like 'Flakes', 'Serotonin' and 'Young Love' with what can only be described as humiliating passion.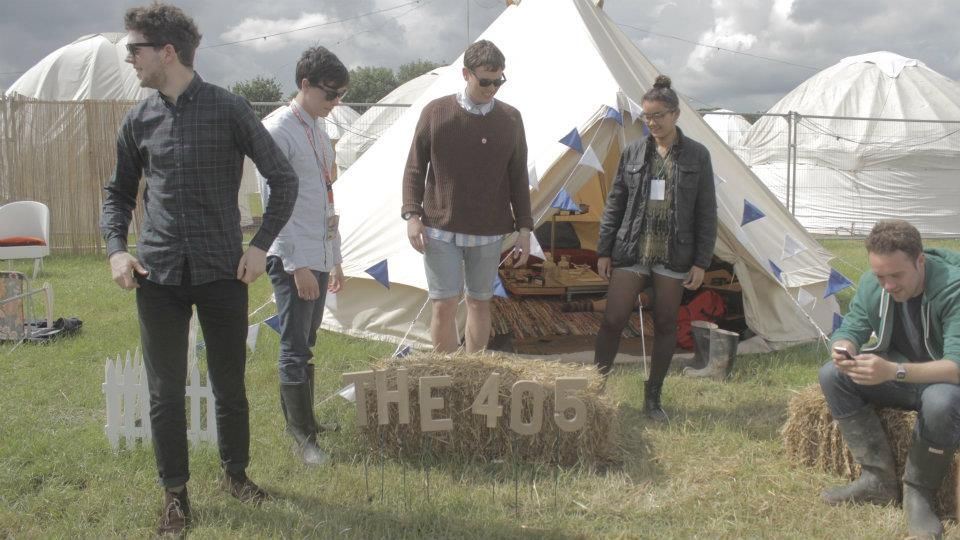 Saturday was a slow start, both mentally and musically, and after a disappointing set from Peace's fellow Brummies Troumaca, I found myself at the Main Stage awaiting Bastille, alongside a large proportion of Kent's 15 year-old female population. The band were greeted with the appropriate screech of raging teenage hormones and the highlight of their tight-knit and well rehearsed set was their cover of City High's classic 'What Would you Do?'.
Next up were north Londoners Man Like Me on the Meadows Stage, who were as charming as ever and after a short soul-reflecting stopover at poet Lemn Sissay's session, I found myself at the Main Stage with a chance to see Spector in action for the first time. The crowd they managed to draw was commendable for their designated afternoon slot and their set, which included their entire recognisable back catalogue, was enjoyable. However, with that said, the experience was constantly scarred by the tiresome ramblings of front man Fred Macpherson, who even had his fellow band mates looking slightly uncomfortable with his self-indulgent babble.
After a brief glimpse of some very odd audience participation with grime veteran Sway, which included a survey of chosen makes of automobile, Jamie N Commons in the Farm Folk Tent was up next. In fact, this was an appointment that I had been looking forward to since I first set my eye on the full line-up. Anticipation like that can be a dangerous thing, especially in the world of rapid festival sets and rushed sound-checks, but thankfully Jamie N Commons lived up to any expectations I may have had, and then some. His impeccable live vocals, coupled with his genuine contempt during his performance made for an enchanting set that I hoped would never end. Unfortunately, like all good things, it did and I was left in a state of disarray as I faced the thought of experiencing The Wombats on the Main Stage first-hand.
Photo by Veronika Moore
Sunday was an even slower day musically and it wasn't until mid-afternoon that I managed to catch an emphatic LOTF debut by AlunaGeorge, which was followed by a somewhat underwhelming performance from all-girl folk outfit the Staves. With the weather turning for the worst, there was an air of expectation amongst the large and loyal crowd that gathered at the Main Stage awaiting the arrival of Chic. Cladded in all white and fronted by the legendary Nile Rodgers, it was instantly obvious that this was going to be a memorable experience. With a set list that included the likes of Madonna's 'Like a Virgin' and Bowie's 'Let's Dance', songs both originally written by Rodgers himself, it would be easy to think of them as covers but right from the off, Rodgers made sure to clarify: "Chic ain't no cover band, we wrote this shit in the first place." As the set went on, classics like 'Dance, Dance, Dance' and 'Le Freak' were joined by instantly recognizable Chic originals that have since been sampled to death and this, alongside the remarkable musicianship of all nine members, made for one of the most gratifying and dance inducing live performances I have ever experienced.