Images by Yan Bourke
Unable to head down to the Brick Lane Takeover until after work, I missed the afternoon sessions at Brushfield Street, which made me sad given how good the weather was. When I arrived, however, the hog roast and cupcake stand were still going strong and I grabbed some food and my ticket before heading to Vibe Bar for my first act of the evening –
Attika State
.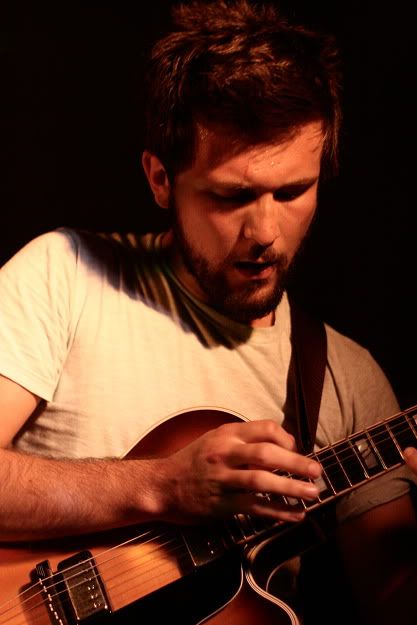 Feel good, summery indie-pop, it was fun to listen to but the lead singer annoyed me intensely. Taking affront at the fact that people weren't standing closer to the stage, he came to us, trying in vain to get the audience to raise their hands. Normally I encourage this kind of behaviour, but there was a sense of desperation and annoyance with the crowd, which didn't go down terribly well. Ok music, but I wasn't all that keen on the delivery.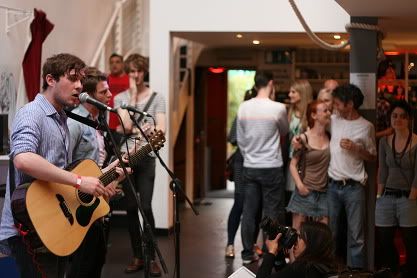 Next stop was
Jamie Ley
at the Brick House; a fairly new venue that's sprung up just down from Vibe Bar and 93 Feet East, and I was interested to see what they'd done with it. It's really very nice – light and airy giving it a feeling of spaciousness which is at odds with the amount of people who can actually get around the stage. A refreshing contrast to the dark dinginess of some (well, all) of the other venues.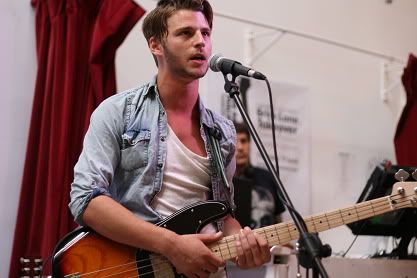 I've wound up listening to a fair amount of Nu-Folk of late, and I have to say that Jamie Ley stacks up well. I imagine his earlier set in the open air was a perfect complement to the sunshine. He played some of his songs solo, and was joined by his band for the rest. It's very fashionable at the moment, especially in this type of music, to rock the breathy, slightly hoarse vocal style; something that can be grating if done badly. They, on the other hand, had it bang on, and I particularly liked the female vocalist. They finished with 'Morning Song', a good summertime tune; there wasn't really enough of a crowd for dancing at this stage, especially with most people seated along the wall, but had they been playing later in the evening I'm convinced that dancing would have taken place.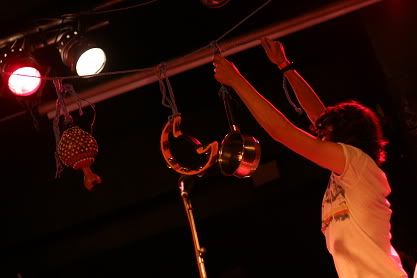 From there we headed to 93 Feet East for
Little Comets
. I was very excited watching them set up, as they spent some time carefully suspending various percussion instruments (and a saucepan) from a rope they had strung above the stage. Within a couple of seconds of them starting, the entire crowd had edged forward from midway back almost to the stage. You couldn't help but love their infectious mix of twangy guitars, African-sounding harmonies and Newcastle charm; "You don't seem that excited about raising lots of money for a good cause, but you've all got the Hoxton look, which is important". The lyrics in 'Joannacapella' got a bit repetitive after a while (take a guess?) but the song itself was catchy enough to sustain interest. They were very well received by the crowd, which was growing steadily as people arrived from work (something which was great to see, as earlier on the event had been looking sadly ill-attended, and it's a wonderful concept which should really be selling out year-on-year). The saucepan finally made an appearance in their penultimate song, 'One Night In October', which was absolutely brilliant. I'm definitely looking forward to hearing more from these guys. Next up,
Clock Opera
back at Vibe Bar. The venue was running late already, and Clock Opera need an extensive sound-check, so they didn't take the stage until half an hour after their scheduled star-time. Guy apologised, and thanked us all for listening to their sound check, before launching into 'White Noise', which is fast replacing 'Alouette' as my favourite song of theirs. Beautifully atmospheric at the beginning, the drop, when it comes, is just intense, and it's a perfect start to their set. Their current single, 'Piece Of String', was also fantastic and went down a storm. I think Guy's voice gets better every time I hear it. I know I'm gushing slightly about these guys at the moment but it's been a fair while since I've got so caught up with a band and I'd forgotten how much fun it was. I really hope they make it properly as although the crowd at Vibe Bar were loving their set, seeing them playing to a packed-out crowd of people as fan-girlish as me (well alright, maybe not quite that much) would be an incredible experience.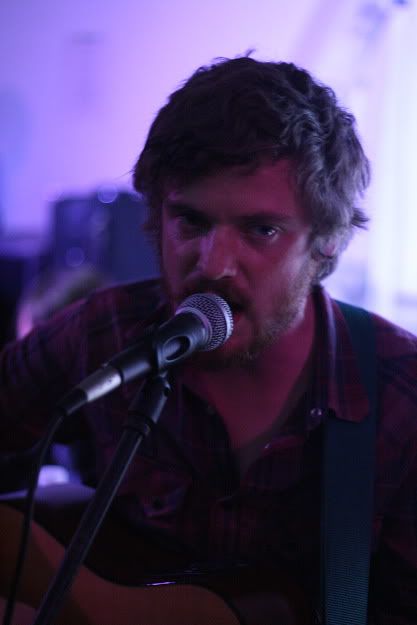 We returned to the Brick House next to see
Goldheart Assembly
, a name I've seen bandied around quite a lot recently. Slightly angsty nu-folk with an American twang (nu-country? Or am I just making up genres?) and soulful vocals, they were extremely catchy and going down incredibly well with the crowd. The small venue was absolutely packed out, meaning that I didn't get a good look at the band until a couple of songs in, when I started looking for what I assumed was their female vocalist. They don't have one. We wound up watching most of their set from the 'bed-bar' – a balcony right at the top of the venue where a double and two single beds replace sofas. With a concept like that, we couldn't not, really. Catchy as their music was, the ground floor was far too busy for any dancing to happen (a great shame), and I was still struggling manfully to overcome my hangover from the previous night, which is a whole other story…
Photo Roundup