Just returned from Porto after a great trip to the second Optimus Primavera Sound and thought get this review together while it's all fresh in my mind!
With the massive success of the Barcelona Primavera the organisers have taken the risky move of booking a sister festival in neighbouring Portugal a week later.
But how was it I hear you shout?
Well…
I arrived on Wednesday to weather that pretty much resembled England, but after a meat, cheese and octopus fondue, things were definitely looking up massively.
The festival started on Thursday with two of the four stages open. The site was much nicer than I was expecting from a city festival, with three out of the four stages set in natural amphitheatre type setups, with loads of hills and green spaces.
Playing when we arrived was Wild Nothing. A pretty "nice" start to the festival and definitely a couple of standout tunes, but nothing to get overly excited about.
Site was starting to busy up a bit and what was already really apparent was the amount of bars. Not sure I queued for a drink all weekend more than a minute or two. But no spoilers for later.
So few beers later (€3.50 a pint incidentally) it was time for The Breeders who were playing Last Splash in full.
The atmosphere was good and the band seemed to be really enjoying themselves on stage. Kelly Deal seems to have an English accent I seem to recall. Any 405ers know what that's about it? Anyway, was a good set by Breeders and I can see that if I was in love them in my teen years it could be pretty awesome to see that record in full. I came a bit late to 'em, so wasn't particularly poignant, but enjoyable nonetheless.
Caught a bit of Dead Can Dance but wasn't really the right music for that time of night at a festival for me. Maybe could have been enjoyable on a different night. It's the Tindersticks curse. Always see them late at night at festivals when that's not what I'm feeling like!
But next up it was the main event; Nick Cave & the Bad Seeds. Nick Cave is a man so charismatic that he can front a band with three or four stars in it, and not for a second would you think it's a supergroup.
I was a little worried it could be new album heavy but no, we got a greatest hits set featuring 'Tupelo', 'Mercy Seat', 'Weeping Song', 'Red Right Hand', 'From here to Eternity' and lots more. The last single from the new album, 'Jubilee Street', was sounding fantastic, as well as a couple of other new tracks. I was with a friend who wasn't really familiar with their back catalogue at all and he was as blown away as the long term fans. Probably the best thing I saw all weekend.
Had been up since 6am getting the early flight in so didn't last too much longer although Deerhunter were sounding good from a distance.
The festival doesn't start 'til 5pm each day so was plenty of time to take in a lot of Porto, which is a pretty nice place on the side of a mountain. Lots of walking up hills.
I was going to chat a bunch about Porto in general but then I was thinking that this review will get way too long...
So then, back to the music. Friday: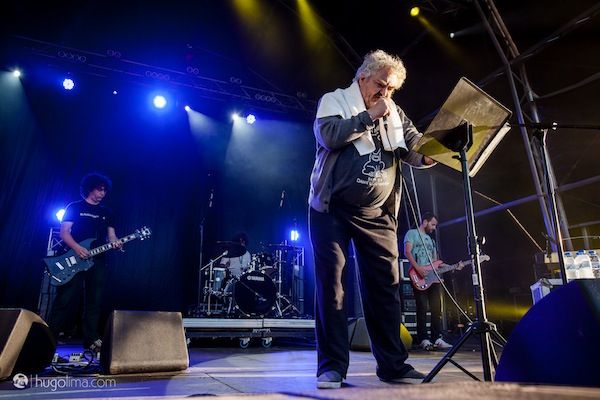 We had a long day in the city so missed OM which was a shame, but got Local Natives who were basically an "OOOOH AAAAH OH OH AHHHH" big chorus fodder. Not into that.
Next up was Daniel Johnston who I was looking forward too. We were hoping he might be playing Hi, How are you? in full as he has been touring it for its 30th anniversary, but that wasn't to be.
Nonetheless, was a massive crowd for him (biggest I saw on the ATP stage all weekend I think) and he played a good set including, 'Speeding Motorcycle', 'True Love will Find You' and others. Definitely nothing like how special the set I saw him play at Union Chapel a few years back but still a goodie.
Next up Swans.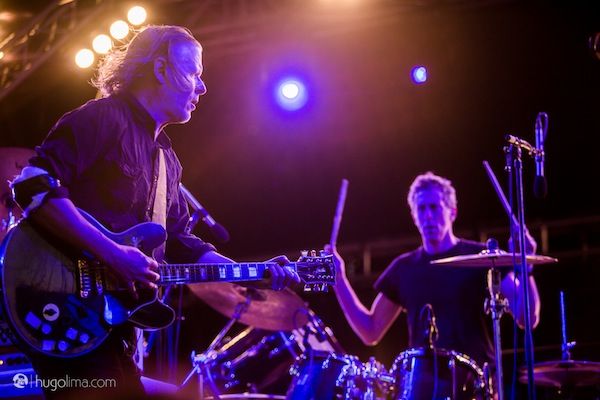 My esteemed record label compadre Sebastian Weikart rates Swans as the best band in the world right now, and I know a lot of people feel the same way. I like what I've heard from them on record, and the one time I saw them live they were definitely good, but didn't really move me much. Nonetheless I was definitely looking forward to this set. After the first half an hour I was feeling pretty much the same as before but then they came in and slayed it with an amazing half an hour.
Michael Gira is an imposing frontman but not even he can be more manly than the ultimate musical man THOR on Trombone, Drums, Gong, Oboe, Percussion and an instrument involving a bow and small metal cymbals of which name I'm not sure of.
Their set ran over a bit and was perhaps running out of steam in the last 20 minutes, but I can say I'm definitely a fan now.
They were loud as well, especially considering that the festival is right on the edge of the city. It's like having it 145DB on the main stage at Field Day! Damn you England!
I was interested in catching a few songs from METZ who I've heard good things about but not seen before. I can confirm they are indeed definitely a much above average heavy riffing rock band. Wasn't blown away but certainly good, and think in a small venue could be pretty great.
Then off for some Shellac who I've never seen before as I haven't been to an ATP weekender! Another good band, and 'Prayer to God' was as to be expected, a banger.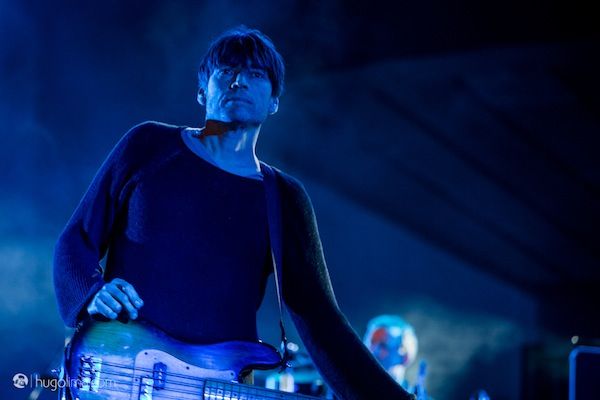 We decided we were going to get to the front for Blur so only heard Four Tet from the side, but seemed to be on decent form. Think for a big festival set like that he could have made a bit more of an effort with visuals / stage show but the selection was good at least.
So next up Blur. I've never really been a fan but with the friends who was there with we decided to go in, so ended up three or four people from the front. The atmosphere was amazing in there and it's been a long time since I've been at the front with a crowd like that for a long time.
Was essentially a greatest hits set with 'Coffee & TV', 'Tender', 'Beetlebum', 'Girls & Boys', 'The Universal' etc etc. They aren't my favourite band but I certainly can't fault it, and was a lot of fun.
Also only about 12'000 people there I estimate which makes it a relatively 'intimate' set for them I guess!
After a bit of a sit down and catching my breath it was time for Fuck Buttons who I was extremely excited to see and didn't disappoint. The new tracks are sounding as fantastic as I was hoping and I can't wait to hear the full record. Hope their disco ball is returned safe and well as it was apparently lost by the flight!
Wanted to catch some Bashmore but wasn't to be and was time for bed. Last day then, got in bright and early for Glockenwise who were a pretty good, snotty, three-chord Garage punk band.
Then Roll the Dice who I was really excited for and who most definitely didn't disappoint. Was quite strange seeing them in the sun of the afternoon but it worked. I likened their set to two people forcing their equipment (and what great equipment) to do their will. Analog electronic music at its most atmospheric and textured.
Then the worst band of the festival Degreaser, who I saw for 10 minutes so you don't have to. The Drones had a great set, including winning the 'in between song chat of the weekend' award: "You don't deserve it you Portuguese cunts." He really knows how to win over the local crowd!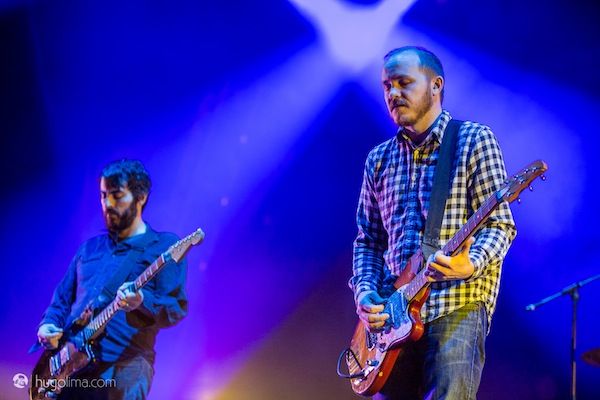 Caught a bit of Los Planetas who sounded a bit like The National or Pavement which I wasn't particularly into. Explosions in the Sky can be a great band (even if they only really have one song) and seemed to have possibly the biggest crowd of any band for the weekend (which was surprising) but from the back when we were feeling PARTY PARTY it was a little hard to get into.
Caught a bit of Savages who are the most incredibly slick pop band to come out of the "alternative" scene that I can remember. Not all of their songs are my cup of tea and I'm not sure about the interviews that I've read, but I definitely think they are a great live act and I'm extremely happy for their success. Tightest drum and bass duo in rock, guitar player has an amazing sound and they're fronted by a great singer! Simple but very effective.
White Fence were a bit standard but definitely good. I was looking forward to Nurse with Wound but the bleed from the Super Bock Stage to the ATP Stage where they were playing made it very difficult to listen to. That was one of the few organisational complaints I can make for the weekend, which was otherwise extremely well put together.
I did catch Liars playing a few new songs which were sounding pretty dancey and fun if that's of any interest to anyone!
Then one of the acts that I was most looking forward too for the weekend, Dan Deacon. He is the one act you want playing your festival at 1:30 in the morning! Was a short set for some reason, only about 30 minutes, but much dancing and crowd participation was had.
My Bloody Valentine are a band that I've never particularly got into and after watching about 20 minutes of their set I really wasn't sure if I was going to be won over… but the last 20 minutes were really something else. An incredibly tense sonic experience that I loved. Don't think they really have good songs but definitely have a great sound!
Popped over to see Titus Andronicus on the ATP stage but unfortunately the sound was awful, coupled with the singers voice sounding like it had completely gone over the course of the tour.
Was looking forward to Fucked Up but for some reason that stage was running at least 30 minutes earlier than stated on the program / app so disappointingly missed all but the final 5 or 10 minutes.
Caught a bit of The Magician who was playing pretty commercial dance music but still had a bit of a dance, and then off home.
The festival was incredibly well organised but maybe a bit too slick. Great bands but didn't have much of a community atmosphere, with everyone having an amazing time that you get at some festivals. Was quite heavily sponsored and perhaps needed a bit extra outside of the bands on the line-up to make it an amazing weekend.
Still, drinks were cheap and there was no queues for anything all weekend. Sound was great on all stages for the most part and the sun was shining!
Congratulations to them for a very enjoyable weekend.
Oh yeah, and they have a mobile KFC. Got in a bucket… or two…