Let us go back to back to those halcyon days of exactly one year ago, 2013. The sun seemed brighter, Miley was but a shy Disney childhood sweetheart, Kanye wasn't a God yet, and any other inaccurate/inane pop culture reference you can remember please do insert here.
Anyways. Last year saw Field Day and Primavera going head to head in a direct competition between choosing the easier, familiar, quotidian option, and the more exotic, adventurous option. Shovelling cultural snow versus an expansive freeform experience? I gut-wrenchingly chose the easy option (have you attempted to persuade five other humans to do the same thing and get them to spend more money?) despite wanting to do both. This year the festival fell on consecutive weekends so the excuse book was empty. To Barcelona! I also befriended better friends over the course of a year.
Now the great thing about Primavera, now in its 14th year, is that it's in Barcelona as just mentioned. I, and it turns out many others I speak to, do the smart thing and turn the festival experience into a holiday of sorts - extending stays before and after the festival to give Barcelona the exploration time the ancient Catalonian city deserves. Our second floor apartment is right on the edge of the Gothic quarter down a sleepy, spindly alleyway that turns out will be of huge help for the week to come.
The bits before the festival proper - The Gothic Quarter, Hot Chip and Tinder
Although the full festival line-up begins on Thursday, there are still festival-related things to indulge in earlier in the week. After a mini-explore and a generous bowl-full of seafood paella, I venture out late into the night (getting the hang of this nighttime Spanish going out already) and catch Hot Chip's DJ set at the Teatre Principal in the centre of the city: on the bustling infamous Las Ramblas. It's all about the journey on the way there and soaking up the midnight vibes of the city; I pass a group of Japanese tourists getting hustled by some menacing looking pickpocket-y locals. The group looks timid, but the Alpha male Japanese guy defends his friends and squares up to the rapscallions and thus defending his friends. Well done that man. Amidst the glorious architecture and tiny side streets I get offered drugs three times, street beers 12 times, smell about seven different types of falafel and see a man takes off his shirt in a kebab shop and spins it over his head. Yet it's all so charming.
Oh and Hot Chip played a very dirty and at times gloriously abrasive techno set at Teatre Principal - the venue layout being very much like The Forum in Kentish Town except less shit.
Wednesday we saunter to the entirely empty festival site a few kilometers out of the city centre to pick up wristbands via the beach; however our beach turns chilly quite quickly and necking Sangria does not help to numb the epidermis as much as we would hope. The rain comes (which we all agree not to Tweet about and thus keeping up our illusion of a perfect holiday to the outside world) and decide to do the little things to tick off the list that you do - you know, a supermarket shop to get necessities and marvel at the cheap gin on show, caching Google maps to get around, getting heads around transport matters, and checking what kind of people are on Tinder in the area of course. Lots of people with beards it turns out.
Sky Ferreira is our first act we plan to see at the festival site proper - aka Parc Del Forum - but the rain has returned once again and the heavens open for two hours solid. All the hits are provided that you would want and expect from debut album Night Time, My Time, but, quite frankly she's rather awful live. Two or three tracks are aborted and then started again (complaining about having a sore throat that is a permanent fixture of all her sets it seems), with her performance possessing the tenacity and verve of a catatonic slug at a ket party. The rain doesn't help the situation if I was to throw an olive branch - and the sound is perfectly fine; there's just nothing of note to get excited about.
So bad is the weather that we skip Holy Ghost! to head back into the city centre. The rain stops and we hit the dirtiest, grungiest bar that we could find down some back streets where beer is 1.50. Some dancing happened. Some falling over happened. Some TVs were placed behind cages, and the toilets had pictures of the same toilets the toilet was in. The memories of this are hazy so I'll move on. I did take this photo of some strangers velcroing with my disposable for some reason:
Thursday - The Festival proper and "seminal" albums.
Thursday day time is all about exploring Barcelona on a more in-depth level and much of the day involves walking around the Park Guell area and admiring the stunning views of the city from this high vantage point - in between lusting over Gaudi's sculptural buildings near his old crib. And most importantly befriending this super flirty cat called Rebecca.
I enter the festival site in the fine evening sun - a world away from the capricious storm clouds of yesterday, and head to the Vice stage and the walk is a fine one; walking on the overpass to be welcomed by a view of the port and the sunken-in stage below to the left, and Pitchfork stage below to the right. This feels more like a festival now. The main thing of note is that Dublin's Girl Band are noisy. And fun. Which is great as I'm in the mode for something noisy and fun; the four piece of course close on their signature number/cover of Blawan's 'Why They Hide Their Bodies Under My Garage?' and it's a hoot it is, and the fresh-faced sun-kissed faces around me seem to be in the same mood.
Majical Cloudz are on the neighbouring stage at Pitchfork who I watch from afar - but I'm preparing myself for the first "big" act of the festival. Neutral Milk Hotel. And trying to block out the nastiest clash of the entire festival - as they play the same time as Future Islands and St. Vincent. Ouch. But hey it's a pleasant problem to have isn't it? In fact throughout the festival there's never a saggy moment in regards to the choice of acts. The consistency over the line-up terms is one of the best around.
Now, for many music fans of a certain age, or even those that have done their seminal '90s album homework - In The Aeroplane Under The Sea is one of "those" albums. Someone I was seeing was once incredulous that I hadn't ever listened to it and said "It's an album so powerful I can only listen to it on very sporadic occasions". And so it proved right (especially when our relationship ended and the album also reminded me of this person. Emo fun).
So this set is a "moment" for myself - and I can feel a palpable sense that it's the same for some in the crowd. The set is front end heavy with classics from ITAOTS dominating; 'Holland, 1945' a galloping rush of fun, 'Two Headed Boy' reducing me to the edge of tears as I sit on the grassed slope overlooking all of the festival site at just past dusk. And 'King Of Carrot Flowers' a delight to hear thousands of fans screaming "I LURRRRRVE YOUUU JEEEHSUSSS CEEERRHHRIIIIIIII-AAAAAAAAAAAAAAAAAAST". A bucket list kind of affair - thought perhaps not the devastating tour de force I had built up in my head. Now for the first visit to one of the main stages at Sony.
Ladies and gentlemen, Arcade Fire! For me this is another bucket list kind of thing as they're an act I've wanted to see for a decade but never managed to do so - so I make sure I'm right at the front being a good little fan boy, as opposed the jaded cynic I normally am hanging out at the back. Near a bar. A character made entirely out of mirrors emerges from the walkway and introduces the set as AF launch with 'Reflector'; and my oh my what a set design. This set transforms throughout the set and is hugely impressive in detail and scope, alongside the lighting. This isn't a gig; this is a "show".
Throughout the two hours all the hits get an airing that you would want. The hairs all over my body tingle as soon as the first note of 'Rebellion (Lies)' emerge. Unleashed is the bombastic nature of 'No Cars Go', to a trenchant innocence as offered in 'Neighborhood #1 (Tunnels). Twenty tracks later (that fly by) we receive a triumphant finish as the reggae-indebted, salubrious 'Here Comes the Night Time' brings a party and a series of those giant heads (featuring the Pope). This then goes into, inevitability, 'Wake Up' - which of course turns into a mass sing-a-long of "WHHOOOAAS" and calcified warmth. Perfection.
Time for a mood change as we turnaround and head to the other main stage, Heineken (the main stages facing each other and alternating between acts, so never playing at the same time) as we see Disclosure. What can be said about them? They bring the party. Terrible dancing happens in between finding friends, and we eventually make a beeline for our final act of the night Metronomy at the Ray Ban stage - one of the best stages in the site thanks to it's sunken-in "bowl" effect. 'Radio Ladio'. 'Everything Goes My Way'. 'Aquarius'. All the albums are covered - even the oft-missed debut album Pip Paine (Pay the £5000 You Owe) as 'You Could Easily Have Me' closes the set, and indeed our night. Now, to find our way home that proves to be tricky due to a distinct lack of research. An hour's walk and a tram later we get in at 5:30am.
Friday - Falafels, double rainbows, Darkside and gigantic mirrors
Now Friday day is all about getting some much needed sleep and creating an everything omelette. You can guess what was in it. We have a relatively early start to the festival what with John Grant being on at 6pm on the Heineken stage, so little to report in terms of daytime fun.
Except that we do not get to see John Grant due to two hours of heavy rain that begins as we exit the Metro near Parc De Forum. JG; I apologise profusely. Apparently the storytelling bearded hero treats those that do brave the downpour to a stunning set. Instead I put a stunning blue cheese falafel in my face that does turn out to be one of the highlights of the festival in all honesty - an experience highlighted as this double rainbow emerges, the festival site becoming a sea of humans pointing their phones towards the mellifluous phenomena.
The first act we catch consequently is everyone's favourite LA sisters, Haim. Admittedly I've never quite gotten Haim, and while their buoyant rock antics are enjoyable enough and are a pleasant introduction to the evening as the sun breaks through the clouds, they do little to change my mind. It's genuinely hard to get by the gargantuan gurning of the bassist Esta Haim, a condition I later find it is referred to as "bass face".
A double Secretly Canadian header of Sharon Van Etten and The War On Drugs soundtrack night falling in the most chilled and beautiful fashion possible. SVE choosing to end with heart breaking number 'Every Time The Sun Comes Up' with a delicate nuance; by this time many have begun the journey to see Pixies but hey for those that stayed they got a glorious little treat. Fourth and recently released album Are We There sounds fresh and moving live, so well done her.
Deafheaven. Midnight. Pitchfork Stage. Sunbather was one of my very favourite albums from 2013, an intense, devastating journey of black metal that I described when I last saw them at Birthdays as: "concurrently darker than the nebulous heart of a serial killer, though as joyous and light as your finest drug trip as its peak."
Which is apt: A quick thought. Coming up during Deafheaven's 'Dream House' is a seriously bizarre happening kids. I can't work out if my chest, or brain, wants to explode in catharsis/jubilation and terror. A mass exercise in cognitive dissonance is occurring within me as waves of unbridled terror, ecstatic thoughts and anxiety spread gleefully about my body. It's one that is genuinely difficult to take - so in the end I don't and opt to head to Darkside after a couple of tracks, as they're due to start and I'm desperate to see them.
Darkside begin as they do on record: slowly. I'm so concerned by the glacial build-up that I feel I have to keep reassuring my friend that Nicolas Jaar and colleague (Brooklyn multi-instrumentalist Dave Harrington) are going to take us all somewhere magical eventually. And that they do - when the bass-driven crescendo reaches its zenith some 10/15minutes in, it's a supremely satisfying and intense experience, executed magnificently by the electronic duo. What heightens matters is the wholly unique lighting. A giant mirror is on stage protruding a startling stream of light, that morphs and swoops round the audience in the Ray Ban in a celestial manner. And it's fucking incredible. Despite my emotions and joy associated with yesterday's acts - this has stolen the show. Psychic is a rich and enthralling sounding album - but the live experience is increased tenfold.
After this wonderful hour we float off to see some of SBTRKT who drop in a sprinkling of new stuff in-between some slight technical hitches; but hey SBTRKT are guaranteed good fun and danceable, and that is what we have, and indeed what we do. Following this we close the night at the Pitchfork stage with our London-based post-industrial techno heroes Factory Floor. While they posses that abrasiveness and gargantuan sound scale (and loudness) of Deafheaven in an ideological sense, they are obviously a world apart in terms of delivery - the steely, incessant driving techno designed to be danced to in your own somewhat introspective world, every beat pulsating throughout the kinetic fibers in your body. The right side of scary. A perfect way to dance out the evening.
Saturday - A boozy butcher shop, emoji reviews and Cut Copy
Another much need sleep in is enjoyed - and despite our delicate nature set off to a place called Can Paixano that appears to be a butchers, but, also specialises in Cava and sparkling wines. There's even a queue to get in. Wine for 1 Euro a glass is forced down, alongside croquets and other meaty-based goods in a cramped room with large slabs of animal carcass hanging from the ceiling. I honestly don't know what's going on, but it's something that I won't forget.
A boozy nap sometime later is required before heading to Parc Del Forum for the final time - not getting there until 11pm so as to not burnout our rapidly fatiguing, emaciated bodies too quickly. The Pizza Underground were due to be on at 9:40 but they only went and split up in the least surprising news of ever. Kendrick Lamar is on the Heineken stage and he kills it like you'd expect, nailing some hilariously pacy flow and playing the good stuff from 2012's Good Kid, M.A.A.D City. Feeling energised once again.
Dev Hynes isn't half talented isn't he? His latest project Blood Orange has lit the touch paper and something you can see becoming rather huge - a real breakthrough. And rightly so with soul-infused coruscating jams such as 'You're Not Good Enough' and 'It Is What It Is' which have the crowd swaying and slow dancing in unison. Go get Cupid Deluxe if you're late to the party.
From hip-hop. To indie R&B. Now to post-rock territory at the ATP stage with the demigods of this world: Mogwai. Now Mogwai are not someone I know intimately yet at the same time I appreciate them hugely; but I find this doesn't matter in a live setting as the Scottish noise artisans deliver an immersive set and is a lesson as to why they're so highly revered. It's a juxtaposed feeling of the sound softly and surreptitiously washing over you - yet getting all in your face and firing up your insides at the same time.
Yet more genre exploration - this time for the synth-Goth styling's of Cold Cave. Now, unfortunately the sound is rather muted to the point where conversation is alarmingly easy to have with those in your vicinity - genuinely the first and only sound problems encountered over the week (which is actually strong testament to the festival). Among the people I'm with opinion is hugely split between an almost hatred, and a joy. I hand around my phone and ask each of my friend's around me to provide me with an emoji review. Here are four of those results: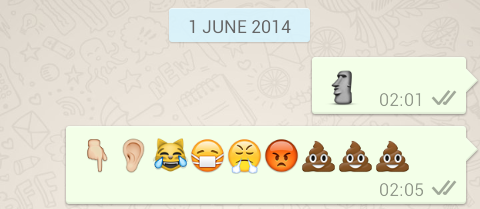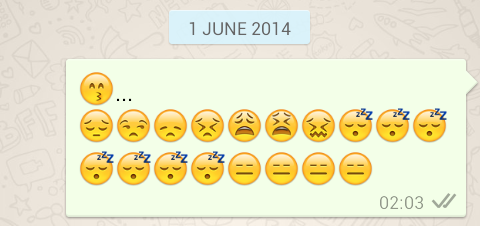 Now to close the party with some guaranteed electro pop fun, hello Aussie foursome Cut Copy. Cut Copy I'm now in double figures in terms of seeing them live so new words I'm going to struggle coming up with; but every time they never fail to bring the party. Four albums deep they have a wealth of hits to play around with; obvious choices such as 'Lights and Music' that still sends audiences including this one into raptors. And particularly one guy near us, the happiest guy in all of Catalionia, who with eyes like flying saucers makes conversation and regales a story about the time he saw "Avicii on the beachy" before accosting the next set of people along.
Fleetwood Mac-inspired times with 'Take Me Over'. '90s hands in the air ravey numbers such as 'Meet Me In A House Of Love'. The psychedelic '90s aesthetic prevalent on latest album Free Your Mind dominates the visuals here tonight and goes hand in hand with a festival environment, and a very fitting way to end our festival experience.
The bit after the festival: The King abdicates, Chromeo, and failed flights home
The sun is out, we have no music to see so today is our first official beach day. And around a thousand other people have thought the same. There is however some music happening in the city centre once again - and make a late call after some homemade sangria to see Chromeo at the Apollo that provides a bookend to the festival experience. All that is left is for yet another recovery sleep on Monday and a visit to a Gaudi's La Sagrada Familia, and I let my feelings known about it in the only way I know how:
Oh and I discovered the most photographed attraction on all of Catalonia:
We also visit a half-Spanish half-British Cat themed bar, handily titled Cat Bar Cat, and on the way see gaggles of Spaniards in the streets waving Catalonian flags down Las Ramblas, and generally making a bit of a noise. Maybe this happens every Sunday? No - we find out that the King of Spain (Juan Carlos) has abdicated which happens, well never. And just like that the week is over.
The highlights are numerous and memories plentiful (apart from the hampered memories) aided by the start of the show: Barcelona. Organisation-wise inside the festival everything is spot-on - the little things such as almost non-existent queues for the toilets, cashpoints, numerous bars and wealth of space at stages, the chilled security where you're not made to feel like a criminal. The friendly, benevolent vibe consequently emanates throughout the varied crowd consequently (many Brits but certainly not dominated by us - a healthy mix of Europeans, Spaniards, and many North American friends are present) and not a bit of aggro in sight.
No one wants to leave. In fact this nearly happens as we go to the check-in desk at Barcelona airport, and our names cannot be found on the flight. Check again I say, handing the Norwegian flights worker my printed out itinerary this time. She puts the paper on the desk, and taps on a section on the piece of paper, staring at me quizzically and with a pitiful disdain. The date of the return flight I had booked? July 1st. Oh. The day (Tuesday) and time (17:25) were right, but the month I had got slightly wrong. A six hour wait until the next cheap flight it is then. This act of incompetence by myself I take to be some kind of sign. See you in three weeks Barcelona for part II of this love affair.