Primavera Sound is a weekend jam-packed with "wow" moments, but the first one comes just by stepping into the venue. Leaving the bustle of the city's engrossing feel, beautiful yet baffling architectural structures, and (reportedly sewer-chilled) cans of Estrella sold on the streets, the festival sits in the Parc del Fòrum, part of Barcelona's coastal stretch, and a now public park built to house the 2004 Universal Forum. The venue's enormous industrial style of architecture and giant solar panels carry enough long edges to resemble a Tony Hawk's bonus level, and with many of the stages situated basically on the beach, it is a striking and stunning place to watch the stellar line-up of global alternative acts.
Thursday
Our weekend starts with the familiar - and the electric thrill of Savages's visceral post-punk leanings. Perhaps I'm just an unlucky mascot, but their set is plagued with sound difficulties, as it has been on previous occasions, again leaving three quarters of the band to riff a rhythm segment. Jenny Beth's powerful presence is more than enough to keep up the tempo, and when they're firing on all cylinders, they pack some serious horsepower, with 'She Will' bringing a chilling sheen to the festival's first sunset.
Next up on the main Heineken stage were Tame Impala, the hypno-psycho-weirdo project of Kevin Parker. Backed with visuals that felt like the effect of putting a tab of acid in the CD drive of a computer running Windows 98, the huge crowd aren't consistently engrossed. Whilst their psychedelia blooms in the record's dense intricacy, on the grand outdoor scale it translates into something more pleasant. They hit their stride with the blissful 'Feels Like We Only Go Backwards', as even the screensaver backdrop gets a Vista upgrade, and the now established closer 'Half Full Glass of Wine' wraps things up in leaner fashion.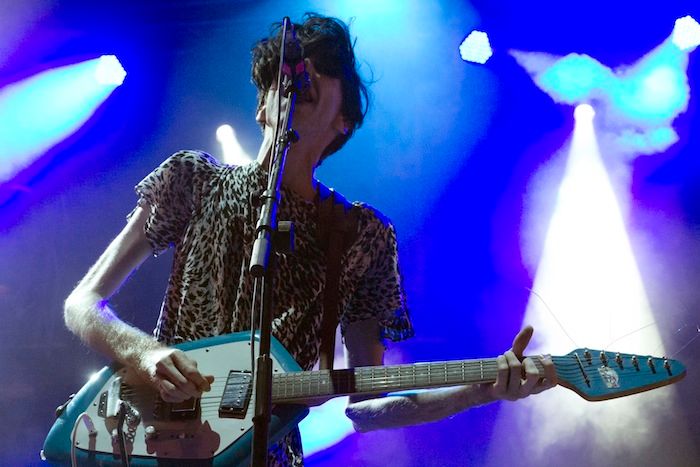 With the Saturday cancellation of Band of Horses, Deerhunter end up taking some sort of Spanish residency, packing four shows into the week. Number two, on Thursday, is to an absolutely packed out amphitheatre-style space, and cuts new and old come filtered through Bradford Cox's sheer idiosyncrasy, and the veteran ability of these alt. superstars. It's their perfect crowd, and testament to what Cox calls "his favourite time of year." Armed with a tear-drop shaped electric, he leads the band through the punky squall of their current incarnation, whipping up a squalling riot with the noisy 'Monomania' and instantly catchy 'Dream Captain'. They've felt more tangential, but proof for the success of their straighter approach is in the thrilling pudding - lapped up by an engorged audience.
To, Phoenix, the first headliners, the bunch of six averagely awkward Parisians who find their success flourishing exponentially with recent album Bankrupt. The main emphasis of their set is its unashamedly pop skew, showcasing the security, if not the diversity, of their songcraft, and their now hefty collection of hit singles. They're not the most talkative of headliners, but the conviction with which they deliver their tight grooves, topped with a healthy dose of oozing panache (and obligatory confetti cannons), speaks for itself. It's also pretty entertaining to hear a field full of youths squealing every word of a song about Franz Liszt. On the basis of 2013 so far, French pop is a very long way from destitution.
The giant set of inflatable mouldy teeth from the cover of the last Animal Collective record, Centipede Hz, must be by now racking up some serious air miles. It appears tonight in all its glory, as the wacky four piece try to, quite literally, draw us into the jaws of the barmy beast. As is occasionally the case with their shows, their wilful experimentalism and insistence on warping any pop instinct into a wildly indistinct form can alienate flippant newcomers. However, the moments where their flashes of brilliance cohere into a familiar structure, most predictably on 'My Girls', are irresistible to all present.
Friday
Images by Eric Pamies
It might be the logistical implications of his following set at Field Day, but Kurt Vile's 6pm main stage opening slot feels early, at least in Spanish terms. The flipside of having to curtail your afternoon drinking, however, is a meaty set from the low-fi overlord, whose blend of classic heartland rock, alternative troubadouring, and new-found groove is perfect music for the sun. Looking like the physical embodiment of smart casual, with tracksuit top and penchant for pristine white trousers, Vile's live show lives up to his promise of a heavier sound on his enamouring latest album, Wakin' on a Pretty Daze. Tracks feel delivered at three quarters of the pace, but with double the swagger.
Strong coastal breezes and long locks are not always a comfortable combination, and his trademark slurs are delivered from behind his floppy veil. From the triple whammy of offset Jaguars that enacts the glowing wash of 'Jesus Fever', to the curiously classic feel of the power rock of 'KV Crimes', Vile leads his backing band, the Violators through a set heavy on recent material. The highlight, 'Ghost Town', embodies the dual nature of Vile's songwriting skill, blooming from a scrunched up ball of beauty into a hoarsely howled sprawl, and back again into an intimate guitar strum.
From an act who wouldn't be the same without some American guitar heroes, to one formed of them. The authenticity and big grin with which Kim Deal thanks the crowd half way through the Breeders set suggests that their current rerun through classic album Last Splash functions more on pride than potential pay-day. The curse of an album show, particularly one that is only a coherent classic in some circles, is the slower moments of the "album tracks". However, it's a crowd formed of more than enough couples and companions revelling in its specific nostalgia to secure the show's high points.
The main stage is heaving for Jesus and Mary Chain - although the fairly muted response to a set loaded with the straighter side of the Reid brothers might be because of who follows. Low on stage theatrics, bar the flashing cross that adorns the backdrop, a swaggering 'Sidewalking', and guest appearance from Bilinda Butcher on the perfectly sweet tones of 'Just like Honey' are lapped up best by the early 40s lot behind us doing air guitar in homage to being around to hear it first time, but the solid set is a confident kindling for the main event.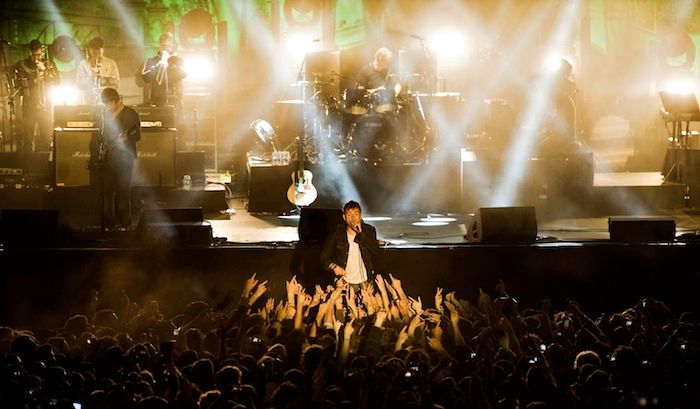 How quickly can Blur descent into spot the Brits? On the basis of the synth riff that opens 'Girls and Boys' - about four seconds. It sparks off a 90 minute tinderbox, which only occasionally feels like pockets of English holiday-makers pissing off everyone around them, as an huge crowd prove the band's curious capacity to satisfy a broad spectrum of discerning listeners. It looks as fun on-stage as it does off, with moments such as 'Tender', backed by a cast of thousands, feeling wonderfully communal. From the beauty of 'Caramel', to the bulldozing 'Song 2', it's a collective exorcising of circa-2000 demons soundtracked by the nostalgically nuclear Greatest Hits set of one of the world's biggest bands.
An evening of solidity is rounded off by the wanton experimentalism of the Knife. In their words - "Every time we dance and fuck, we win!" Their bonkers blend of performance art feels built to challenge, rather than engage, but with a constantly shifting visual spectacle, and crowd prepared to be open-minded, it's certainly hard to pull your eyes away from. With a 3:20am stage time, any implied intellectualism is probably always going to struggle not to give way to arm-flailing.
Saturday
Images by Eric Pamies
Day three, and Mac deMarco looks like he's been having as much as anyone. The carefree breeze of his sunshine grooves come compered by the honeyed baritone of the apparently overly-polite frontman, summing up the festival's three joys pretty succinctly – "Ocean! Music! People! Very sexy." It's pretty gormless, but deMarco's boyish charm pulls off a set of concise, woozy, feel-good music. If the man we saw rolling out the venue at 7am is anything to go by, it's a vibe practiced as well as preached.
Next - a quick pit stop to check out the nearly-complete Wu-Tang Clan prove their own mantras ("ain't nothing to fuck with" etc) worthy to a massive crowd, despite the scarce hip-hop presence on the line-up, complete with entertaining references to "Barcelonia". After the warm, widescreen Americana of Matthew Houck's Phosphorescent project, the crowd congregate for the main event – My Bloody Valentine. It seems a slightly strange opening to the band's packed European tour schedule. For a mastermind of production, Kevin Shields seems perfectly confident that albums that either took 21 years to brew, or bankrupted major labels, can translate effectively to the grandeur of an outdoor seaside stage. Predictably, it's loud – but not loud enough. With a set scattered with moments from their whole oeuvre, there are parts that cohere wonderfully, such as the poppier dynamic of "New You", but for the full effect of the band's infamous "sonic cathedral", a four-walled experience is probably required. Occasionally, the brute force of the band's trademark wash feels strangely reducible to the people on stage, where the elusive nature of the band's sound and process is part of their hypnotic attraction. However, moments of distinctiveness, such as the drum loop on 'Soon' and the squalling ten minutes of 'You Made Me Realise', which if not thundering by their standards, is still the loudest thing at the festival, cannot help but retain their wonder.
The closing ceremony comes curated by Hot Chip, who over the course of the hour prove their incredible strength in depth, when it comes to the attacking formation of catchy hit singles. Their embracing of tight, wriggling disco is immensely unifying, with one pop gem following another ('Ready For the Floor' is an understandable highlight) to bring this incredible festival to a close.