There are some bands that can perform in such a captivating way that they create the sort of special atmosphere which all those there remember and think of as a new height in gigs they have seen. Revere is one such band. Leaving their small rehearsal room in London, I never thought that I would find a better atmosphere than the one that I had just experienced, yet on the eighteenth of November I was proved wrong. Revere's 'last gig of the year' was to be held at the Tabernacle, a beautiful building near Ladbroke Grove, with a room resembling a modern version of a classic theatre. Complete with a harp and some almost cartoon-like red balloons, the stage was set for a show to remember.
Shadow Orchestra
, a six-piece band who've been playing festivals and other gigs for some time, gave something more than support. As a less drunken, more respectful audience, we were rewarded with a set starting with 'Folkstep' and finishing with 'Direct Out', the working title for one of their new songs. They seem to be a band with a lot going on, as one of their songs is heading into the soundtrack for a new film, whilst the rest of their songs seem fresh and creative, like they are the latest development in their music. With songs like 'Matilda' involving the sound of an office chair – the perfect thing, apparently, to complement the flawless, but almost haunting vocals – the 'crowd', sitting around a generous number of tables, got a swooping, sonic, 50-minute treat.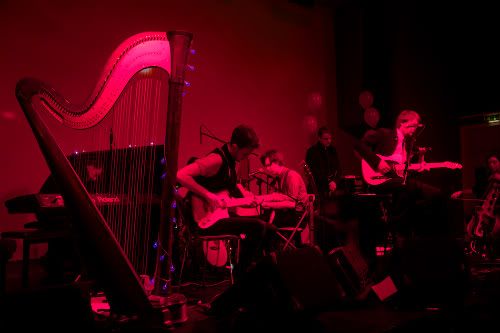 Arriving onstage for their final set of the year, Revere looked so enthusiastic it could have been their first. Comfortable, confident, but above all calm, they took their various seats, their eight members filling, but not crowding the stage. Their opening song took the audience's attention, which they held for the rest of the set. The second song, 'They Only Knock Twice' pulls off an interesting feat. So musically beautiful, it masks the terrible fear in its lyrics that make it so memorable: 'no room for hope, and even less need for faith'. As the set progresses, it becomes more and more clear that there is something quite special about this performance, and the first sign comes in the form of a cover version. It takes a few seconds to recognize 'Love will Tear us Apart', but Stephen Revere's vocals and cooled-down style give it a new lease of life outside of its original roots. This follows on into the pure force of 'The Hating Book', past the galloping, thundering 'With Heads and Hands' that hugely impressed me in their last set and still holds the same impact, and directly towards their most well known song – 'The Escape Artist'. The sing-along finale was one of those 'special moments' that you don't always expect during gigs. Everybody sang, the atmosphere changed, and Revere walked offstage with a triumphant air. Sneaking out from backstage, Stephen Revere gave an encore of 'Feed the Birds' from Mary Poppins, which took a room full of adults back to their childhood, in the sort of gesture only a band like Revere would make. Revere are currently recording more material, and their album
Hey! Selim
is currently available for download. Shadow Orchestra are currently recording new material, with an album expected in Spring 2011.