Label:
Decor
Release date:
17/08/09
Website:
http://www.myspace.com/richmondfontaine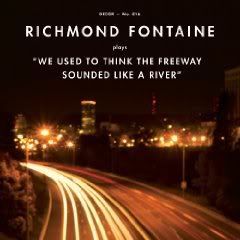 We Used to Think the Freeway Sounded Like a River
is an immediately likeable country/rock/folk album. Singer Willy Vlautin's gravelly vocals are sonorous, a soft story-telling talk-singing which is borne up by a bevy of influences and styles. Somewhat reminiscent of Rilo Kiley, but less suffused by pop. There is a diverse and intriguing use of sound and instrument going on, never unnatural but always interesting and unexpected, from the soft wailing of what sounds like a saw in the title track, the warm piano tones suffusing much of the album, or a brief twinkling instrumental called 'Northwest': the use of a pedal steel provides a plinking alternative to guitar. Personally, a standout track is 'Lonnie', full of bouncing guitar and fluttering drums. The album opens with a gentle start, picks up, dips and dives and then takes you up again. There's very little in the way of hooks or catchiness, but this is part of its appeal: you are taken on a wandering journey, with unexpected twists and turns encountered on the way. Humour, regret, and banal aspects of everyday lives make for some fantastic songwriting, and the more you listen to the soft country tones and powerful lyrics, the more compelling they get. The album is fantastically structured, moving from smooth to cheerful to heartbreaking, so that just as you are sinking back into your sofa/ rocking chair on the porch, it kicks off with '43', or unsettles with 'Ruby and Lou'. However, lovely as it is, the music doesn't reveal much more with each following listen. Certainly there's inventiveness and orchestral majesty which goes beyond the average West coast American sound, but it falls short of generating the kind of interest the Gaslight Anthem have garnered. Perhaps, for the development of their music, this will prove to be a good thing. A gentle and moving delight.
Rating:
6/10
MP3:
Richmond Fontaine - Watch Out