Continuing our look in the world of Tattoo Art,
The405
teamed up with artist
Sarah Schor
. Some of you may remember an interview we did a while back with fellow
Red Hot and Blue Tattoo
Artist
Ian McAlister
(which can be read
here
).
Sarah's
work is immediately noticeable for its incredible attention to detail,which is achieved effortlessly,so it seems,on such a small canvas of skin. Whether it be smoldering black and white pieces or splashes of colour
Sarah's
needle to skin approach is as fluent and as natural as ink to paper.
Sarah
took some time out to talk about her work, the work place and the future of Tattoo Art. Check it out!
How did you first get into the tattooing industry? What attracted you to this form of art work?
I contacted Paul Slifer, the owner of my now workplace Red Hot and Blue Tattoo, with the idea of doing a possible collaboration as part of an exhibition. After finishing my drawing and painting degree in 2003 I was working as an artist; doing exhibitions, selling work etc…Long story short, I ended up getting more and more involved and interested in tattooing and eventually got my apprenticeship at the shop. Something about it really clicked with me. The fact that tattooing is a craft which has rights and wrongs really appeals to me as you're always learning and trying to improve the technical side. I also love the synergy of being able to develop my work, finding people who connect with it and getting to tattoo them. I love it when people come to you with ideas when they've obviously seen your work and have gone 'this'll suit your style'. When they have that understanding it can be a great collaborative experience.
How long have you been tattooing for?
I started tattooing full time last July (2008) and before that, my apprenticeship was about 9/10 months long. I first started hanging round the shop in the summer of 2006 but I was mainly watching, asking questions etc…
How many tattoos do you currently have? What are you looking to get inked next?
Four- not many considering my profession. I've heard mixed opinions from other tattooists on the subject, but I don't see there being a huge rush to get covered right away. I like the idea of slowly collecting work from different people in the future.My next tattoo is going to involve a bird head and a key by Thomas Hooper – I'm really looking forward to it. It's not for a few months yet though.
As a female, how have you found working in a predominately male dominated industry and working environment? Has it been harder to become recognized for your craft?
To me there seems to be a distinct family mentality between tattoo artists, would you agree?
It's not really been much of an issue to be honest. Where I work I'm the only female but I've never felt alienated or excluded. That's not to say it doesn't go on in some places but in my experience it's never impeded me. I think I've come into tattooing at a time where being a female isn't as much of an issue as it once may have been and isn't going to stop you getting where you should be.
As far as there being a family mentality between tattooists; I think it's true that there's a definite sense of community. Thanks to the internet, we're able to communicate on a global scale- people are often aware of each other's work even if they've never met. Also, regardless of its recent popularity, tattooing is still on the relative fringes of social acceptance. I think this naturally enables us to keep a smaller community feel than say, fine art which is fully accepted and therefore globally capitalised. There's also a strong tradition between tattooists of doing art swaps and guest spots in other shops/countries which obviously gives it much more of a community feel.
Out of all of your tattoos which one means the most to you and why?
It's hard to say, as they all have their own particular significance. I suppose the most personal is my most recent one done by Steve Byrne. It's a microscope with 'mama y papa' in a banner wrapped round it. It's the only one which represents my family.
What is the key to keeping your work and ideas fresh and not getting mentally or physically burnt out by what you do?
I think everyone gets burnt out now and again. It's just something that happens in any creative field. You have to work through it and not get too stressed about when it does happen (easier said than done). I try not to limit my reference material and keep it as broad as possible. My work is definitely rooted in a love of western traditional imagery but I like to add my own thing and develop new ideas and directions within it. Doing art swaps with other tattooists definitely keeps me going and pushes me to come up with new ideas. I also try to keep making other artwork but it's sometimes so hard to balance it all. I do think it's important as it helps you stay creative and definitely brings new ideas into your tattooing.
Which do you prefer to do more, black ink tattoos or coloured?
I don't have a general preference- I love both. It'll depend on what I think works best for each individual design.
Are there any tattoo artists of whom you are a fan of?
Many. The guys I work with at the shop have always been a huge inspiration- Paul Slifer, Ian McAlister and Jason Corbett. We often talk over our ideas and share opinions which I think is a great working environment to be in. I also love the work of Rudy Fritsch, Steve Byrne, Thomas Hooper, Sol and Diego from MVL, Chriss Dettmer, Deno, Valerie Vargas, Xam, Monga, Uncle Alan….to name just a few….there are many more.
Do you think that there will ever come a time when tattoos will lose both their appeal and popularity? Or a time where people will lose the need or want to have them, with many different types of body modifications also being practiced?
I think things like this often go in cycles. Just like other fringe cultures that have been brought into the mainstream, I think tattooing is reaching the peak of its mainstream popularity…. that's not necessarily a bad thing though. I think in order for it to survive it almost has to implode on the surface. I don't think it'd be healthy for tattooing to become 100% accepted as it'd become totally open to marketing and be taken out of our hands. I think the people who are in it for the right reasons (both customers and tattooists) will carry it on in the future. I don't think tattooing is really affected by body modification and vice versa. They're often linked and work side by side but I don't think one really affects the other in terms of loosing or gaining custom.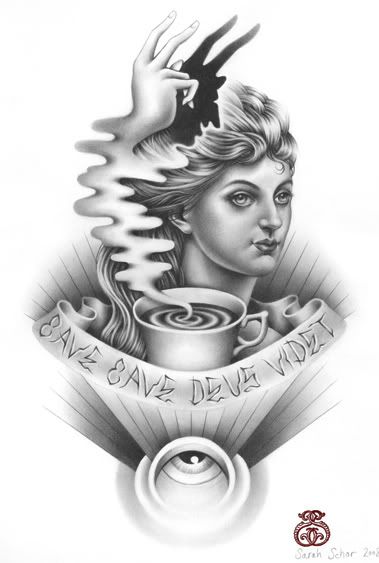 Finally, where do you see yourself in 5 years time, in regards to your work, new projects and any other general aspirations that you have in life?
I don't have any set plans as I'm really happy where I am. It's a custom shop which gives me the opportunity to develop my work plus I get on really well with everyone there. It'd be good to do a few guest spots in the next couple of years and hopefully a few conventions in the future. Other than that, I want to keep developing my work and getting it out there so I can do more of it. Be sure to check out more of
Sarah's
work by visiting her Official Myspace
here
and
Red Hot & Blue Tattoo's
here
A special thanks to
Sarah Schor
for making this interview possible.
- Aaron Hunt