After hearing countless friends and colleagues declare Secret Garden Party as the one of the best, I finally got my chance this year to tick the proverbial box that sat on top of my festival wish list. Arriving at the gates in Cambridgeshire, I was met by a festival site like no other; a vast open field pimpled with hillocks, each with an assortment of dazzling art installations and even two man-made swimming lakes. Whilst this terrain was not the most desirable with tent, supplies and bag in hand, once these had been dropped off, it allowed for a somewhat awe-inspiring procuring of my bearings.
Visually, SGP is unrivalled but, as I would later learn in an interview with Head Gardener and founder Fred Fellowes, these pockets that make up the site also serve a social purpose: "By giving people small areas where they can take ownership of, they feel more secure and are more likely interact with other people." This ethos, which has played such a prominent role in SGP's 11-year existence, became immediately obvious from the off and only grew in the coming days.
Musically, Thursday didn't offer much on paper but in reality, this was not the case. Gorgeous George were the first stop at the Crossroads stage and the unlikely marriage of Balkan and Cockney meant the experience, like their music, was very much a unique one. Later that night on the same stage, Londoners Sisterhood also impressed with a more conventional musical approach than their cockney counterparts.
Friday began very abruptly, with most people forced from their tents at ungodly hours thanks to sunshine beaming onto sweaty tents. It did mean that, like most of our fellow revelers, the lake seemed like a necessity. Early afternoon slots on the main stage from neo-psych northerners Temples and sisterhood trio The Staves put me in good stead for the long day ahead.
Photo by Rachael Wright
With a bit of a gap in the middle of the Friday, I spent it doing what I did for most of SGP; going on a wander. Unlike other festivals where you spend most of your free time rushing from one stage to the next, for me, SGP found the perfect balance between musical prowess and 'extra-curricular' activities. Whilst it may not have brought in some of the names seen at the likes of bigger festivals, this ties in nicely with the abundance of the likes of debates, swing classes, workshops and general madness that added a unique sense of an experience in contrast to the run of the mill, plain-Jane music festival.
Later that evening saw a very impressive set from psychedelic south-Londoners Childhood, which was most definitely a highlight despite some early technical malfunctions at the Wild Things stage. The remainder of Friday night was spent in somewhat of a haze as I danced my way through the night in the Artful Badger woods to the feel-good London Afrobeat Collective and the irresistible bounce-along Afriqoui.
Photo by Danny North
Saturday started a bit slower than most but after the now traditional morning swim, my hangover was nicely tended to by a very entertaining competition at the smaller swimming lake, which saw various crew members dive, ride and fall off two purpose-built ramps. After leaving before the results were announced, my vote went to the streaker who managed to dislocate his shoulder on his second jump following his 'ballsy' first attempt.
From here I caught Willy Mason's chilled set at the main stage which saw most of the crowd sitting and enjoying the sunshine as he played. The same cannot be said however for Mø's set at the Wild Things stage, as the Danish songstress worked the crowd into a frenzy with her somewhat genreless pop music and her equally unique on-stage dancing, resulting in another certain highlight of the weekend.
Waking up on the fourth and final day of SGP was somewhat of a disappointment as I knew it would soon all be over and normal life would ensue. Taking that into consideration, I made sure to make the most of that day and Jamie N Commons followed by David Rodigan and the now infamous paint fight made sure that I was able to do this in the most enjoyable way possible. The evening/night was spent, along with half of SGP's revelers, dancing on hay bails as Skream, Disclosure and TEED went back-to-back for what seemed like an eternity but equally never long enough set at the Drop.
Waking up on that Monday morning, I could definitely feel the repercussions of four days of partying and was ready for a hot meal, shower and a bed. With that said, I also felt the after-effects of something very special. My experience at SGP was so full of incredible micro-events that are too numerous to include in any review and that is, in my opinion what makes SGP so incredible.
The people and the places are just as important as the music and for me, this is what SGP such a memorable and more importantly, enjoyable experience. This is the key to the success of SGP and, as explained by its founder, it always was: "If you think of the best parties you've ever been to, they aren't normally because you saw half-an-hour long fireworks display and the Rolling Stones played. It's about the people that you ended up hanging out and having a laugh with."
Photos by Marc Sethi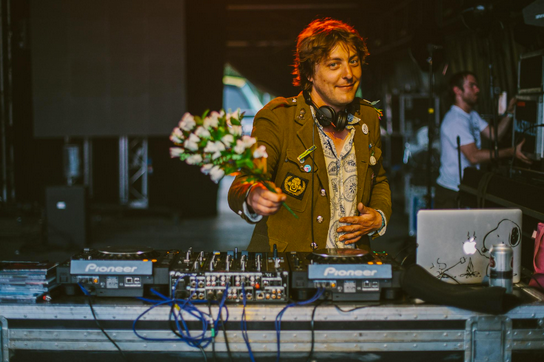 Interview with the Head Gardener
Now in it's 11th year of existence, do you remember what was like opening those gates to the first ever Secret Garden Party?
I have vivid memories amongst it but we had no idea how much we actually had to do so it was. I just remember the naivety on trying to do almost every job with three or four people and then gradually by year three, we worked out that you needed someone to run your production office and a stage manager and an artist liaison. I realized that one person couldn't do all those jobs listed!
I understand that you still have an active role within the running of the festival. Why is this so important to you?
I think it's incredibly important that the continuity and the ethos of the event remain. And that is very much a part when it comes to the design and the presentation, something I hold dear to my heart. Also, it's a joy to be able to program the main stage and the Wild Things stage, it's like sort of fantasy football but fantasy DJ
Going back 11 or 12 years again, what were the initial goals in starting the Secret Garden Party?
There was certainly a role of having grown up with dance music and raves being very much the forefront of counter-culture. That was a huge influence and I think there was an idea of trying to capture the same freedom that you had at these raves without just one type of music.
So plenty of people that I know who are still coming to the Garden Party used to go these Summer solstice raves with us all at University and they weren't actually into banging 140 bpm psychedelic techno. But when you can play hide-and-seek tag Frisbee across a dance floor and nobody goes 'Dude, why have you just knocked me on the side of the head with a Frisbee you dick?'.
So that was the initial inspiration and then, moving onto the other idea is the bedrock of it. If you think of the best parties you've ever been to, they aren't normally because you saw half-an-hour long fireworks display and the Rolling Stones played. It's probably about the people that you ended up hanging out with and having a laugh with and what have you. So if you can, in the design of an event and in a party encourage that more by giving people small areas where they can take ownership of so that you feel more secure, you're going to be more likely to introduce yourself and interact with other people. Or the toys and props and the interactivity stuff, which sounds corny really, but is ice-breaking and it gives people a reason to talk to each other and interact with each other outside of who's next in the queue at the bar.
Have these aims changed at all as the festival has grown in stature over the last 11 years?
I don't think they've changed over the last 11 years. I think you have to constantly remind yourself of that again and make sure that other people understand that there is a sort of thrust behind that. So, no, they haven't changed but how well they're executed is always on my mind; I'm never happy with the event, which I feel could always be better. Unless we're going to get Jesus on electric guitar, the perfect event would be the showstopper for the Garden Party. But, at least you would go out with a bang!
Obviously, there is vast amounts of art in the form of installations on offer at SGP. Did you come from an artistic background or is it just something you inherited over the years?
I did a BA in Fine Art so certainly visual, as well as sound, has always been something very much part of my later education. I think a general point; if you're trying to push home the idea of it being a party not a gig, not a spectator event, then you need to work in as many different media and from as many different angle as possible because that's the whole thing.
The festival has grown so much over the last decade or so, has there ever been a temptation for you to turn it into just another commercially-driven big music festival?
I think there is always temptations and I think there is sometimes a grey area with an event like this. It's still a commercial event, you're still buying a ticket and we're still charging you a standard outdoor rate for a pint of beer and all the rest. That's the dynamic going on. So it's never going to be the Burning Man project or the free rave scene or anything like this. It's hard-wired into what it is and how it functions and how it enables it to sit within the local populous comfortably and on and on and on.
So I think that with that dynamic, you're always going to have your head turned by someone turning up going we're going to give money for minimum exposure 'don't worry we totally understand the event' and there have been one or two occasions where there has been a really lovely idea brought by a drinks company where they really, really actually meant that. There was no branding, it was very much a fun experiential addition to the festival and it didn't insult people's intelligence. But that's one out of 11 years!
With any annual event, there is always an emphasis to think ahead. Have you thought about SGP 2014? And if so, what does the future hold for the festival?
Better, not bigger. More colourful, more slick, more explosive, more insane, just more. It's quite exciting to look where we can go with the Saturday night spectacle because I think you can only go so far in one direction and there is only so much you can chuck up in the sky in theory. So we will see…
Finally, 11 years on you must have some amazing memories from SGP. What have been some of the highlights for you?
That's a hard one but If I had to choose; I'm going to have to be corny and say it was strictly not during the festival but it was the day before it opened four years ago; proposing to my wife was quite memorable. Other than that, there have been so many to do with the festivals and performances and the people here and all the rest.