So the festival season has officially begun and any occasion/space is good to throw an all-dayer with blogtastic bands and cool DJs and call it a festival. If you call it Mini RADFEST though, you get cool points. This celebration of youth, rock ' roll zest and skate culture, masterminded by fun times guarantors Sexbeat, took place at The Shacklewell Arms on Saturday 18th June.
The festival was supposed to start at 3pm and promised barbeque and movies, but given the schizophrenic weather of these last few days (an assured put-off even for most diehard enthusiasts) I couldn't get out of my den before late afternoon. To my surprise, though, the rest of the cool London crowd that I expected to find at The Shacklewell Arms, might have been in my same mood, since when I got there around 5 the pub was almost empty. And it's a real shame that so many of the people that would turn up later missed Fear Of Men, the first (and possibly the best) band of the bill. With their first single out soon on Italian Beach Babes (one of the labels to look at at the moment) the Brighton band rapidly getting lots of (well deserved) attention in the blogosphere. If you are into the likes of The Pains of Being Pure At Heart and Veronica Falls, you will love them. If you don't like them because you find them too twee, you will love them anyway. The formula: 60s sugar pop melodies + distorted guitar riffs + punching drumbeats juxtaposed to airy vocals is nothing new. But add a voice as clean and pure as the one of pint-sized singer Jessica, and oh my freaking gawd! It's a joy of the heart to listen to their music and to see them play, youthful optimism shining through every note.
Brightons Sauna Youth, though singing of 'Mad Mind' and 'Negative Obsessions', look like they are the happiest bunch of dudes. Their music might not be qualitatively impressive, but the tsunami of energy they deliver through their fast riffs and stomping drums, not to mention frontman Rich Pheonix's cathartic stage presence, is infectious and totally engaging. Their tracks burst with the kind of effervescence of a DIY hardcore band that has nothing to loose and nothing to prove, moved solely by the goal of freely expressing themselves through sounds and get the listeners involved in the process.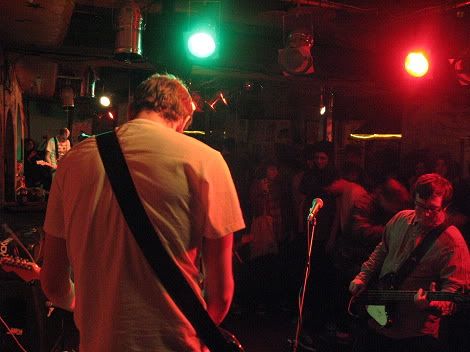 The following band to take over the stage are Eagulls, five-piece outfit from Leeds that, with songs titled 'Terms and Conditions' and 'Council Flat Blues' deliver another corrosive and angry set of spiky hardcore tracks, where melodies though still play a big role.
Got to this point of the evening, with three pints in my bladder and nothing in my stomach, the drunken excitement makes me feel in one of those situations in which things are actually happening - kind of the Max's Cansas or CBGB circa 1971. Well, maybe it's just the cider, and probably none of these bands will be remembered in the decades to come, but that's not the point. What excites me is to see that the DIY scene seems to be more lively than ever, with bands that are not afraid to wear their influences on their sleeves but at the same time are capable to interpret them in their own unique way. And it also proves that you don't have to be technically amazing in order make music that gets under your skin as an epidemic of carefree spiritedness. I'm referring to the many self proclaimed lo-fi bands that so lo-fi are not. This is authentic lo-fi aesthetic.
So far so good, this Mini RADFEST has been rad indeed. The climate here is different from the oh-so-cool rest of the East London things. It's a totally unpretentious gathering of not-so-tryhards fuelled by common appetite and curiosity for the music to come, a triumph of contagious positiveness and genuine efforts to rescue live music from the stasis it's been languishing for too long. The meteoropathic blues and the thousands of daily worries are now just a memory dripping from the cracks in the roof of the tropical jardin d'hiver of the Shacklewell and melting with the vapours of sweat and smoke that fill the air in the patio garden.
And now it's the time for the "big names" in this homemade festival. First, the band I've been mostly excited to see, Ganglians, that deliver a great acoustic set of their best songs plus some or the new tracks from Still Living (out on 29th August on Souterrain Transmission). It's gritty and rough, yet ghostly and otherwordly. Ganglians prove they are a great psych band, even without the usual synthetic paraphernalia to enhance their music to lysergic peaks.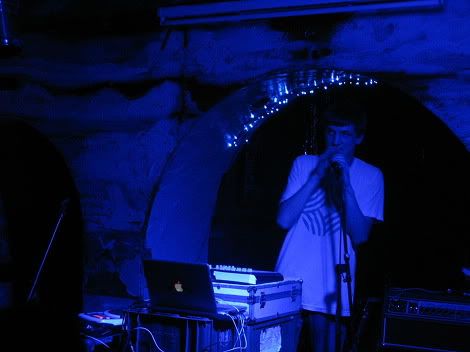 Following is Dam Mantle. Given my main interest to guitar music, I had never paid too much attention to this already proclaimed heir of the Bristol 'purple' scene. But now I totally understand the reasons of this sudden attention. As I open the door to the "dancehall" where he's performing, a wall of heavy bass and grimy bleeps and bloops smashes on my face. And there he is, the 20-something Glaswegian dubstep producer (if so you can reductively label his dense array of dubstep, grime and electro), jumping around his soundbox like a lizard on speed, bustling with knobs, switches and toggles, and making the stuff that plays with your synapsis and expands your perceptions of time and space.
Got to this point of the night I'm not just tipsy, and the interest for the people around me gets higher and higher, the one in the headliners is fading away. This is a not so an uncommon paradox. Especially in this case, let's face it: Abe Vigoda are still living off the respect they gained with Skeleton. It is still not clear to me why and how they suddenly decided to ditch the syncopated rhythms of their original sound, that brought them to stellar underground success as recognisable part of that unclassifiable bunch of acts reunited around The Smell (Miko Mika, Mae Shi, No Age & co.), to embrace instead icy cold melodies and slick synthetic atmospheres with Crush, risking to get lost in the the variegated limbo of synth pop Joy Division memes. And as much as I can respect their choice, I don't find them that interesting anymore. Their live set is still good, but it feels they've lost a bit of the spark. I can notice that most of the audience, like me, is here to dance to the fucked up drum beats and unhinged guitar chords. So, when the drummer leaves the drum kit for the silver synth, I leave the room. And (not that) surprisingly quite a few people follow me in the winter garden immediately after, declaring it the end of this buoyant Saturday - sweet like the burst of musical liveliness I've had the pleasure to witness and be part of, and bitter like the weather outside.