It is often the case that the most exciting exhibitions are those that you either stumble across, or discover by word of mouth. Operating on the peripheries of the institutionalised art world, these exhibitions frequently showcase some of the more impressive emerging artists and radical curatorial approaches.
Show me how is one of those exhibitions. The combined vision of Katie Armstrong, Sharon Peretz and curators Sabine Weier and Jana Nowack, the show is currently taking place at Berlin's KN: a space which provides a platform for music and art. The exhibition titles at KN are always taken from song titles or lyrics, where Show Me How is a line from the soundtrack to Katie Armstrong's latest animated film.

Armstrong is a multifaceted artist who digitally animates her hand drawn illustrations and creates self-composed songs about "the dark side of the human condition". The song 'Show Me How', begins with breathy beats, which are then looped and combined with lyrics that twist and pierce the air in the same vein as Joanna Newsom, but without the expansive orchestral arrangements and intricate lyrical structures. Armstrong's stark music however remains stripped back and clinging to its remaining skeletal construct. Meanwhile, the visual imagery morphs into a chaotic murder of birds and then a solitary character who can be seen touching her self as she tries to remember what intimacy with another human being feels like. The fluid style slips between elemental and figurative illustrations creating an atmosphere so intoxicating, that the character's melancholy is almost tangibly present in the room.

With elongated vocal yearnings and the repeated pleadings of "come home", Armstrong's soundtrack is heart wrenching. The narration leads you through the character's development and then dissolution as she becomes irrevocably lost in her bleak surroundings.
When returning to the light of the main gallery space, you feel an affinity with the woeful character, whose head was depicted emerging "from the dark water for a breath of air." Met with "rivers of ink that run through landscapes made of plaster...craters unearth layers under layers," Sharon Peretz's large scale, elemental monochrome paintings - made of wood, cement, clay, water, oil, and found objects - are consuming.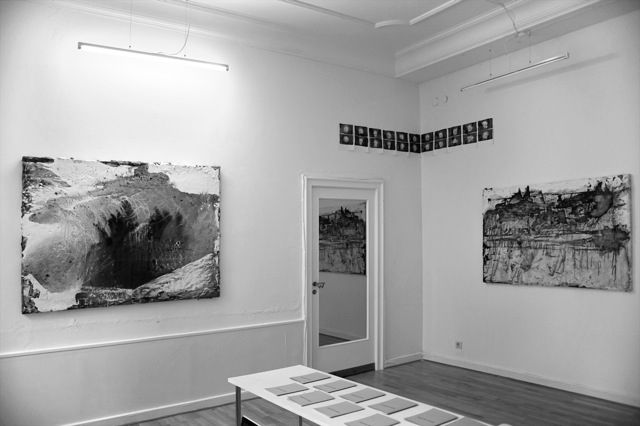 The application of paint onto canvas is a performative ritual for Peretz: circling and dripping ink and lacquer only to then vandalize these works by tarnishing, peeling and scratching away at them. After completion, dark, sombre silhouettes come into view, but which are partially obscured by layers of matter; or armour in which to seek protection from daylight and prying eyes.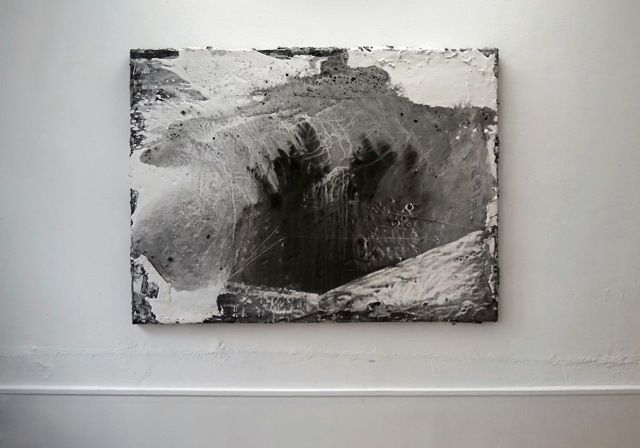 Lurking in the corner of a cramped bathroom, positioned above a bath is Peretz's video work. Assuming the role of a security camera, in this "video of non-moments and non-events" the lens surveys a scene that takes place on a bustling underground station in Berlin. The fixed focal point is a musician busking: a passer-by also stops to observe. Between the stylistic technique and unusual presentation of the piece, a sense of unease permeates what is ordinarily an intimate and private space. It is one that seems to confront the viewer with the dual gaze of the passer-by and the audiences' collective voyeuristic stance.
After finally tracking down the anonymous guitarist, now understood to be Franz Bargmann, Peretz asked him to perform at the Exhibition closing on 3rd April. Similarly, Katie Armstrong has invited the singer songwriter and harpist Gillian Grassie to perform in the exhibition in the middle of March. Head here to check out more.
--
Katie Armstrong (b. 1988) uses performance, homemade audio recordings, and traditional hand-drawn animation to explore the interaction between popular culture and personal experience, creating a dialogue between internal and external worlds. Originally from the USA, she currently lives and works in Berlin.
Sharon Peretz (b. 1981) translates inner shapes into installations and paintings, working according to her intuitive frequency. Rejecting normative perceptions, her video works are field recordings made to capture everyday unspoken things. Originally from Israel, she currently lives and works in Berlin.